Raila courts leaders from new alliance in 2022 game plan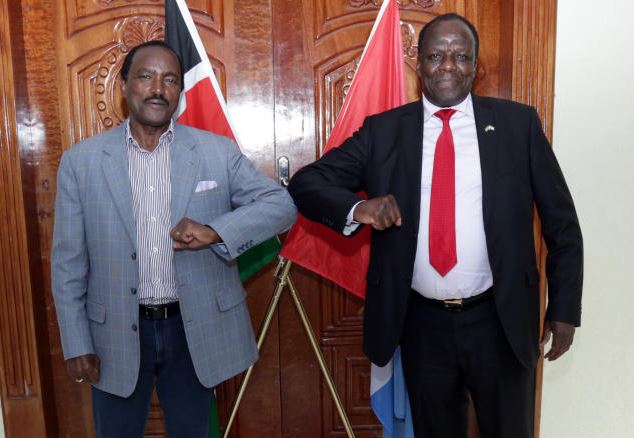 Orange Democratic Movement leader Raila Odinga is reportedly working to reunite with National Super Alliance (NASA) co-principals ahead of next year's General Election.
The initiative is being pushed by President Uhuru Kenyatta's allies as part of a wider scheme to isolate his deputy William Ruto.
The development comes in the wake of high-level political meetings meant to have Raila join hands with One Kenya Alliance.
It has also emerged that ODM deputy party leader and Kakamega Governor Wycliffe Oparanya's Wednesday meeting with Wiper leader Kalonzo Musyoka was at the behest of Raila to initiate the reunion.
Oparanya yesterday admitted that the ODM leader was seeking to resolve the long-standing feud with his NASA partners over political parties' funds.
Amani National Congress (ANC) leader Musalia Mudavadi, Kalonzo and Ford Kenya leader Moses Wetang'ula cut ties with Raila and teamed up with Kanu chair and Baringo Senator Gideon Moi to form One Kenya Alliance.
Oparanya said the meeting with Kalonzo will lead to another engagement next week before a technical team comes up with a sharing formula among the four parties.
"The main discussion was around sharing of political parties' funds. We had a discussion for about two hours and we have agreed to meet again next week," the governor said.
Oparanya said the funding matter has been a bone of contention among the NASA co-principals.
"Our partners have been complaining, so Raila told me to have that meeting so that if there are chances of coming together, there is no further suspicion," said Oparanya.
Kalonzo said their discussion was around the new alliance.
"Courtesy call by Kakamega Governor Wycliffe Oparanya at my Karen office today. We discussed a range of national interest matters relevant to the One Kenya Alliance," the Wiper leader tweeted.
The meeting came against the backdrop of meetings that have seen Raila host various political figures at his Karen home fueling speculation over his game plan.
This also comes just days after the One Kenya Alliance announced plans to "strengthen and broaden" the outfit.
Last week, Raila hosted the Kanu chair and President Kenyatta's brother Muhoho Kenyatta.
A highly placed source said the meeting was part of the wider plan to bring together the ODM leader and One Kenya Alliance principals.
See also https://www.standardmedia.co.ke/politics/article/2001410454/oparanya-denies-plot-to-ditch-raila
"What you see there is the building of a bigger alliance that will rattle the political scene, the presence of Muhoho in the meeting was an indication that the talks had the blessings of the president, their interests are the same," the source said.
Jubilee vice chair David Murathe has been on record saying ODM is likely to work with the team to ensure they form the next government.
"The most important thing is the team that will deliver the government, it does not matter who is the captain or the goalkeeper, what we need is victory and the one of Raila and the One Kenya Alliance will be a formidable one," said Murathe.
Party funds
The agreement by NASA affiliate parties indicates that they were to benefit equally from the political parties funding attributed to the presidential candidate. ODM, ANC, Wiper and Ford Kenya parties were also to share the funds for seats jointly contested in the 2017 General Election.
Yesterday, Mudavadi said he was aware of the discussions to resolve the standoff over the political parties' funds.
He, however, said Kalonzo was yet to brief them after his meeting with Governor Oparanya. "I am aware Kalonzo was spearheading talks on the issue of the funds for political parties. We have not met to discuss after he (Kalonzo) left for Tanzania," said Mudavadi.
He added: "It is only the issue of funds that is currently under discussion. Any other thing I am not aware of."
ODM chair John Mbadi said it would be difficult for the Orange party to share the funds with the outfits that do not qualify to benefit from the exchequer money.
"If we give the money and we are questioned by the auditor, what will we say? Are we giving them money as a donation or as what? There is no money we are giving those people and we have told them as much. You cannot disburse money that does not belong to them," said Mbadi.
He also maintained that it was too early to start discussing coalitions for purposes of the 2022 contest. The National Assembly Minority leader also denied knowledge of the new push to reunite the leaders.
"I have no idea about that issue. We have always made it clear that we are not talking about alliances for 2022. We will only engage in such talks after we are done with the BBI, because what positions will we be discussing?" he added.
Ford Kenya party leader Moses Wetang'ula said they are still legally in NASA and that Kalonzo has been briefing them on his meetings with Governor Oparanya.
"Kalonzo has met Oparanya twice or so and the discussion has been centred around the sticky issue of political funds. Legally, we are still in NASA but politically we have formed another alliance with Senator Gideon Moi," said Wetangula.
"We have also said that One Kenya Alliance has an open-door policy to ensure inclusivity. Anybody who wants to join us without preconceived conditions is welcome."
On reaching out to other leaders, Kanu secretary general Nick Salat said Raila would not run 'on his own' but with a team of other political players supporting the BBI.
"The idea behind BBI was to bring the country together and it cannot be if we don't have everyone on board," said Salat.
"The Handshake to me was to ensure the two principals (Uhuru and Raila) bring everybody who appreciates the rapprochement, together."
He said the ODM leader is part of the larger team that wants to unite Kenyans and improve their living standards. "He is part of the larger team. That is the position. You saw some people were celebrating that Raila was going separate ways with the president. It was therefore a good gesture for Gideon and Muhoho to visit him," said Salat.