Women seek to crack Nyanza's male-dominated political stage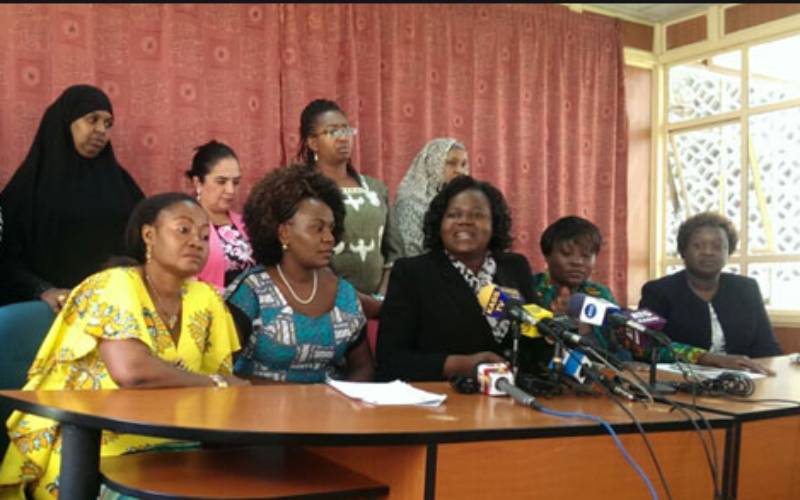 Women leaders across Nyanza are rolling up their sleeves as they seek to increase their political representation ahead of next year's elections.
And as they build a campaign war chest to challenge the domination of men in the region's politics, the women are lamenting over, among others, the lack of resources to compete fairly with their male counterparts.
Some women politicians have pointed to the culture that favours men as another major limiting factor for them. Others have also raised concerns over intimidation by male politicians and their supporters, especially around election time.
The leaders say they are seeking to end the gender disparity that has been evident in Nyanza politics over the years and have more women take up elective seats.
Save for a few women who have won the MP's seat and that of Woman Representative, a special post reserved by the constitution for a woman holder, governor and senatorial posts have eluded them since the advent of devolution in 2013.
Last elections
Only one woman has made an attempt for the governor's post in Kisumu that has been held by Jack Ranguma and his successor and current governor Anyang' Nyong'o. Christine Atieno of Jubilee contested against ODM's Nyong'o in the last elections. She finished third behind Ranguma.
Not even negotiated democracy and consensus by ODM, the most dominant party in the region, have helped women candidates.
ODM now says it has prioritised consensus in selecting candidates for various seats. Again, only time will tell whether or not this will help women politicians.
The party's National Elections Board chairperson Catherine Muma notes consensus was at the core of ODM's nomination process, as it was provided for in the outfit's rules.
"In our new rules, we try to reach consensus and find the right candidate to fly our party's ticket," says Muma, adding, "In the past, most nomination slots in Nyanza were won by men. However, we hope things will change in future."
But those who have dominated the region's politics may not be resting easy ahead of the 2022 General Election as more women seek to take the battle for seats a notch higher.
They are seeking to relive the days of Grace Onyango, the first woman to be elected MP in Kenya, former assistant minister Grace Ogot and former Karachuonyo MP Phoebe Asiyo.
And the aggressiveness with which the women are preparing for the elections, marshalling support at the grassroots, may be an indication that things are likely to change in Nyanza's leadership.
Already, two women leaders have thrown their hats into the ring as they seek to replace two retiring governors. Homa Bay Woman Rep Gladys Wanga hopes to succeed Governor Cyprian Awiti as her Migori counterpart Pamela Odhiambo also hopes to take over the reins in her region as incumbent Governor Okoth Obado concludes his second and final term.
However, Wanga and Odhiambo are facing a stiff challenge from veteran male politicians who are also eyeing the seats. In Homa Bay, for instance, Wanga will be facing off with, among others, former Nairobi governor Evans Kidero, ODM chairman John Mbadi and current deputy governor Hamilton Orata.
Former Kasipul MP Oyugi Magwanga, who recently rejoined the party, has also expressed interest in the county's top seat.
But Wanga is unfazed, maintaining she was better placed to take over the seat and make history as the next governor in the region.
Dominated for years
"We have gained enough experience to take over seats that have been dominated by men for years," Wanga said.
Wanga will be using her experience as the chairperson of the powerful Finance and National Planning Committee of the National Assembly to sell her bid. She says her performance as a woman representative will give her a successful bid for the county's top job.
Yesterday, Wanga told The Standard the difficulties women eyeing political seats face, including ridicule and propaganda.
"This has been so despite contributions women make to the society as well as to major political parties," she said.
Wanga said: "Women have always been at the forefront championing various issues. We are confident many more women will be elected in next year's elections."
Wanga said she has already been a victim of propaganda and violence since she expressed her interest to contest the governor's seat.
However, there seems to be a shift with more people beginning to endorse female candidates.
Both Wanga and Odhiambo have been endorsed by elders to contest the seats. They have also received a green light from ODM to build their grassroots support ahead of 2022.
About a month ago, the Luo Council of Elders in Rangwe Sub-county endorsed Wanga for the governor's seat. The elders said their support for Wanga was based on her development plans.
In a past interview, Odhiambo urged women leaders on, saying: "We must develop inner strength and confidence to speak for ourselves as we await 2022. We will win."
And the future looks bright for women politicians if what happened in the recent elections is anything to go by. In Homa Bay, three women competed with men and won in 2017. Millie Odhiambo (Suba North), Lilian Gogo (Rangwe) and Eve Obara (Kabondo Kasipul), who was elected on ODM tickets, are already working on their re-election bids.
The three MPs have been meeting opinion leaders and elders to build grassroots support. They are also banking their hopes on the development projects they have initiated to earn a second term.
In 2017, only 12 women were elected to county assembly seats out of a total of 145 wards in the four Luo Nyanza counties. No woman won any of the top county seats of governor and senator.
Women had also been using "Embrace", a political initiative that brought together women leaders, to market themselves. Some of the region's women politicians who played key roles in "Embrace" were woman representatives Rosa Buyu (Kisumu), Christine Ombaka (Siaya), Janet Ongera (Kisii) and Migori's Odhiambo. A host of women MPs and MCAs also took part.
Clinching top seats
According to veteran politician and the only female MCA in the region, Prisca Misachi, women are capable of clinching top seats.
"Let us not look at it as if these seats are reserved for men. Women too are capable of leading," said Misachi, the only MCA who survived in Kisumu in the 2017 elections.
And according to Wanga, efforts by women have also been curtailed by lack of finances. "Resource mobilisation is a major challenge, but we are doing our best," she said.
Citizen Conventions Party leader Grace Akumu shared Wanga's sentiments, saying the general unequal distribution of resources has affected campaigns by women.
"Women have not had it easy. That is why I started a party to prove women too can achieve something," according to Akumu, who is Deputy President William Ruto's supporter.
600,000 in dire need of food
Livestock has started dying as effects of the drought that started six months ago begin to take a toll on residents.