Embrace national unity, Musalia tells Kenyans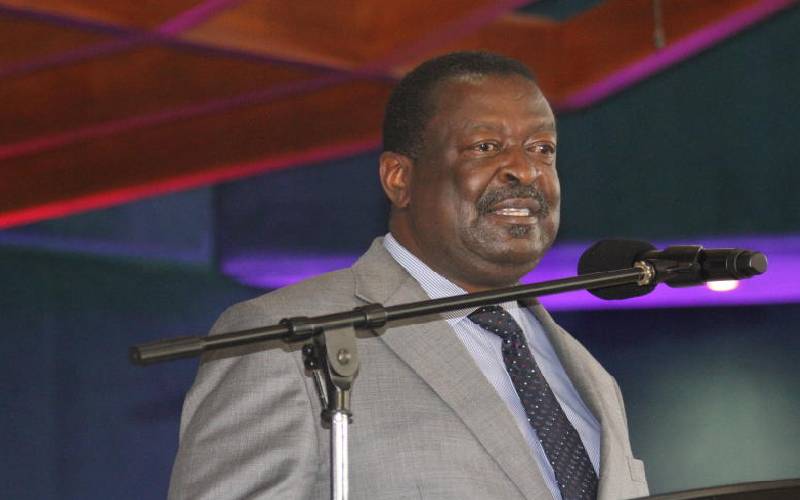 Amani National Congress (ANC) leader Musalia Mudavadi has asked Kenyans to reject "merchants of division" in a bid to attain national unity.
Speaking at two church events in Meru County yesterday, the ANC leader said the bad shape of the national economy required sober hands such as himself.
He said he did not wish to have any competitor step down for him, saying the race will be decided by voters and those spreading such propaganda only wished to spoil for others.
"I have not asked for such favours. We shall compete on ideas and people will decide who shall be the winner," Musalia told a church service at Chugu East African Pentecostal Church Living Waters at Chugu and a Harambee at Hope Ministry Kirunga, both in North Imenti.
"We do not want polarising personalities who thrive on creating division between other players. These merchants of division should be rejected at the 2022 race."
Not directly referring to the ruckus caused by the fallout in the National Super Alliance on whether Raila Odinga should keep his alleged promise not to run in 2022, Musalia used coded language to criticise rivals.
"Never try to destroy someone's life with a lie when yours can be destroyed with the truth," he said.
Musalia thanked Mt Kenya counties for concerted efforts to approve the Building Bridges Initiative (BBI) Bill, saying their action had shattered the myth of many a Doubting Thomas.
"There were a lot of naysayers who had hoped that the BBI waterloo would be in the mountain but have been surprised by the ace card that the region played during the Super Tuesday," he said.
Musalia said the resolve by all the 10 mount Kenya counties to approve the BBI Bill during the Super Tuesday last week had also shattered a myth perpetrated by a certain quarter that President Uhuru Kenyatta had no legacy and support in his backyard.
"I urge you to reject those seeking to auction you as a community because people must respect rival's fiefdoms no matter how small they are," he said.
Politicians who accompanied Musalia included Lugari MP Ayub Savula and Nairobi Senator Johnson Sakaja and former Internal Security PS Mutea Iringo.
Savula said that of all the presidential candidates, Musalia had the best potential to resuscitate the economy. "The BBI will pass effortlessly in both houses of Parliament as it did in county assemblies," he said.
Sakaja said some clique of politicians wanted to plunge the nation into chaos through careless talk and incitement and the voters had a duty to elect a sober leader such as Musalia.
Sakaja said BBI proponents should not force down the reform package to Kenyans but invent ingenious ways to market the same.
"Kenyans need a fertile field of contestants to get the best choice. Nobody must seek to drive down a myth that others need their endorsement," he said.
Iringo also sold the idea that Kenya needed a leader who can guarantee peace and security to achieve economic growth.
"I implore Kenyans not to vote along party lines but to look for individuals who offer the best inspiration for national growth," he said.