Kabuchai mini poll is battle of wits between Wetang'ula, Ruto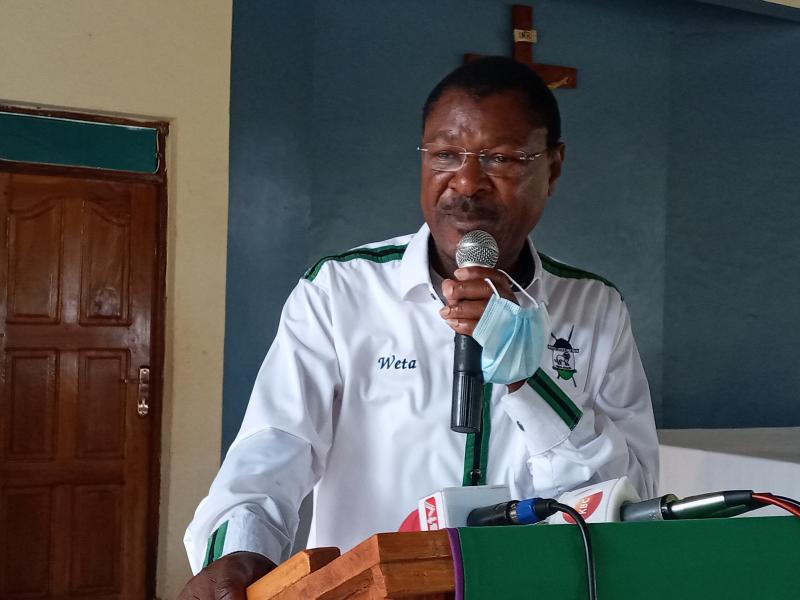 The forthcoming Kabuchai by-election is likely to be a battle of wits between Bungoma Senator Moses Wetang'ula (pictured) and Deputy President William Ruto.
While Mr Wetang'ula would be pulling all stops to ensure his Ford Kenya party retains the seat, Dr Ruto would be seeking a win for his Tangatanga team to boost his 2022 presidential bid.
The seat fell vacant following the death of James Mukwe Lusweti in December last year.
Lusweti and Bungoma Woman Rep Catherine Wambilianga were the only elected leaders from the county who stood with Wetang'ula during recent attempted coup to remove him from the helm of Ford Kenya party leadership.
Kabuchai seat has attracted at least seven candidates, namely Majimbo Kalasinga (Ford Kenya), Amos Wekesa (Federal Party of Kenya), Evans Kakai (Independent), Peter Kapanga (Independent), Dr Gasper Wafubwa (Independent), David Kibiti (former Bungoma Public Administration CEC) and Scholastic Murunga (Independent).
Political analyst and scholar Prof Nyukuri Barasa predicted a tight race pitting Majimbo and Kakai whose strong financial muscle is likely to tilt the scales.
Kakai enjoys the backing of Ruto and had earlier been expected to vie on the newly-unveiled United Democratic Alliance (UDA) party associated with the DP.
Political intrigues, including clan politics, resource endowment, Building Bridges Initiative (BBI) politics, party issues and personality could play a key role in determining the outcome of the mini poll.
Dominant clans in the constituency are Abatukuyika, Ababuya and Balako. Others are Babutu, Babulo, Bakiyabi, Bakipemule, Bamutilu and Babasaba.
Majimbo hails from the Abalako, the third largest clan across Mukuyuni and Chwele/Kabuchai wards. His mother hails from the dominant Abatukuyika clan.
Majimbo appears buoyed by the fact that he is related to former Bungoma Central MP Peter Kisuya, who appears to have a tight grip on his past political networks and may help Majimbo win some extra votes.
On the other hand, Kakai comes from Bamutilu clan and traces his roots in the family of Nathan Munoko Waliaula, a once powerful Cabinet minister during Mzee Jomo Kenyatta's regime.
Waliaula served as MP for Bungoma Central and Minister for Public Works. He is still alive and appears to have a big say on local politics.
Opponents have labelled Kakai an outsider who is being imposed on locals by Ruto. Whether or not that could his political fortunes is anyone's guess.
The Standard could not independently establish whether Kakai, who had earlier sought the blessings of the Bamutilu clan, is an outsider.
Kakai inherited the campaign team of the late Tale Nabangi, a rival who almost trounced the late Mukwe in 2017 elections.
He has embarked on an ambitious mission to build houses for poor locals as a way of endearing himself to the voters.
The Jubilee network in the constituency is a major boost for Kakai. Tangatanga MPs led by Sirisia MP John Waluke and Mt Elgon MP Fred Kapondi are said to be fully behind him.
He also appears to have won the hearts of the Bakipemule clan where governor Wycliffe Wangamati originates.
Dr Gasper Wafubwa, a US-based scholar, may complicate the equation, although he comes from the Omululeti, a minority clan.
Amos Wafula of Federal Party may also tilt the equation for Kalasinga given that he hails from Mukuyuni ward whose voters feel they should have an MP of their own.
The ward has never produced an MP and in the in 2013 polls, they almost produced one, the late Philip Mukuyi, who narrowly lost to Mukwe. He is likely to take a lead command in the ward, which could eat into the Ford Kenya candidate's votes.
Political pundits say Wetang'ula could be plotting for a tough duel to guarantee the Lion party the seat. Ford Kenya rebels are said to have conspired to campaign against the party candidate.
Bungoma governor Wangamati and MPs Eseli Simiyu (Tongaren) and Wafula Wamunyinyi (Kanduyi) are said to be drumming up support for Kakai.