Jubilee plans to crack the whip on Ruto allies again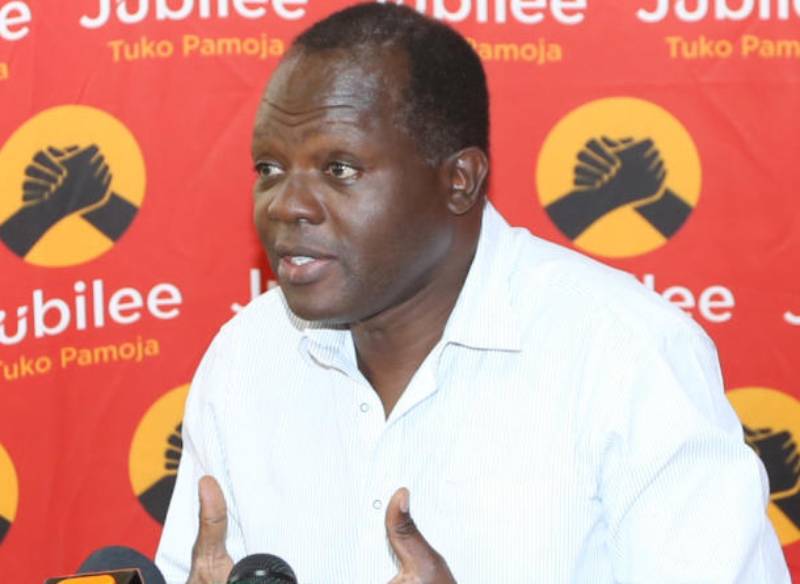 Jubilee Party plans to crack the whip on its members opposed to the proposed constitutional changes in what is set to escalate purge against Deputy President William Ruto's camp.
Jubilee Secretary-General Raphael Tuju yesterday disclosed that the ruling party will next week issue instructions to all its elected members to back the Building Bridges Initiative (BBI) process that is set to culminate into a referendum next year.
He said the party will have the option of either suspending or expelling any member who will go against the party position on the push to amend the Constitution.
He described the BBI process spearheaded by President Uhuru Kenyatta and ODM leader Raila Odinga as a Jubilee project that has to be backed by party members.
"We have been working on this BBI project for the last two years and expect our members to back the party position," he said.
But in a swift rejoinder yesterday, Ruto allies came out guns blazing and dared the party to punish them for airing the views of their constituents over the proposed changes.
The warning by the party came barely a day after DP Ruto gave the strongest indication yet that he was not ready to face off with Uhuru in the referendum campaign.
Ruto on Friday claimed introduction of Article 11A in Constitution of Kenya (Amendment) Bill, 2020, following his concerns with certain articles in the document launched at Bomas last month. The said Article was in the Bomas document and was only amended by including "pastoralism and blue economy".
"New article 11A the BBI Constitution Bill introduced after Bomas will anchor the ordinary peoples' hustler economics of wheelbarrow, boda boda, mama mboga, pastoralists, butchers and guaranteed minimum returns on coffee, tea, korosho, sugar, maize. Bottom up, not trickledown economics," he tweeted.
Yesterday, Ruto remained non-committal on his perceived U-turn on the BBI saying "rush not to conclusion or pretense to prophesy" while suggesting that some political figures were hell-bent for cash in a contested referendum.
His allies termed the threats for disciplinary action as hollow, noting there was nothing that can be taken from them after some of them were de-whipped from their parliamentary leadership positions.
"They already de-whipped us from our positions in Parliament. What else can they do to us? Who are they punishing? Those are barren and infertile threats," said Nandi Senator Samson Cherargei.
"They should just keep off from this intimidation and threats. We know the State is now using chiefs to intimidate youths to sign the BBI form. We need consensus not threats. This document belongs to all Kenyans," charged Cherargei.
Nakuru Senator Susan Kihika said they will not be blackmailed into supporting the Bill, stating that they will view the content of the document and only back it if it has good proposals.
"They should know we are used to their intimidation. By now Tuju should know that the stick is not working, may be he should dangle a carrot to achieve different results. We will review the BBI Bill, if it is good for our people will support it but if it doesn't work we will reject it," she said.
She insisted that there was still room for consensus to ensure the country is not divided along YES and NO camps.
Mathira MP Rigathi Gachagua, a close ally of the DP, was categorical that he will respect the view of constituents, who are his employers, and not President Kenyatta, Ruto, Tuju or party decision.
"Tuju should know the dictatorial tendencies do not work. This is how Kanu remained a shell. The president told us to read and make an informed decision, the people of Mathira are yet to decide because the document is not available," said Gachagua.
The MP said he has issues with the BBI document, arguing that it does not address electoral violence.
"The issue of the loser accepting results has not been addressed. There is no remedy," said Gachagua.
He also faulted the move to increase numbers in Parliament, noting it is an extra burden to taxpayers.
Kimilili MP Didmus Barasa said he will not be forced to back a document that has no benefits for his constituents.
"The role of an MP is to oversight, represent and legislate. You take the position of the people that you represent. Kenya is a democratic country and no one can purport to direct us on the path to take on such a serious matter," said Barasa.
County secretariat
"I am going to set a secretariat in Bungoma to oppose that document. I am going to lead the no campaign in the county. The people of Bungoma don't care about who will become the prime minister. The new political positions, including the new constituencies, are going to balloon our wage bill," he said.
He said that creating more positions will not resolve the divisive nature of the country's politics, stating that the only solution was to ensure equitable sharing of resources.
Aldai MP Cornelly Serem shared similar views saying "if they want to discipline us, so be it. We are used to these threats. We are not squatters in this country." Yesterday, Senator Kithure Kindiki said he was ready to bite the bullet.
"I am ready to pay any price to stand on the side of the people," he said and also took to social media to say time had come to choose between country and party loyalty.
"Millions of Kenyans from every region & religion, from all political & social leanings are desperately yearning to break the yoke & to get out of the bottomless pit of deceit, greed and breach of trust," he posted.