Opposition leaders flee as Magufuli tightens noose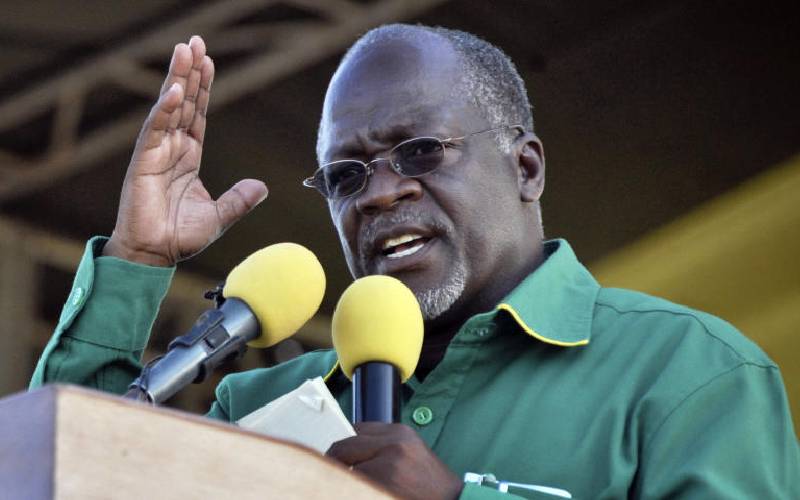 There is no time to mourn the humiliating election defeat or scores of youths who have died in Tanzania agitating for transparency and better governance.
Yesterday, Zanzibar's biggest opposition party, ACT Wazalendo, criticised President John Magufuli's tactics of dealing with his critics, saying most have been driven underground and a number are now fleeing the country fearing for their lives.
ACT party leader Zitto Kabwe, who is one of the few opposition leaders who have not been forced into hiding, painted a grim picture of a country where government critics are being brutalised and detained without trial because of their political ideologies.
He presented a 78-page report titled "Mauaji, Udhalimu Na Unyanyasaji Unaofanywa Na Vyombo vya Dola Zanzibar (The brutality and oppression being meted out by joint security forces in Zanzibar).
The report illustrated with gory images details how victims have been killed, maimed and their homes and property vandalised by security forces in the island.
Held incommunicado
Yesterday as Mr Kabwe spoke to The Standard, Tanzanian opposition sympathisers received news of the arrest of Chadema's Singida East parliamentary aspirant, Lazaro Nyalandu after he was stopped from crossing into Kenya at Namanga border.
Mr Nyalandu is the second former MP to be intercepted after Godbless Lema (Arusha Urban) was apprehended in Kajiado on Sunday as he fled persecution by the government for criticising President Magufuli party's win in the election.
"We are now a de facto one party state. Ninety seven per cent of MPs in Tanzania mainland are from the ruling party, Chama Cha Mapinduzi. In Zanzibar, 90 per cent of MPs are from the government side. Our people have been killed and tortured," explained Kabwe.
He said it was time Tanzanians protested arrest and torture of government critics by the police.
The ACT leader cited the party's deputy secretary general Nassor Mazrui, who was arrested on election day, October 28, and has been held incommunicado since without being taken to court.
"We have not been able to talk to him but some of the people who have been released from a security facility in Northern Unguja's Poteo camp say he has been locked up in a toilet for 13 days. At the time of his arrest, he was tortured badly to a point of losing consciousness," he claimed.
Kabwe said Mr Mazrui, who was the party campaign manager, was arrested before casting his vote after security forces invaded ACT Wazalendo's tallying centre.
He claimed that 21 people had been killed by police in Zanzibar and Tanzania mainland while scores had been maimed by police for supporting the opposition.
Kabwe identified one of the deceased as 16-year-old Masoud Salim Fadhi.
He noted that 102 ACT Wazalendo members have been injured by the police and 199 arrested since October 28, majority from Pemba.
The ACT leader further said that 185 people had their homes and property destroyed by the police.
Last Sunday, Kabwe told an international press conference that he had written to the Commonwealth and the African Union about the election fraud and human rights violations.
He said he last spoke to Tundu Lissu, the opposition presidential candidate, two days ago. "He called me and asked what was happening around the country. You know he is staying at the German ambassador's residence in Dar es Salaam," Kabwe said.