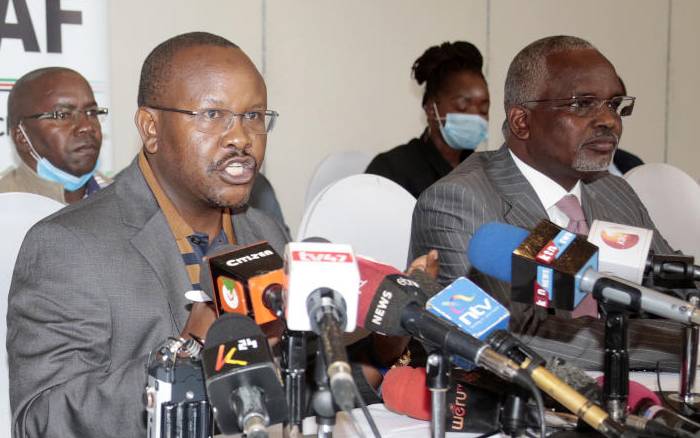 The Counties Assemblies Forum (CAF) has threatened to reject the Building Bridges Initiative (BBI) report if counties are not involved in proper consultations.
Addressing the press at a Nairobi hotel yesterday, CAF said counties deserve the same treatment as Parliament as each has a crucial mandate.
Forum chair Ndegwa Wahome noted in the BBI proposals, 35 per cent of national resources will go to counties and as such, they need to be consulted just like Parliament.
"There are issues that have not been addressed in previous consultations with the President. There is room for amendment of the constitutional Bill. We want the committee to look into the ward development fund. It is unclear what percentage of revenue from the county should go to the ward," said Mr Wahome.
He also said the proposal to have some Cabinet ministers picked from the National Assembly should be replicated in the counties where County Executive Committee members should come from the assembly.
"Whatever is happening at the national level to facilitate MPs do their work must be replicated in the county assemblies," said Wahome.
Kajiado County Assembly Speaker Johnson Osoi said assemblies hold the key to the proposed referendum and without their approval, no progress can be made.
"After the Constitutional Amendment Bill has been drawn, the 24 county assemblies must pass it, without which passage the Bill will die on arrival," he said.
Wahome requested a meeting with President Uhuru Kenyatta and ODM leader Raila Odinga to allow them air their views and declare their stand on the report.
"The assemblies will oversight the development budget, in a situation where the assemblies cannot even engage forensic auditors, physical analysts to help them in oversight just as Parliament does, it will be an impossible task," he said.
In a separate meeting at the same hotel, Inua Mama lobby group, affiliated to the Deputy President also threatened to reject the Bill, saying it is ambiguous on the two-thirds gender rule.
"Our review of the document has revealed that BBI is waging war against the women of Kenya. It takes away the fundamental rights of women, especially on the two-thirds gender principle. It negates the principle of inclusivity upon which the Constitution of Kenya 2010 is founded," read a part of the group's statement.
Kandara MP Alice Wahome warned that women will not sit back and watch gains made over the past years, eroded.
"The fact that we have 47 Women Reps in the National Assembly did not come by accident, it was hard work. We've seen the risk of leaving ambiguities in the Constitution. Ten years down the line after the promulgation of the Constitution, we are yet to achieve the two-thirds gender rule," said Ms Wahome.
Wahome said the BBI report does not provide for how the gender rule will be achieved.
Further, the lobby said the provision on the Judiciary ombudsman will compromise the integrity of the justice system.