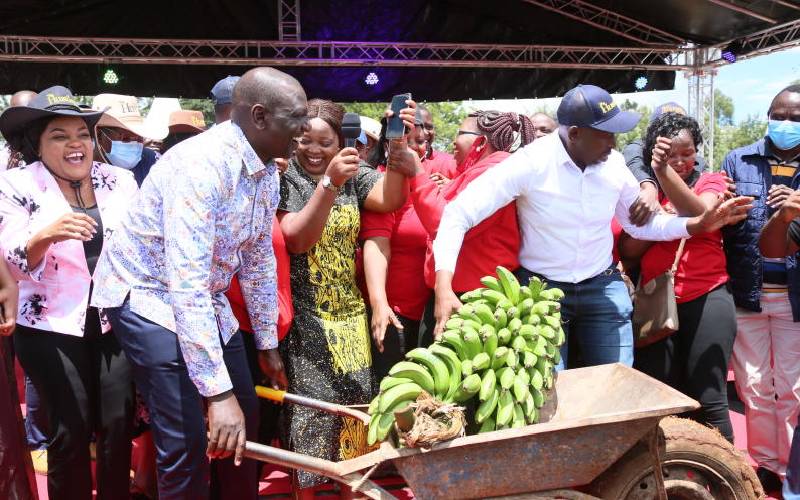 Deputy President William Ruto has postponed meetings planned for this weekend "until further notice".
Taking to Twitter on Tuesday, Dr Ruto said he had cancelled meetups in Machakos, Kitui and Makueni.
The upsurge in Covid19 cases strongly indicates that a second wave my be in the offing.For this reason I have decided to significantly scale down my public engagements until further notice. The empowerment meetings for this weekend in machakos, kitui and makueni are postponed. — William Samoei Ruto, PhD (@WilliamsRuto) November 3, 2020
Ruto further linked the cancellations to the upsurge in Covid-19 cases, saying a second wave may be in the offing.
The Ministry of Health has in the past said Kenya is already experiencing the second wave of coronavirus infections.
Read More
Politicians have several times been called out on undermining the war on Covid-19.
The Inter-Religious Council of Kenyans also cautioned that political gatherings and campaigns be postponed until the Covid-19 situation is under control.
The council's chair Archbishop Antony Muheria implored leaders to set an example of compliance beyond wearing masks and work on keeping all Kenyans safe.

"As the Inter-faith council, wish to appeal to you our dear political leaders that we should not gamble with the lives of Kenyans. Postpone your political-public gatherings because they put our people at risk," said Muheria from Ufungamano House.
According to Health CS Mutahi Kagwe, the country has been hit by the second wave of Covid-19 because the political leadership that has not adhered to guidelines meant to avert the virus' spread.
Kagwe said politicians organise rallies without observing set precautionary measures, what Kenyans copied.
He regretted that the positivity rate of the virus had been on the rise since President Uhuru Kenyatta eased restrictions that were meant to forestall spread of the virus.
"I appeal to political leaders to show leadership and help contain spread of this virus. Political leadership is leading by poor example. If leaders do not observe measures given, the signal they send to Kenyans is that all is well," said Kagwe.
Political and social gatherings have been blamed even as the ministry of Health has been left only issuing blunt warnings.
Since reopening the economy, Kenya has been unable to sustain a positivity rate of five per cent and below as required by the World Health Organisation (WHO) to declare the pandemic under control.