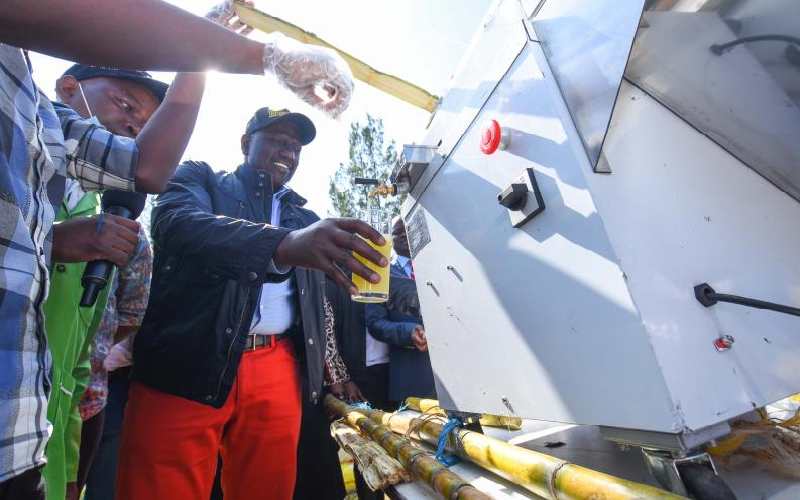 By his own counting, Deputy President William Ruto reckons that some 240 youth groups and about 8,000 youths have benefitted from his personal 'Team Hustler' initiatives.
And yet, he sits at the apex of the government he twice helped form — first in 2013 and then in 2017.
From a vantage position as a formulator of policies on jobs and wealth creation, Ruto has transformed into a genie who grants wishes of poor youths and women groups trooping to his official residence, now christened Hustler's mansion.
He has divorced himself from the pledges that the Jubilee government made while seeking reelection in 2017; that they would create 1.3 million jobs annually if re-elected for a second term.
Read More
On the morning after the presidential Covid-19 conference that he missed, Ruto yesterday staged a parallel hustlers' parade, moving between rows of boxes of high-pressure washers, stacks of plastic seats, tables lined with food warmers, towers of sufurias, convoys of wheelbarrows and handcarts, and even hairdryers.
A group of garbage collectors from Ng'ando in Dagoretti South, recovering alcoholics and petty thieves were given three handcarts to help with their business.
On requesting for overalls to enable their identification, Ruto turned to Lang'ata MP Nixon Korir: "How much does an overall cost?"
"Around Sh1,000," Korir replied.
"We will get you 100 overalls," Ruto told the group.
Keen to identify with them, Ruto claimed he once lived in Ng'ando, a settlement along Ngong' Road, in the first year after he left the University of Nairobi. It is not quite clear if he says the same of other estates.
Optics power
From garbage collectors to car-wash operators and women groups, Ruto hoped from every category with an easy laugh, projecting the "hustler clerk" image he is cutting. Once in a while, he cuts a curious glance, just to make it look real and maximise on the power of the optics.
"Is that religious or for fashion," Ruto asks a youth who responds that he is Muslim.
Occasionally, he will laugh and place his hand on the person's shoulder. They laugh together. Optics.
Ruto is a man of many hats. He wore the hat with the colours of the Kenyan flag and made it iconic. Now, though, he is wearing another – a hipper and trendier one with the words 'Hustler Clerk'.
The new hat has come with new demands on Ruto's register. Now he switches between English, Swahili and Sheng' and even fist bump with both hands like the youths do nowadays.
In Karen's "Hustlers Mansion", celebrities are finding a home. There is a song by the musical group Wakali Wao, which was released a few days ago.
The song called Mboka ni Mboka starts off with Ruto addressing a crowd at his residence in Karen and clips of the DP giving out posho mills, hairdryers and buses are interspersed throughout the three-minute song. That is Ruto's new anthem. Mboka ni Mboka loosely translates to 'every job matters'.
Yesterday, a fruit vendor from Mowlem in Nairobi brought some gifts – a bunch of bananas and a watermelon. Ruto had barely picked one from the bunch when a group of children from Mathare swarmed him. He gave them the bananas, optimised optics.
Another visitor, a girl this time, came forth with a duck and Ruto received it with open arms. In these events, nobody wears masks anymore