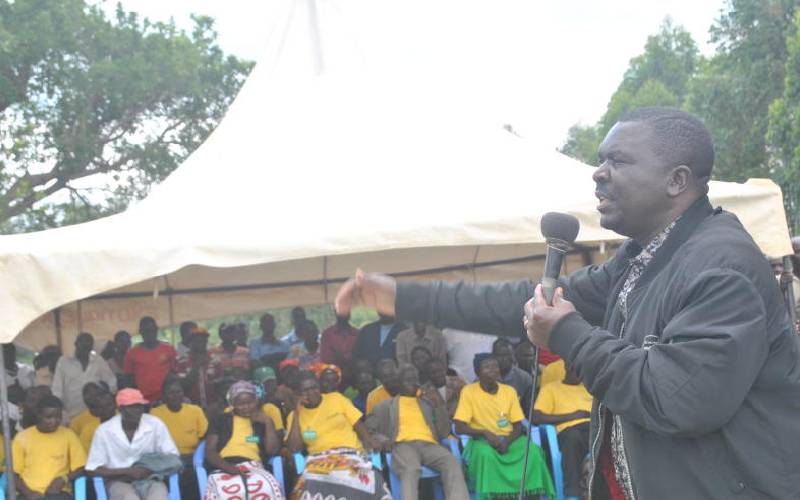 Navakholo MP Emanuel Wangwe has dismissed arguments by the Independent Electoral and Boundaries Commission (IEBC) that referendum would cost over Sh10 billion, terming the budget estimate unrealistic.
According to the National Assembly Chief Whip, a referendum ought not to cost more than Sh2 billion as earlier suggested by ODM leader Raila Odinga.
"IEBC is not being realistic and sincere, the Sh11 billion the electoral agency is talking about is outrageous and meant to create room for theft of public funds and scandals. We heard a similar narrative at KEMRI, National Youth Service and Arrow and Kamwaror where billions were lost," claimed Wangwe.
Addressing constituents in Butsotso West yesterday, the lawmaker argued that Sh2 billion was enough to plan and execute referendum.
Read More
"I agree with Raila that plebiscite need not to be a costly affair, it is critical to have the constitution reviewed to correct the grey areas," said Wangwe.
The legislator said changing the Constitution will ensure Cabinet Secretaries are appointed from Parliament to make them more accountable and effective in their mandate, unlike the current situation.
"It is not easy chasing after Cabinet Secretaries today to seek clarification over projects initiated by the Government in constituencies because they are not elected and do not sit in the National Assembly," said Wangwe.
He urged MCAs to be on the forefront in sensitising people about the referendum "because Ward Reps stand to gain more as the changes seek to make wards development units paving way for the MCAs to be in charge of Ward development funds."
He was reacting to recent arguments by the IEBC that referendum would gobble at least Sh10 billion, a far cry from the Sh2 billion suggested by Raila.
IEBC Commissioner Boya Molu last Friday said it will cost not less than Sh10 billion to hold a plebiscite given requirements involved.
The IEBC official spoke during commemoration of the international day of democracy hosted by Centre of Multiparty Democracy Kenya.
He delved deeper into what would be required to arrange logistics including the hiring of vehicles and budgeting for officials expected to oversee the exercise right from clerical officers to the returning officers.
According to him, not less than 50,000 vehicles would be required with the cost of hiring each vehicle is not less than Sh10,000 on top of 350,000 poll officials who should be available on election day.
The approximation is based on the expenses incurred in planning and conducting the repeat presidential election.
Raila had earlier indicated that a referendum would not cost more than Sh2 billion and went ahead to dismiss those arguing that referendum would be costly.