Mutua pledges 5m jobs in presidential bid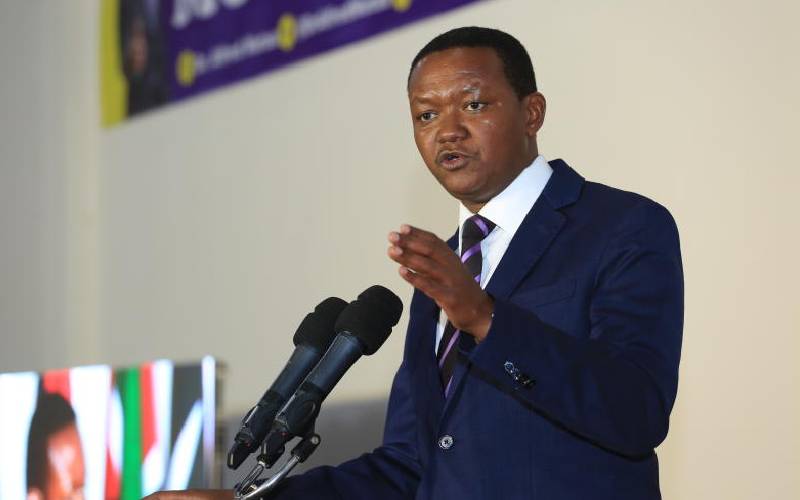 Maendeleo Chap Chap party leader Alfred Mutua yesterday launched his 2022 presidential bid with a promise to create 5 million jobs, among other rafts of reforms tailored to benefit the common mwananchi.
The Machakos governor (pictured), who is serving his second and final term, made the announcement at his national campaign logistics centre in Mlolongo.
In a 10-minute speech, Dr Mutua promised to deliver the jobs during his first three years of presidency and give Kenyans a new, fair and structured country.
"I have agonised about the pain and the political circus going on in our country. I have listened to the voices of Kenyans and prayed for a way to bring back hope," Mutua said.
He pledged to slay the dragons of corruption, bureaucracy, negative ethnicity, social injustice and poverty, which he clustered "the greatest setbacks to the country's progression".
"Many good things have occurred in our country and I thank the leaders who have guided us up to where we have reached. However, truth be told, Kenyans are tired of a system that has over the years let them down," he said.
He added: "I, therefore, declare in the General Election of 2022, I, Alfred Nganga Mutua will vie to be the next president of the Republic of Kenya so as to return Kenya to the tracks of where we were meant to be after independence."
The former government spokesman urged Kenyans to abandon the culture of ethnic-based politics, calling it the greatest cause of political, economic and social stagnation.
He feared the voting culture of recycling political leaders who had failed to achieve much would hurt the economy, and called for change.
"If we don't, 50 years from today we will be asking the same questions we are asking while languishing in poverty as the rest of the world progresses," he said.
Mutua pledged to provide the business community with incentives to trade and invest.
"I will eliminate bureaucracy, cut wastage and enable our business community to thrive in a predictable environment that rewards success, not corruption. You will require only 14 days to get licenses and approvals to start your business," he said.
Mutua's official declaration of the bid is expected to spark intensified political activity in Ukambani region, where Wiper party leader Kalonzo Musyoka and Makueni Governor Kivutha Kibwana have also indicated they will be seeking the presidency come 2022.
A fortnight ago, about 300 professionals and businessmen from Kitui, Makueni and Machakos convened at Matuu County lodge in Yatta Sub-county, where they urged Mutua to go for the top seat.