Political dynasties narrative is misplaced, Raila asserts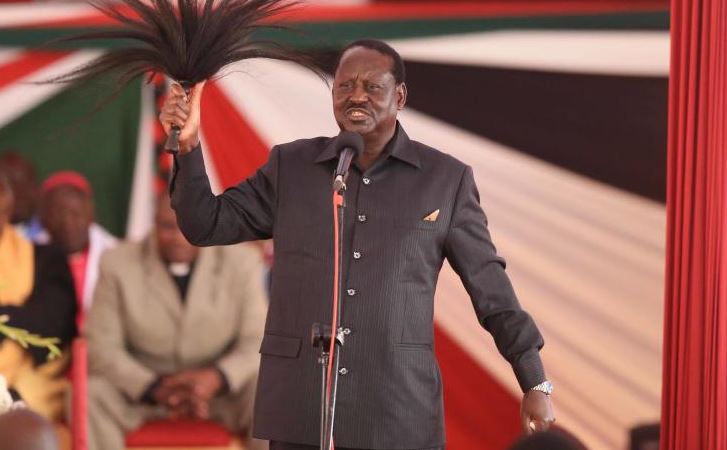 ODM leader Raila Odinga has dismissed political dynasty talk, saying it was unfair to profile individuals from prominent families because of their fathers.
Mr Odinga said President Uhuru Kenyatta, Gideon Moi and himself were not entitled to any privileges because of their fathers.
The trio's fathers served as first and second presidents, and as first vice president of the country, respectively, and have continued to influence the country's politics since independence.
The former premier said Senator Moi was free to vie for any political seat without being unfairly profiled for being the son of the country's second president.
"Moi rose from a humble background to become president. He came from poverty, just like Mzee Jomo Kenyatta and Jaramogi Oginga Odinga. Nobody can talk about a dynasty when it comes to these three families," Raila said yesterday during retired President Moi's burial in Kabarak.
He said: "What did Moi inherit? Why should someone think that one is entitled to more things because he is related to the Kenyattas and Mois. Don't think that Uhuru, Gideon and I are entitled to certain privileges because our fathers were something."
Allies of Deputy President William Ruto have continuously argued that the unity pact between the Opposition leader and President Kenyatta was a ploy by dynasties to block him from becoming the president in 2022.
Dr Ruto allies have framed the 2022 contest as a race pitting dynasties against hustlers. They claim there is a scheme by the two families to gang up against his bid.
Take a quick survey and help us improve our website!
Take a survey
Raila told thousands of mourners that the three deceased leaders came from poverty and climbed the ladder to hold national positions.
He eulogised Moi as a great leader who worked tirelessly for a united country and recalled how he met him in Bondo when his father hosted eight African members of the Legislative Council of Kenya (Legco). Raila then chanted a Luo dirge as he waved a fly-whisk in a scene reminiscent to his father, Jaramogi, who did the same as he paid his last respects to the country's founding president upon his death in 1978.
He chanted: "Yawa par uru loo; loo wang'e tek. Wuoyi gima ichamo e mari, gima odong' to kik igen. Jowi! Jowi! Jowi!"
It loosely translates to: "Remember the soil does not care (it has swallowed many); only what you have eaten is yours...!"
He recalled his love-hate political relationship with Moi that saw him detained by the Kanu regime following the attempted 1982 coup.
Raila would later make peace with Moi and entered into a pact with Kanu in 2002 through his National Development Party, which saw him join the Cabinet as Energy Minister. He remembered Moi as a freedom fighter who used his position in Legco to fight for the release of political detainees alongside Jaramogi.