Governor Alfred Mutua, Murkomen in vicious war of words over corruption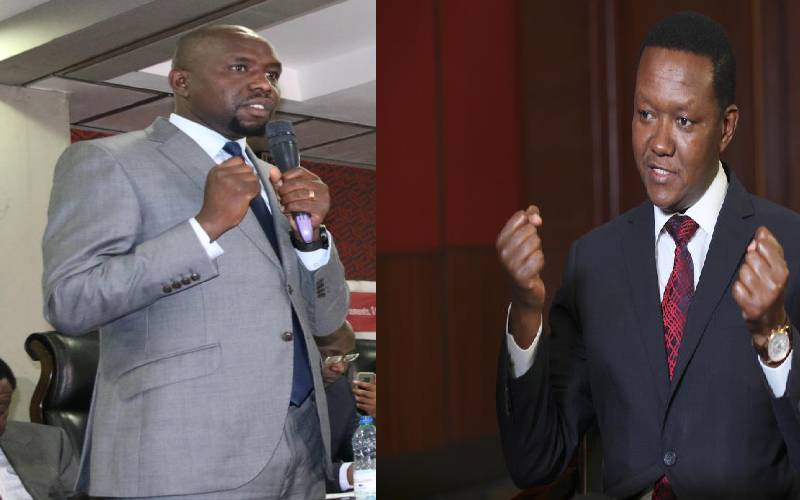 Senate Majority Leader Kipchumba Murkomen and Machakos Governor Dr Alfred Mutua accused each other of being corrupt in a vicious twitter war between the two leaders.
Murkomen told Mutua to shut up on matters corruption, claiming he could be the most tainted politician in the country.
In a hard-hitting remarks, Murkomen cautioned Mutua not to shout his cleanliness saying if the Ethics and Anti-Corruption Commission (EACC) was to be independent, Mutua will never talk again on matters graft.
The Elegeyo Marakwet senator said had it not for political gymnastics, Mutua would not have been cleared by the investigative agencies.
"You are only surviving because of political gymnastics. If EACC exercises its independence under the new management, you will never ever talk again. You were dubiously cleared. You are a governor of vipindiree and cinemaree. You are worse than the cobra squad you used to act," Murkomen tweeted.
Mutua had told Murkomen that he was not under any investigations and had been cleared by the Director of Public Prosecutions (DPP) of any wrongdoing on what he described as politically instigated allegations, adding that he did not need any protection
"I wish to inform Murkomen that I am not under any investigation by any agency. The DPP cleared me last year of any wrong doing and the false politically instigated accusations about vehicles are no more. I have never been corrupt and need no one's protection. I am clean," he said.
In a case of washing their dirty linen in the public, Governor Mutua also went for the jugular claiming Murkomen had stolen Sh100 million in the recent maize scandal.
He wondered how much Murkome's friends had stolen from the country if the Senate Majority Leader himself managed to steal Sh100 million.
"Can Murkomen clarify whether the rumours I have heard that he stole Sh100 million in the recent maize scandal are true. If true, how much money has some of the fellas he hangs around with stolen from Kenyans?" Mutua posed.