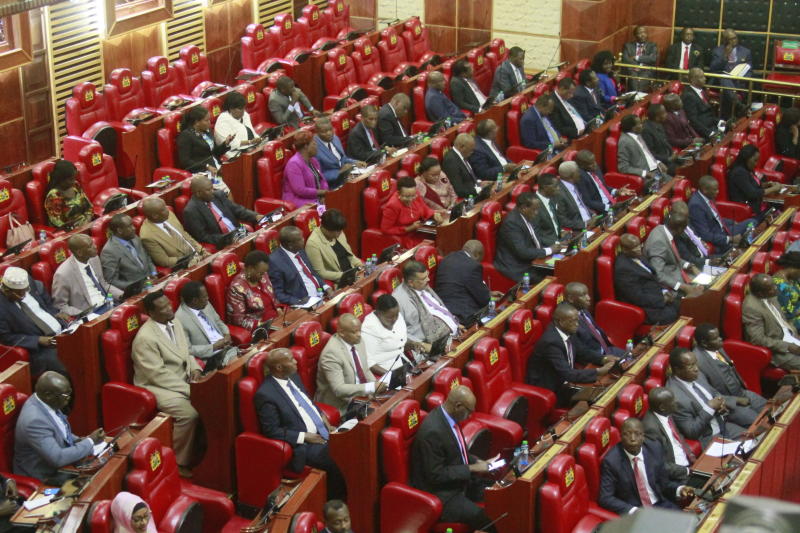 MPs have backed down on proposals that would have given them a blank cheque in determining their pay and allowances. The MPs deleted two clauses that would have allowed the Parliamentary Service Commission (PSC) to bypass the Salaries and Remuneration commission (SRC) in determining their remuneration, travel and accommodation perks. This followed a memorandum from President Uhuru Kenyatta to Parliament, in which he asked the House to re-consider the provisions. A report of the National Assembly Justice and Legal Affairs committee recommended the deletion of the proposals.
SEE ALSO: I will deliver on my pledges, Uhuru says
The offending clauses would have given PSC power to review salaries and remuneration of the MPs to the exclusion of SRC. "The committee noted that the president's reservation treats faculties and services related to travel and accommodation for MPs while on official duty outside parliament as benefits to be determined by SRC…the committee recommends that the House amends the bill in light of the president's reservations by deleting clause 20 of the bill as recommended by the president," stated the parliamentary committee report. On the item that gave PSC power to single-handedly determine conditions and service of its employees, MPs deleted the entire clause although the President had suggested that it be amended to take into account SRC's advisory role. "The committee noted that the President had recommended that clause 43 of the bill be amended to make explicit reference to the advisory role of SRC in the determination and review of the terms and conditions of service of PSC employees…the committee recommends that the House amends the bill in light of the presidents reservation by deleting clause 43 of the bill." However, a number of MPs claimed that the deletion of the two clauses did not take away the role of PSC in determining their remuneration and benefits.
SEE ALSO: Aspirants for Nairobi County Speaker have few hours to apply