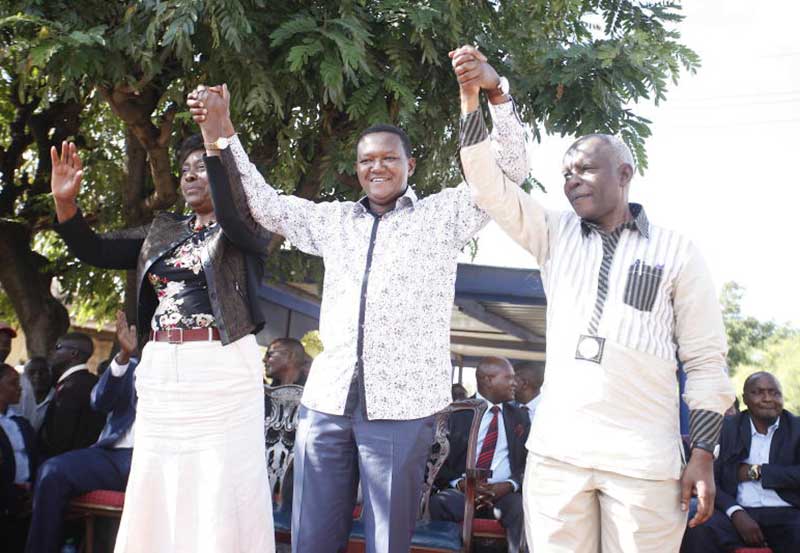 Three Ukambani governors have formed a new political movement with a focus on people's development. Governors Alfred Mutua (Machakos), Charity Ngilu (Kitui) and Kivutha Kibwana (Makueni) announced the formation of People's Empowerment Movement, whose main agenda, they said, was to fight poverty, generate wealth and provide cohesion in Ukambani and the entire nation. The three held a day-long strategy meeting they said was to define the development agenda for their citizens. The formation of the movement, however, marked a significant escalation of the feud with Wiper Party leader Kalonzo Musyoka. Prof Kibwana is the party's chairman.
SEE ALSO: ODM denies a pre-election deal between Raila, Kalonzo
"Our meeting focused on strategies of moving our people from poverty to prosperity," said Dr Mutua, who recently rallied the other two governors for the launch of the 19km tarmac road from Kivandini to Masinga. "We need to move our people from hopelessness to hope as we galvanise our shared resources," Mutua said. The three vowed to stick together and not respond to those insulting them. Instead, they said they would grow each others' economies by trading and buying goods from each other. "In 10 or 20 years' time we do not want to be blamed for being sycophants and doing nothing," Mutua said. "The time for change is here for the sake of our people." They announced that in early February, they would unveil the agenda and programmes for the People's Empowerment Movement that, according to Prof Kibwana, "will transform lives in a way never seen before."
SEE ALSO: ODM: Raila will not back Kalonzo in 2022 polls
"Our people have suffered for a long time due to poor leadership," said Mrs Ngilu. "We have to provide leadership that changes the lives of our mothers, youth and men." Kibwana said Ukambani needed to be mobilised on national issues such as the census, Big Four agenda and referendum debate. The governors kept up the onslaught, even as Kalonzo's allies challenged them to resign and try re-election without Kalonzo's support. The trio has revived the economic bloc to champion the development while also challenging Kalonzo to retire from active politics, what has irked the latter's lieutenants. On Saturday, Kamba Council of Elders supported the Wiper leader on his decision to work with President Uhuru Kenyatta.
SEE ALSO: Rebellion hits Wiper over Kalonzo pact with Uhuru
Yesterday, MPs Daniel Maanzo, Ben Momanyi, Gideon Mulyungi and former Kathiani MP Wavinya Ndeti took a swipe at the trio, saying they must account for public funds in their control.