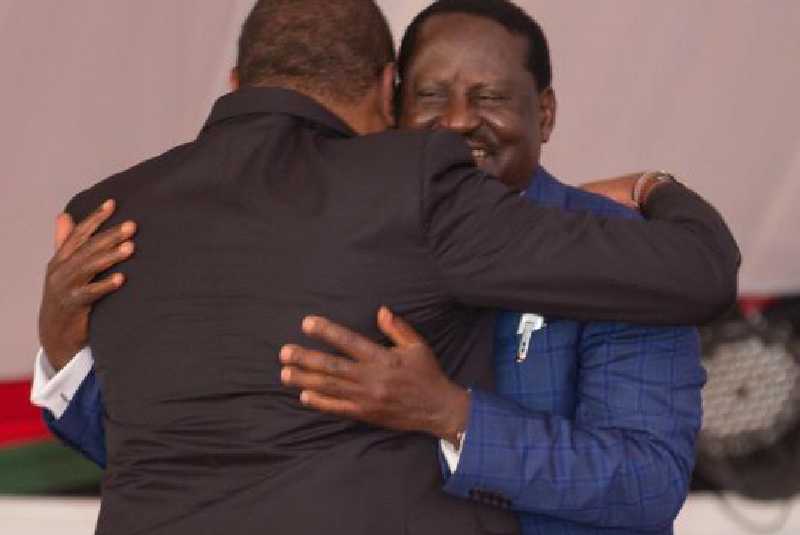 Leaders from Nandi and Kisumu have hailed the cordial working relationship exhibited by President Uhuru Kenyatta and AU envoy for infrastructure Raila Odinga. The elders were happy with the patched-up relationship between the two leaders and asked them to extend their peace drive to other parts of the country. Addressing the press in Kisumu on the sidelines of a peace building and conflict management workshop, the elders underscored the importance of peace in development. Luo Council of Elders Chairman Opiyo Otondi and his Nandi counterpart Benjamin Arap Kitur said peace cannot be kept by force but by understanding.
SEE ALSO: Deep State? That's you, Raila responds to Ruto
The two said when Kenya is peaceful, the country will achieve a lot as opposed to when there is ceaseless political bickering. ''Currently, the peace dividend that Kenyans are enjoying is as a result of the political goodwill," Otondi said. Kitur was elated that since the March 9 handshake, peace had returned in the country. ''This is what we want. We want Kenyans to be united and to stop unnecessary scolding. People must learn to tolerate each other,'' he said. The elders added that if Uhuru and Raila did not drop their hardline stand on politics, Kenya would today be less peaceful.
SEE ALSO: Baba: Reggae was on 'half-time'
''When the power of love overcomes the love of power, the country and its neighbours will know peace," Otondi said. The elders said there is no reason why Kenyans or their communities should fight. ''Why should a Luo or Nandi kill each other over natural resources?" wondered elder Charles Ondere. But the elders warned politicians against using their administrative authority to incite Kenyans into ethnic violence. ''Inciting people to war will not resolve their problems. It will only aggravate their poverty," Ondere added.
SEE ALSO: I will deliver on my pledges, Uhuru says
The elders were reportedly unhappy with the administration of Nandi Governor Stephen Sang that rekindled land disputes. They told Sang and Kisumu Governor Prof Peter Anyang Nyong'o and security chiefs from both sides to come up with sustainable peace solutions.