Ex-IEBC commissioners blame Chebukati for 2017 poll kit deal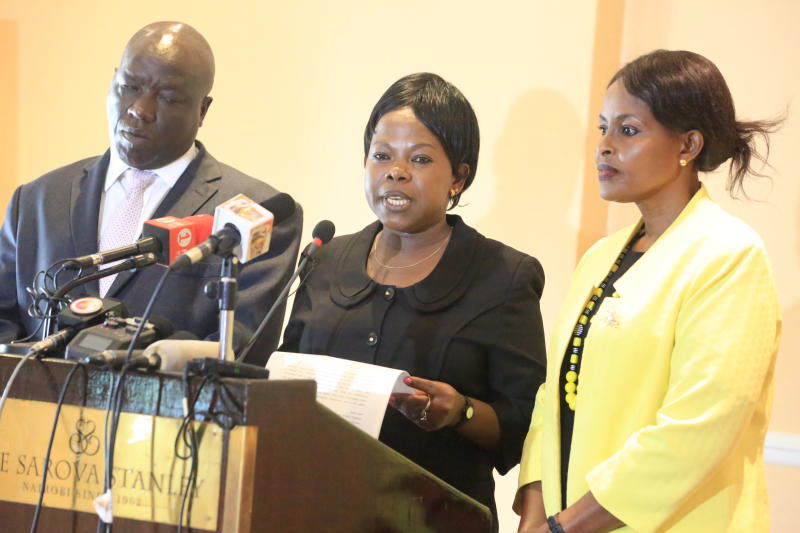 Two former electoral commissioners have accused the current chair, Wafula Chebukati of micromanaging the agency in the run up to the 2017 polls.
Paul Kurgat and Margaret Mwachanya accused Chebukati of dragging them into the direct procurement of the Kenya Integrated Electoral Management System (KIEMS) kit from Safran Morpho against the law.
The two revealed that although there were time constraints, Chebukati appointed them together with former Vice Chair Connie Nkatha to the commission's standing committee on procurement and finance.
The duo made the revelations when they appeared before the National Assembly Public Accounts Committee (PAC) chaired by MP Opiyo Wandayi (Ugunja).
Kurgat who was first to appear before the oversight committee said his exit was necessitated by what appeared as Chebukati's personal vendetta with the commission's CEO Ezra Chiloba and which he wanted to impose on other Commissioners.
"He (Chebukati) ordered an internal audit specifically on the Information and Communication Technology (ICT) department when we had nine departments at the Commission and I remember asking him why only ICT?" Kurgat said.
"When the issue came up at the plenary, I dissented giving the Safran Morpho the tender to procure KIEMS because there was no market survey that had been done," he said.
At least 45,000 KIEMS kits worth Sh4.19 billion were procured for last year's poll, with the commission paying Sh2.5 billion during the repeat presidential election.
Equally, Mwachanya admitted that she was part of the commissioners who approved the direct procurement of the KIEMS kits from Safran Morpho, arguing that the commission was racing against time.
Mwachanya further argued that the user department (ICT) had made a presentation to the commissioners on the technical capacity of Safran.
"I voted with the chairman and other commissioners because at that time, we were racing against time," she said.
She said she resigned from the agency based on principles.