I will be actively involved in my 2022 succession, says President Uhuru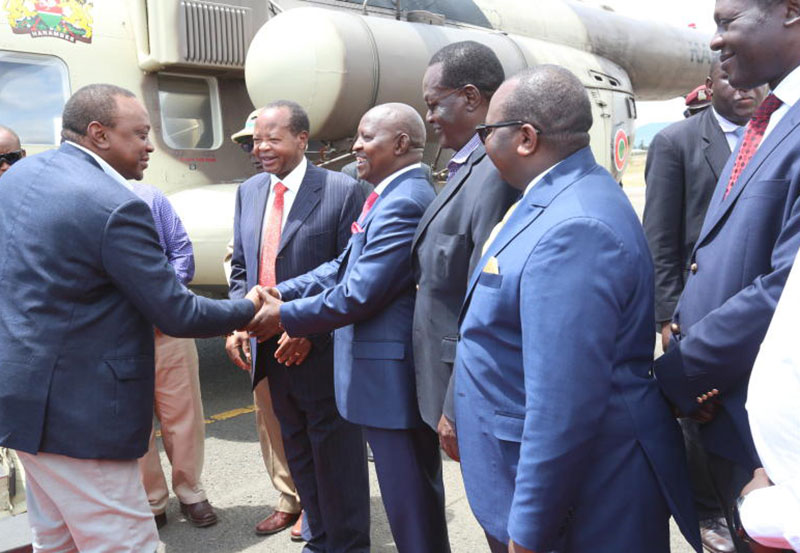 President Uhuru Kenyatta has broken his silence on the ongoing debate on his succession, saying he will be actively involved in what will happen after his retirement.
In the clearest indication that he would be at the centre of succession politics towards the end of his final term, Mr Kenyatta lashed out at unnamed critics, saying his silence on the matter should not be seen as weakness.
"They think because Uhuru is going home in 2022, he will not have a word on what will happen. I am telling them when the right time comes, I will have something to say," the President told a rally in Nyeri town yesterday.
He added: "Some think I have kept quiet because I am not capable of talking politics. I am still a politician. They will be shocked when that time comes, but for now I want to concentrate on delivering my pledges to Kenyans."
The President, who chose to address the rally in Gikuyu, told residents in his Mt Kenya backyard that he would advise them on the political path to follow "at an opportune moment".
Uhuru said it bothered him that some leaders were spending most of their time politicking instead of concentrating on development.
"When the right time comes, I will tell people that leaders who spent most of their time dwelling on baseless talk should go home. They don't deserve any leadership position.
"That is why I am appealing to leaders, both at the national and local levels, to stop useless politics and concentrate on nation-building," said Uhuru.
The Head of State chastised Mt Kenya leaders for engaging in 2022 politics and overlooking the problems their voters were facing.
The President said the leaders had misplaced their priorities by engaging in endless politics about 2022 and loitering about rather than serving the electorate.
Drawing examples from his meeting with western Kenya leaders, he asked Mt Kenya MPs to get their priorities right and meet with members of his Cabinet to highlight priority areas.
Senseless bickering
"We need to put the needs of Kenyans first and know how we can improve their lives. We will know about tomorrow when we get there," he said.
For instance, he said, the leaders were too concerned about politics to revive coffee farming.
"Rather than just senseless bickering they (leaders) should come together and come up with a plan for what we can do about coffee," Uhuru said in apparent reference to the group of Mt Kenya MPs who met in Naivasha earlier in the week.
His blunt comments are likely to rattle both his allies and other political players engaged in high-stakes 2022 succession talk.
Unlike in previous forays into the region, Uhuru was not accompanied by Deputy President William Ruto, whom he had earlier in the morning shared a platform with at State House, Nairobi, when he hosted a stakeholders' forum on the ease of doing business in the country.
Mr Ruto has recently made several trips to the Mt Kenya region, where he has enjoyed the support of many MPs, with some leaders describing him as being more accessible than the President.
Ruto's allies have not shied away from drumming up support for him at every turn, even going to the extent of asking Uhuru to state his stand on an undocumented succession plan allegedly agreed after the 2013 General Election.
During yesterday's public rally, Uhuru, who spoke after a closed-door meeting with Mt Kenya region leaders, said some politicians had become selfish and self-centred by focusing on who would succeed him instead of serving the electorate.
"Some of the leaders we have are looking at what they can get tomorrow instead of focusing on what we have to achieve today. Why not love the people who elected you more than you love yourself?" he asked.
The President lauded Nyeri County leaders for their unity and asked those from other counties to emulate them and focus their energies on development.
Touching on his handshake with Opposition leader Raila Odinga, Uhuru sought to explain why he took that route, saying it was meant to bring unity in the country after a divisive 2017 General Election.
"Let me be very clear, my handshake with Raila was to foster peace and focus efforts towards development. We need everyone on board since this country is for all of us."
Before addressing the public rally, Uhuru had received a memorandum from Mt Kenya legislators that was prepared after a two-day retreat in Naivasha last week.
Succession talk
Sources told The Standard that the President was not happy with the leaders' sentiments during the retreat, wondering why they chose to address him through the media. "He was livid that we had chosen to address some of our grievances through the media yet there are other channels to use," said a source who was at the meeting.
Most of the leaders who attended the two-hour meeting remained tight-lipped on the issue, with most declining to give interviews.
In Karatina, where he opened a rebuilt market, the President talked about projects in infrastructure, health and agriculture.