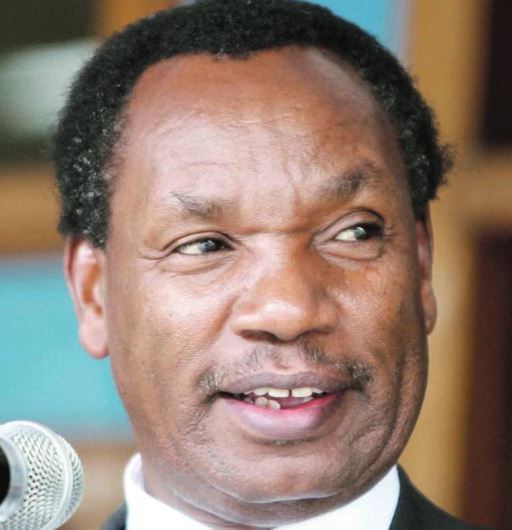 Despite losing the Nandi gubernatorial race last year, former MP Henry Kiprono Kosgey still commands political influence owing to his leadership experience.
Kosgey, whose political strategies have often been defined by proverbs, has announced his retirement from elective politics.
"I had actually made my mind up to stay away from elective positions but decided not to disappoint delegations from Nandi residents that came asking me to represent them. I respected the calls and offered myself to contest for governorship," he told the Sunday Standard after a Church function in Nandi.
Mr Kosgey, who trounced rivals to win six elections -- making him a long serving Tinderet MP, has held various political party positions at the grassroots as well as national level and ministerial positions.
The former MP ventured into politics in 1979 and served in the Cabinet during Presidents Moi and Kibaki regimes.
He was also in the Opposition and occupied the backbench between 2002 and 2007 after Kanu lost to Narc.
The former ODM national chairman decamped to Jubilee in the last elections to vie for Nandi governorship but lost to Governor Stephen Sang.
Role models
During a funds drive in aid of St Andrews Kosirai Catholic Church in Chesumei Constituency this week, Kosgey said he was passing the baton to younger leaders and thanked residents for electing him in successive elections since 1979.
"I will work with all leaders towards development of Nandi and the country at large. Ni heshima kubwa kuchaguliwa mara nyingi na ninawashukuru watu wa Nandi kwa kuwa na imani kwangu (It is an honour to be elected several times and I thank Nandi residents for having had the confidence in me," he said.
He announced that he will work with leaders to foster unity, support the church and development projects.
Kosgey stated: "After my election and first appointment as a minister in 1980, residents invited me for a function in Kosirai where they gave me a brief case as a gift and said I should use it to keep information. Although it is aging, I still have it and respect residents of Nandi."
"People are wondering why Kosgey is boring today. I will be preaching because I will now talk less politics. Melildoi kirug ukta (a strong bull with a hump will also at one time want to rest," he said amid laughter from the congregation.
He challenged Christians to serves as role models for society. "Pass a message by the way you live. Let your life be your message," he said during the function attended by Bishop Maurice Crowley, the apostolic administrator of the Eldoret Catholic Diocese.
The former minister was also accompanied by among others former chairman to the defunct Nandi County Council Nelson Lelei, former Kosirai Ward MCA Simon Bor, former Teachers Service Commission commissioner Richard Cheror, Kosirai MCA Joshua Ngetich.
"Kosgey made a big contribution to the development of Nandi. He respected all leaders and supported development of institutions during his tenure," said Mr Lelei.
Mr Bor said: "Kosgey is one of the experienced Nandi and Kalenjin elders who can be resourceful and play a pivotal role in resolving wrangles that often mar the community in politics".
The former Kosirai Ward MCA urged Kosgey to support church projects, adding that residents would be glad meeting and having his audience.
"It was recently rumoured that there was a meeting with some Kalenjin elders to chart the way forward and we hope Kosgey can be instrumental," said Bor, though Kosgey did not expound on this in his address.
After the former MP lost in the last elections, he decided to pursue a PhD in Strategic Management and Leadership, and sources hinted that he has been offering part time lectures in Catholic and mission universities in Nairobi and in Eldoret.
When the Sunday Standard sought to know about his new teaching ventures, Kosgey only stated: "Yes, I can teach but what I have been doing was only in practice".
Kosgey was the youngest legislator when he was first elected in 1979. He was subsequently appointed Minister for Transport and Communications aged 32. He later served in various dockets.