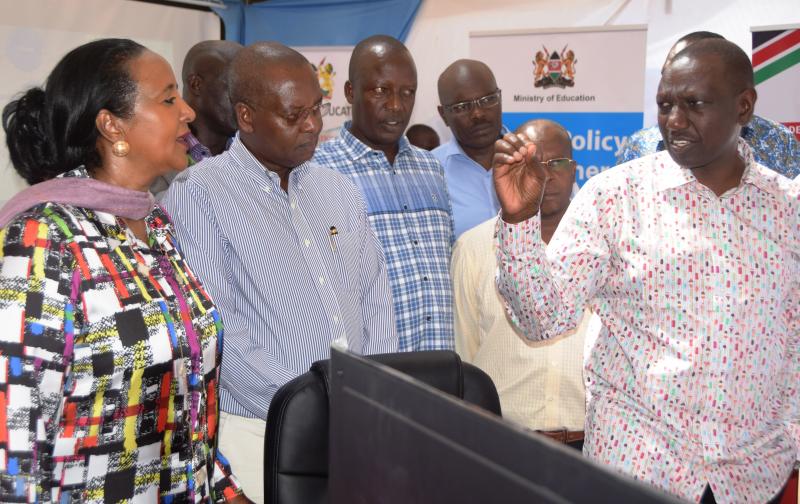 Deputy President William Ruto on Wednesday said he has been a victim of a hostile media and adversaries over the source of his wealth and declared that he will soon prove he is clean and incorruptible.
He believes he has been unfairly singled out for lynching without just cause.
"I have been in the spotlight by the media which appears to have done some work on me about my wealth," Ruto lamented before thousands of teachers and added soon the truth about this wealth "in the rumour mills will be put to rest."
The DP suggested that he has been singled out for ridicule and innuendo over his wealth and money without just cause and added that the lifestyle audit of public officials announced by President Uhuru Kenyatta will vindicate him.
According to Ruto, the audit will debunk myths and innuendo that he acquired wealth through graft and corrupt means.
Read More
Ruto appeared to be reacting to calls by key critics including former prime minister Raila Odinga who have questioned the source money he, regularly, donates to church and other functions, regularly. Ruto's critics have, often suggested that he is using money to promote his presidential ambition and buy political support across Kenya, claims often disputed by the DP.
"The President's directive on lifestyle will be an opportunity for me to put to rest many rumors about me. We support it fully," said Ruto and declared his unwavering support for the on war on graft.
Last week, President Uhuru Kenyatta directed that all government officials and their families will be subjected to lifestyle audit as part of his administrations renewed war on corruption.
On June 4, Heads of procurement, accounts of state institution stepped aside to pave way for a lifestyle audit. Yesterday the government confirmed the vetting has kicked off.
The DP also said he will intensify his tours across the country despite accusation by the opposition leaders who claim that Ruto was engaging in the 2022 election campaigns.
But Ruto defended the trips were aimed at supporting the communities, especially schools, in needs and to put impetus in the implementation and realization of Jubilee agenda 4 activities.
The DP was addressing over 8000 secondary school head teachers in Mombasa where he also challenged the principals to employ prudent financial management in use of public resources.
"I am ready for the lifestyle audit. It is now a government policy that all government officials will have to undergo the audit and I support it," said Ruto.
He criticized the media for slurring him over his wealth since the President issued the directive that all government officials should under the audit to determine the source of their wealthy.
Ruto said that the government will deal with the issue of integrity firmly and urged Kenyans and politicians to support the war on social and economic ills bedeviling the country.
A section of political leaders have questioned the DP's forays in different parts of the country accusing him to engaging in premature 2022 presidential campaigns.