Sibling rivalry between ODM and Wiper fuels jitters in NASA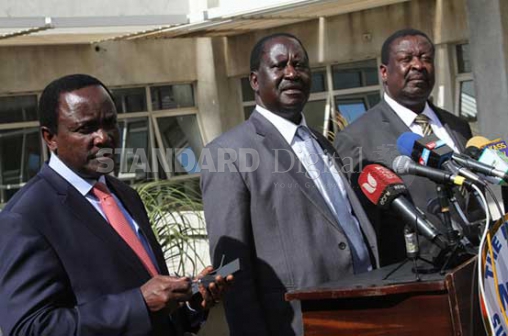 A cutthroat competition between two key parties in the National Super Alliance (NASA) has now become a cause for concern.
The Orange Democratic Movement (ODM) is not happy with recent political developments where some of its members or perceived supporters have decamped to join Kalonzo Musyoka's Wiper Democratic Party.
Perhaps to mark its territory, ODM party leader and former Prime Minister Raila Odinga is said to have told some of his allies that he was concerned with the "horizontal movement" mainly among those eyeing various elective seats.
The Raila team is concerned with Kalonzo's overtures in areas considered their strongholds such as Kisii, Nyamira, Coast and some parts of North Eastern.
The latest move that has raised eyebrows is the former Kenya's envoy to Tanzania Chirau Ali Mwakere's decision to join Wiper.
This happened on Thursday and he was received by party leader Kalonzo; coming only days after Mwakwere met Raila and other ODM leaders such as Mombasa Governor Hassan Joho.
ODM under siege
ODM leaders were planning to formally receive Mwakere and were surprised when the former Matuga MP instead opted to join Kalonzo camp. This left them feeling 'betrayed'.
There are also reports that ODM and Wiper are separately wooing the clan-backed Mandera County lineup which Jubilee did not warm up to.
The Garre clan lineup includes former Provincial Commissioner Hassan Noor and nominated MP Hassan Osman who are set to vie for Governor and Senator respectively.
Yesterday, ODM Director of Elections Junet Mohamed raised concerns about the current developments, saying the party will be forced to jealously guard its interest in their strongholds 'from what he termed as an 'incestuous relationship' between NASA members.
"It is extremely wrong. This is akin to committing incest in a family. If we are members of NASA, it beats logic why a member will leave ODM to join Wiper, or Ford Kenya or Amani and vice versa," he said.
Junet, who is also the Suna East MP went on: "The early they stem matters the better, otherwise consequences will be dire. It's like ODM is under siege from their partners when the enemy is Jubilee. We are not taking this lying down; we shall now come out guns blazing to protect our turf."
An aide to Amani leader Musalia Mudavadi while downplaying the rift, said ODM was creating a hullabaloo from a small issue that can be handled internally.
"Take a case of Mwakere for instance, that decision was strategic in that apart from the Digo and Duruma communities, the Kamba community constitutes the third largest voting bloc in Kwale. Mwakere being a Digo and picking a Duruma as a running mate, he had to be strategic to capture the Kamba votes and that should not mean he is undermining Raila or Mudavadi," he said.
Wiper Secretary General and Mombasa Senator Hassan Omar denied claims that the party was targeting to poach more ODM members, arguing the leaders had freedom to associate with their party of choice.
He said Wiper has a line up in every county at the Coast and was getting interest from aspirants in Kisii and Nyamira and there was no ill will in this move.
"There are no enclaves for any party. If people decide they want to join Wiper, how will we turn them away? People have constitutional right to join any party of choice and we can't deny them that. ODM cannot be and is not our enemy," Omar said.
Intra competition
ODM National Treasurer Timothy Bosire downplayed the intra-competition saying the ultimate aim for NASA is to remain united for purposes of rescuing the country from all the mess Jubilee has led it into.
"The way the four parties came together should never be subjected to politics of destruction. The compelling desires of the people have put NASA together and not individual interests. Our intention is to ensure we are united to take over government; we should not concentrate on small matters in any partner party as we are guided by the seven broader principles of NASA," Bosire said.
Wooing game
Last year, former National Assembly Deputy Speaker Farah Maalim defected from ODM and not only joined Wiper but was also made the Deputy Party leader becoming number two in command after Kalonzo.
In the last few months, Kalonzo has been holding meetings in Nairobi and touring areas perceived to be ODM strongholds to seek new membership.
He has since met aspirants from Kisii and Nyamira counties where incumbent governor James Ongwae and John Nyagarama respectively are ODM members.
Patrick Nyaberi who contested the Kisii Governor's seat in 2013 on a TNA ticket and lost to Ongwae has since joined Wiper and in Nyamira, the Wiper leader is engaging some leaders to come up with a strong candidate to take on Governor Nyagarama. In Kilifi, Wiper is said to be wooing senatorial aspirant John Nyule, who was set to take on incumbent Stewart Madzayo in ODM primaries.
In Mombasa, Senator Omar and Nyali MP Hezron Awiti are both fronting for the Wiper ticket in their quest to oust Governor Joho of ODM, as Mombasa Governor.
They have rejected a proposal for a joint nominations within NASA sparking fears that a division will give Jubilee an upper hand in the race for the Mombasa Governor's seat.