Give us another term to complete our projects, says President Uhuru Kenyatta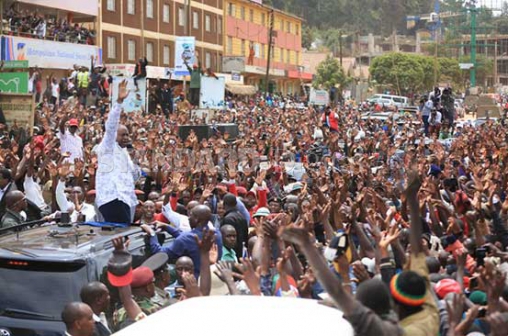 President Uhuru Kenyatta says he deserves a second term to complete projects he initiated.
Speaking to Kiambu residents yesterday, Uhuru said his government's development record was unmatched, and he should therefore be given another five years to complete Jubilee's flagship projects.
He said there was still a lot of work to be done, among them the completion of the Standard Gauge Railway, infrastructure development, youth empowerment and education reforms. Uhuru, who was accompanied by Deputy President William Ruto, said Kenya had recorded tremendous growth during the four years of his leadership. He added Jubilee would do more if granted a second term.
"I have tried my best. All we are asking for is that you give us an opportunity to finish the work we started. We need another five years to finish what is in progress," Uhuru said at Kimende in Lari constituency. He said key among his government's achievements were free maternity, electrification from 30 per cent four years ago to 50 per cent coverage and the installation of modern equipment in hospitals to cater for cancer and kidney patients.
He called on doctors to end their strike to end the agony of patients countrywide. Doctors have been on strike for more than two months. Uhuru said Jubilee's sound performance was as a result of the good working relationship between him and his deputy.
"My working relationship with the Deputy President is good. We work together without any conflict. There is no day you have heard that we are fighting. That's how work should be done," he said.
While thanking residents of his home county for registering as voters in large numbers, the President pleaded with the voters to ensure they turn up in large numbers in the August 8 election to re-elect him.
He criticised the Opposition, saying they had nothing new to offer Kenyans. He challenged his rivals to table their manifesto stipulating what they would do to Kenyans if elected.
"When you ask them what their agenda for the country is, all you get is how they want to unite just to take over power. I challenge them to table their manifesto just as we have done for everyone to see," he said.
The President also accused the Opposition of constantly intimidating the Independent Electoral and Boundaries Commission (IEBC) through what he termed as unfounded claims of rigging.
He assured Kenyans the forthcoming polls would be free and fair. Ruto asked the Opposition to prepare for a titanic duel, saying Jubilee Party was ready for the challenge ahead.
The DP claimed the Opposition was in panic mode and were making what he termed as wild rigging allegations.
"We are totally ready for elections. We are telling our competitors that we are ready to meet them at the ballot. We have our manifesto and presidential candidate in place. They are yet to do so. They should be ready for a serious political duel," said Mr Ruto.
He said he was fully behind the President's re-election bid and called on Kiambu residents to rally behind them.
The president and his deputy called on residents to ensure they choose aspirants vying on Jubilee Party ticket.
The leaders assured aspirants that the nominations slated for April will be free and fair, adding they will work with those who will be elected democratically.
They toured Limuru, Lari, Githunguri, Kiambu town, Kiambaa and Kikuyu constituencies.