Hassan Joho's deputy defects to Jubilee, cites frustrations in ODM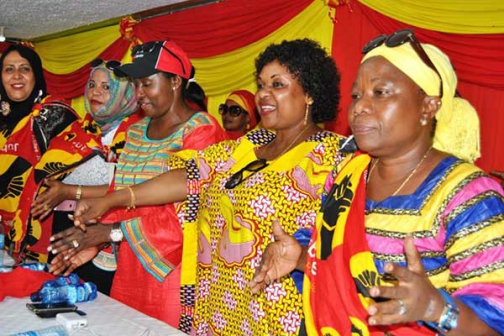 The Jubilee Party yesterday dealt Orange Democratic Movement (ODM) a political blow by netting Deputy Governor Hazel Katana.
Ms Katana, who has had a frosty relationship with Governor Hassan Joho, declared that she would run for the Mombasa senatorial seat on a Jubilee ticket.
County government officials did not comment on the defection in public but in private, described it as "good riddance", adding that Katana's move had been expected since this month began.
Frosty relations
Her loyalty to ODM has been shaky and in doubt since March last year when she attended a meeting with Jubilee politicians during campaigns for the Malindi by-election.
She also had frosty relations with many employees of the Mombasa County where her role as deputy governor was undefined.
Speaking in Tononoka, Mombasa County yesterday at a ceremony attended by an estimated 2,500 women, Katana emotionally said she had suffered years of frustration that forced her to move houses thrice in a row fearing for her safety.
She also said she had gone without a salary for a year and felt isolated.
"I have been insulted and told I am an idler and lazy. I have been reduced to reading newspapers. I have suffered lack of recognition but I am happy because I will have peace in Jubilee," Katana said.
She was received by Nairobi Woman Rep Rachel Shebesh, her Kwale counterpart Zainab Chidzuga, nominated MP Sonia Birdi and senators Beatrice Elachi, Emma Mbura and Mvita Mshenga as well as Mrs Rahma, wife of Joho's main political rival Suleiman Shahbal.
Ms Chidzuga who had also defected from ODM to Jubilee was the first to reveal Ms Katana's alleged frustration when she told the crowd that she (Katana) had gone without salary for a year.
Chidzuga criticised ODM leader Raila Odinga for recently claiming nearly 2.5 million title deeds issued by the Jubilee regime were fake.
"Raila lied to Coast residents that title deeds issued by President Kenyatta are fake.
The truth is that regulations to regularise the titles are before Parliament and will be passed within the next two weeks. Coast residents are happy to receive a record 600,000 title deeds and should ignore Opposition propaganda," she said.
Ms Elachi advised Katana to develop thick political skin to ensure her victory and that of Jubilee in Mombasa.
"Prepare yourself for more insults from the Opposition and fight it out because you are going to win this seat. Target the grassroots and ensure you win many county assembly seats," she said.
Katana however surprised the crowd when she thanked Joho for according her the opportunity to serve as her deputy. "Any goodhearted person must be thankful. I sincerely thank Governor Joho for giving me this opportunity to serve as his deputy," Katana said.