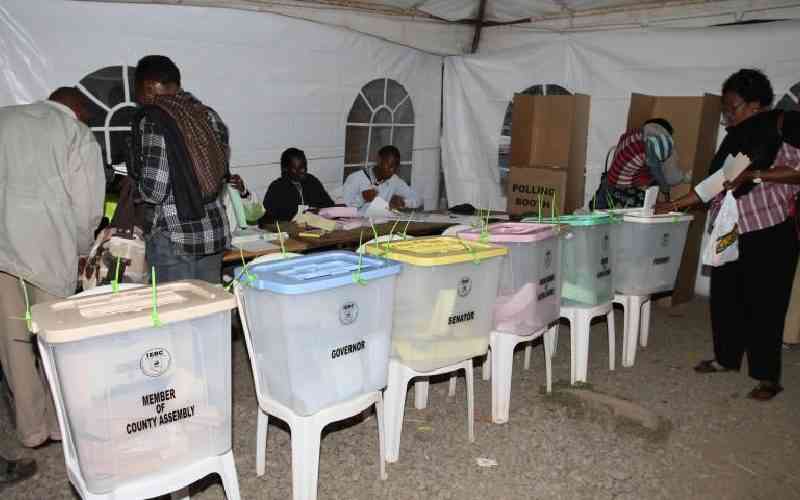 In the words of the 16th President of the United States, "The ballot is stronger than the bullet." For that reason, the 22,120,458 registered voters who will cast their ballot on August 9 must vote wisely.
The decision that each one of us will make at the voting booth will either make or break this country for the next five years.
As voters, we should not be swayed by the call for a 'six-piece' pattern at the expense of development, both at national and county government level.
In any case, we have the seen the results of the six-piece narrative that led Kenyans into voting in politicians who failed to deliver on their campaign pledges.
Fellow Kenyans, before we vote for some of the senators, women representatives and governors who are seeking re-election, we must evaluate the work they have done for the last five years they have been in office.
In terms of political prestige, after the presidency, governors are powerful when it comes to devolution. The county bosses control billions of shillings. They control the lives of citizens in terms of service delivery, hence the reason we must make smart decisions come August.
Ten years down the line, devolution has borne little fruit in some counties, not because of lack of funds, but because of lack of good leadership. While some counties are talking about good health service delivery, proper infrastructure and bumper agricultural harvest to other Kenyans the fruits of devolution have been bitter.
What would make one vote for a governor who has not performed during his first term?
There are also senators and women representatives who, despite being in office for the last ten years have performed poorly and yet are out and about out campaigning.
These kind of politicians don't deserve our political support at all because they will still fail again if given a chance.
For devolution to become a reality we must agree that we need the right men and women at the helm of leadership. We need the right people in Senate to champion the devolution agenda and fight for counties when it comes to funding and bills that will ensure the devolved unitsare well managed.
We need 47 strong women representatives who will promote the interests of fellow women and girls in their counties. They need to come up with policies and laws that will target girls and women.
Let us not elect non-performers to manage our counties. The success and the future of our counties are in our hands. As you wake up early on August 9 to cast your ballot, think of that woman and the girl who needs a strong representation.
Think about the kind of senator that you will want to have. Above all, we need to have governors who will manage our county resources and finances in a way that will enable the counties to prosper.
-Ms Czeda is a KTN news-anchor-cum reporter.