Mt Kenya running mates might not earn Raila, Ruto extra votes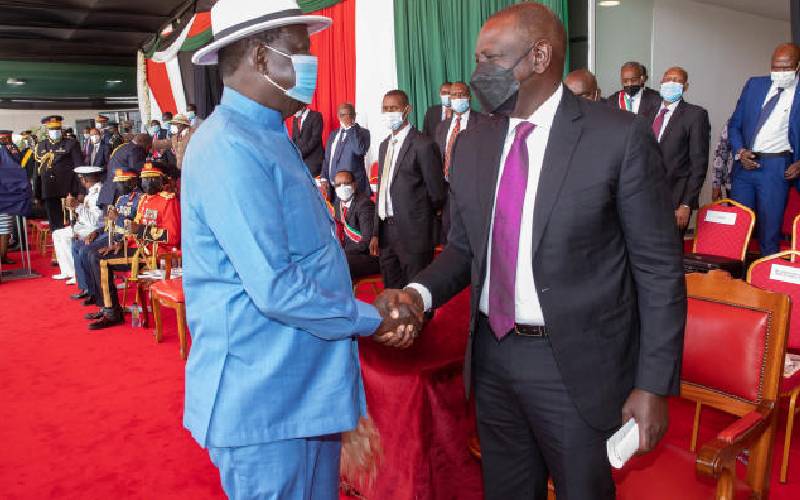 As the run-up to the 2022 elections begins to take shape, there are those who argue that this will be a two-horse race between Deputy President William Ruto and the Uhuru-Raila handshake candidate.
However, the breaking news in town is more about who the front-runners will select as running mates. There are those who opine that the choice of a running mate will make or break the presidential ticket. They go further to suggest that since Mt Kenya may not be having a top-notch candidate, whoever they overwhelmingly support will clinch the seat. In this regard, it is argued, picking a running mate from the mountain would be a game-changer.
In all elections, the decision to be a candidate precedes the competition for votes. In presidential elections, the candidate is selected first and afterwards the running mate is chosen by a party or the presidential candidate. The literature shows that this decision is taken due to the need for a candidate who can balance the ticket or who has a capacity for governance to help the president or also replace him or her, if necessary.
When it comes to Kenyan elections, a perception exists that a deputy presidential (DP) running mate can help to deliver their regional votes. But is this presumption of a DP 'regional home advantage' correct and does it have the power to influence the eventual result?
In their book, The VP Advantage: How Running Mates Influence Home State Voting in Presidential Elections, Christopher J Devine and Kyle C Kopko undertake a quantitative analysis to suggest that such an advantage is, in fact, relatively rare.
As we hurtle down to an intriguing election and somewhat traumatic presidential election season approaches a conclusion, speculation about who Raila Odinga and Dr Ruto will nominate as their running mates has begun to gain traction.
The primary task the authors set themselves is to discover whether the home region of a deputy presidential candidate has any bearing on the outcome of a presidential election. Is there a DP 'home region advantage' for the entire presidential ticket? Their overall conclusion – spoiler alert – is swift and decisive.
As they state in the preface to the book: "Our conclusion, based upon the research in this book, can be summarised as follows: There is so little chance of a deputy presidential home region advantage making a meaningful electoral difference that presidential candidates are far wiser and more responsible to their constituents, to discount such strategic considerations…"
Indeed, the assumption of a DP home region advantage is endemic in Kenyan politics. Today there are numerous media articles and propaganda claiming that particular DP contenders can help 'deliver' the Mt Kenya vote-rich region for a presidential ticket.
This perceived advantage is rather belied by the fact that when in 2003 President Moi cajoled Musalia Mudavadi to abandon the opposition and appointed him vice president with the hope that he would rally the Luhyia vote in favour of Kenyatta. Mudavadi ended up losing his own parliamentary seat.
Besides, the times when Mudavadi has run for president, he has failed to deliver the Luhyia vote to himself. Neither did Joe Nyaga nor Prof Katama Mkangi.
When Musalia ran for president, his running mate failed to deliver a regional home vote advantage.
More intriguing is discussion of how assumptions of a running mate's home region advantage influence the decisions made by presidential campaigns. The authors consider accounts from campaign insiders and analyse data on spending and appearances to prove this influence.
In any case, if both Raila and Ruto are going to pick running mates from Mt Kenya, why are they scrambling to climb the mountain?
The authors leave us in no doubt that, in almost all circumstances, campaign decisions such as these have no basis in electoral reality. This conclusion is rigorously confirmed through quantitative analysis of election data ranging from the earliest presidential elections to the most recent, concluding:
"The evidence presented thus far directly challenges the belief… that deputy presidential candidates can be expected to deliver an electoral advantage in their home regions enough to win the presidency without support from elsewhere."
This might make disappointing reading for Raila, Ruto and Mudavadi as they each consider how to maximise their chances of reaching the house on the hill. But there is hope. While dismissing the impact of a VP home region advantage in general, Devine and Kopko spend much of the book detailing exactly how and when a home region advantage might come into play.
Two key conditions have to be met. First, the region has to be small, and second, the DP candidate must have a long record of political service in the region. Both conditions must be met to allow for a 'friends and neighbours' effect to give the presidential ticket a small boost in that region.
The study is certainly fruitful, in disproving that assumption so comprehensively. It is no criticism to say that it leaves the reader with one burning, unanswered question: If geography doesn't determine the potential value of a DP candidate, what does?