Who has a beef with cattle in southern Nyanza and why?
OPINION
By John Oywa | Dec 22nd 2021 | 3 min read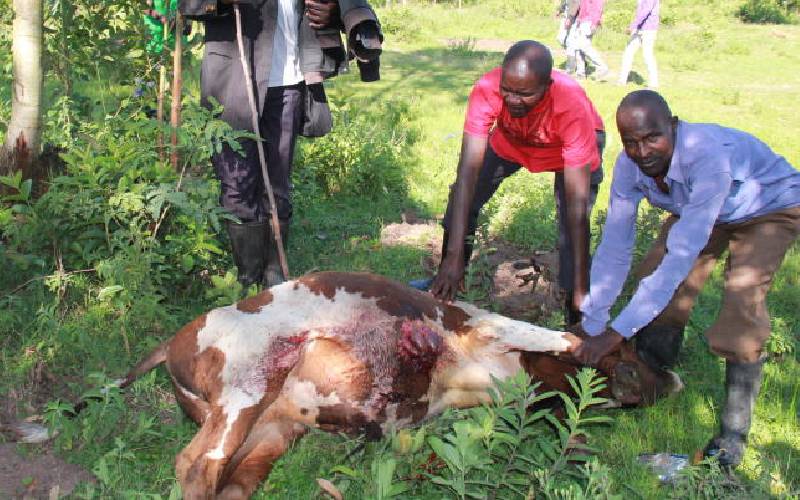 A bizarre crime wave has been sweeping across villages in southern Nyanza in the past two months with heartless people brutally killing livestock.
Armed with razor-sharp machetes and moving like ghosts under the cover of darkness, unknown people have been sneaking into homes, hacking cows either to death or leaving them with ugly gaping stab wounds.
In parts of Homa Bay County-specifically in Mbita and Ndhiwa sub-counties, peasant farmers who rely on livestock are devastated. Their prized bulls, which they use to plough farms, have been killed. Their lactating cows are no more.
The gangs have killed nearly 100 cows and injured hundreds others, leaving the peasant farmers in shock.
The crime is well-planned and hastily executed. The gang strikes at night and leaves without stealing anything.
Victims say the crime is worse than cattle rustling. They wake up in the morning to find their livestock dead; their heads chopped off, and others unconscious with grotesque wounds.
Several farmers have fainted and were rushed to hospital after losing their livestock in this spine-chilling fashion.
It is a serious matter because the villages, owning livestock- even one hen, a goat, sheep, or a cow is an achievement. Many villagers use the animals for financial security. It is not uncommon to find an elderly woman selling her only hen or goat to raise bus fare for her grandchild returning to school.
In these villages, owning a cow is not a mean achievement. The animal's milk is sold in local markets to sustain families. Those who own bulls are considered rich because they hire them out to their neighbours to prepare farms for planting.
Now, imagine a village with no bulls to prepare farms and cows to produce milk. This will trigger a massive economic slump characterised by biting food shortages and poverty.
This is why the ongoing killing of livestock in Homa Bay County must be treated as an urgent national security concern. There are fears the killers may move to other areas if their criminal activities are not halted.
Sadly, no one has offered any explanation for this crime. Who are behind these criminal acts? Why are they targeting livestock, especially belonging to poor peasant farmers?
By last week, only two suspects had been arrested. Police say they found them with weapons including spears, clubs, and machetes.
Police are pursuing more suspects. But why did it take them too long to make arrests?
The perpetrators had a field day, killing and maiming animals for close to two weeks before the first suspect was nabbed. What happened to the long arm of the law? This must be a big gang with meticulous planners.
Of utmost urgency, police must establish the motive of these killings.
This is a serious matter because if you want to impoverish these villagers to death, rob them of their domestic animals.
Over to you, Internal Security CS Fred Matiang'i.
Mr Oywa is a media consultant. [email protected]