Roadblocks didn't stop them from flying off their bikes headlong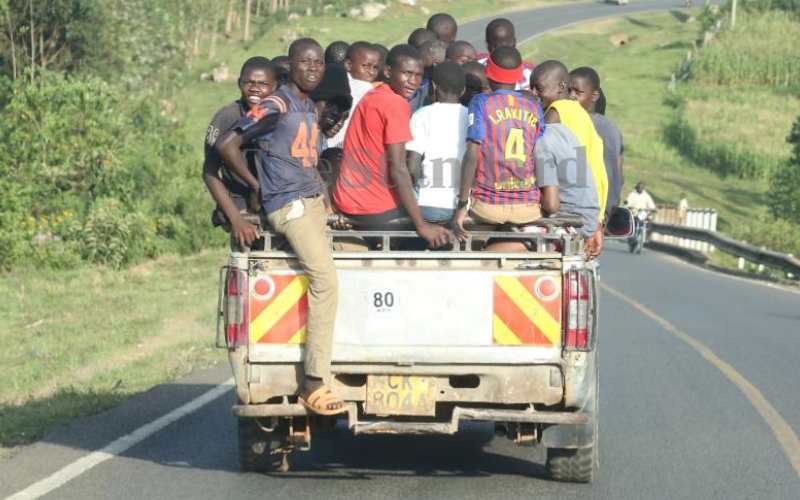 Balancing precariously between the concrete road barriers on one side and the rolling tyres on the other, the motorcycle rider made a charge past the column of cars and lorries on Mombasa Road. From the front of one of the trucks, another bike emerged. It was too late.
Upon impact, the two of them flew, head first into the mounds of soil in the middle. Mercifully, they survived. Such is the case every day on the road; bizarre recklessness then a brush with death and injury. It is easy to condemn the riders for employing these kamikaze moves all too often with disastrous outcomes. But that is half the story.
Last week, the National Transport and Safety Authority released new data indicating that road traffic deaths stood at 4,000 this year including 16 that died in the most horrifying of circumstances two weeks ago. Of this, 1,500 were boda boda riders and vulnerable road users like cyclists and pedestrians. More than 8,000 others were severely injured in the same period- these ones remain impaired, physically challenged and dependent for the rest of their lives.
Road safety is not just an essential element of health; it is a development agenda as well. The death and loss translates to about Sh310 billion annually-nearly 5 per cent of Kenya's Gross Domestic Product.
According to the World Health Organisation, 26.1 deaths occur per 100,000 population in Kenya-one of the highest incidences in the world. WHO says road traffic accidents is the leading killer among the most productive age group (5-29 years) making it the eighth leading cause of death overall: Less people die from HIV/Aids, TB and diarrheal diseases than from road crashes.
Yet unlike anything else, death from road traffic accidents is preventable.
Road traffic accidents occur as a result of a combination of many factors; car safety standards (seat belts, fitments for car occupants and such like), planning, design and operation of roads and roadsides (safe roads) and enforcing road traffic rules and regulations. Moreover, fatalities occur because access to quality emergency care remains a challenge.
Despite the array of revolutionary safety innovations introduced in the modern car like airbags, pre-collision assist sensors or pedestrian detection and intelligent breaking systems, there is plenty to suggest that most of the efforts to curtail deaths on the road must target man more than machine and the surface (road designs, signage and quality).
And it should start at driving school. "Treat the other motorist as if they were mad," reads rule No. 1 on the driving school manual. Little wonder then that most motorists are prone to road rage-always impatient and angry and foulmouthed. A jolly driver is a lot less likely to cause an accident than an angry one.
Like much else that we know in our society, the spectre on our roads is largely a function of environmental cues- of the ever-present sense that nobody is watching or cares; nobody wants to take charge and that anything goes. One person dying in road traffic accident should be one too many.
A reward and sanction model as happens elsewhere will work wonders here. But through a deliberate deployment of technology. The idea of having traffic police randomly wave down motorists on the highway is outdated and counterproductive.
How has Sweden - rated as a global leader in road safety - managed a 2.8 deaths per 100,000 people for example? In 1997, the Swedish Parliament adopted Vision Zero a "new strategic framework" for road safety.
The crux of Sweden's strategy is that road safety is a shared responsibility; government builds safe road infrastructure (a higher proportion of undivided roads with median barriers and cars with higher safety ratings, anti-lock braking systems for motorcycles) while the people reciprocate by complying with speed limits, driving while sober with seat-belts.
In Bogota, Colombia, a $2 billion road transport infrastructure outlay and over 80km of Bus Rapid Transport, nearly 300km of bikeways and pedestrian infrastructure halved fatalities.
The key take-away from these successful road safety campaigns is that no one approach will work. For example, in Bogota, besides investing in road infrastructure, reforms in police system to ensure enforcement of seat-belt wearing and drink-driving penalties were effected. Rings a bell?
Mr Kipkemboi is Partnerships and Special Projects Editor, Standard Group