How masculinity and 'outsiders' are shaping politics in Gusiiland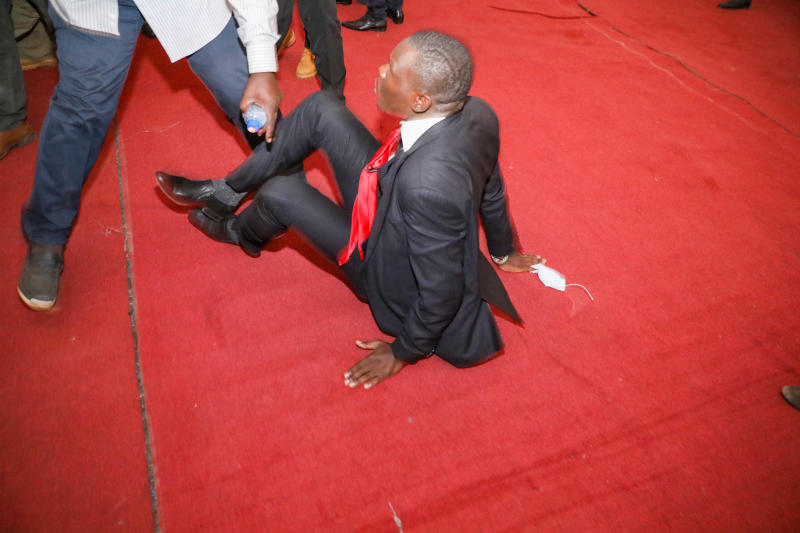 Campaign periods in Kenya have always been characterised by controversies and politics of citizenship and belonging.
As such, tensions always arise between those deemed 'outsiders' and the locals or 'natives' where the former are perceived to be detached, insensitive and alien to the political wishes of the 'host' community. As such the rights of such 'guests' to participate in local politics is often challenged and contested.
Such contests were accelerated by the adoption of devolution which made local politics to matter more with the creation of gubernatorial, Senate and MCA positions. This arrangement created employment opportunities and political spaces which make elites, residing in Nairobi and elsewhere, to go back home and contest.
Today, I use Kisii to illustrate how 'outsiders' can influence and participate in local politics but still carry the 'outsider' tag on their shoulders. I also examine how display of masculinity in contemporary Kenya can raise the level of a candidate's popularity even when locals are greatly influenced by religious morals and reason.
In this case, I shall use the example of Dagoretti MP North Simba Arati, who has since declared he would shift his political base from Nairobi to Kisii and yet still finds some voice and space as well as acceptability as 'the return of a prodigal son.' Arati is perhaps the most intriguing Kisii politician, known for his unconventional tactics of political campaigns and physical confrontations.
According to a USA-based historian, Prof Charles Choti, Kisii politics is perhaps the only brand of politics that has for long openly embraced ecclesiastical values, and has greatly been influenced by faith and morality as well as family values and socialisation. 'Omogambi' (a leader), for example, in Kisii cosmology is someone considered very respectable; the one who possesses a stable marriage and family as well as the privilege of age.
Many analysts have argued that clannism, party affiliations, and values would greatly determine those elected as leaders and the general outcome of Kisii politics. However, I view it differently—'outsiders' both in global and local diaspora as well as economic strength, a candidate's stamina and endurance would be the new units of analysis when looking at contemporary Kisii politics.
The new brand of youth in Kisii do not really subscribe to belonging to a clan or even consider what elders say about certain leaders. Political luminaries such as Momoima Onyonka, Jimmy Angwenyi and James Ongwae, to mention but a few, would not be seen from the lens of the clans they come from, but on what they do and exhibit as 'men.' Like Fred Matiang'i, they are expected to exhibit extreme masculinity. For this reason, it is almost impossible to sell the 'mama mboga' brand of politics in Kisii as the Kisii subalterns or common class tend to follow voices of their 'Abagambi' or strong leaders and patriarchs.
Simba Arati is named after a lion totem, which is intentionally rooted to his political persona and traditional Kisii notions of masculinity and true to his own name 'simba' has presented himself as dominant, powerful and unyielding. He was recently crowned a Gusii elder and spokesman, though in a controversial ceremony, in his rural home in Bobasi Chache.
During the funeral of Joash Maangi's father in Kisii and in the presence of Deputy President William Ruto and Raila Odinga, Arati flew into a rage, dealt a devastating blow to MP Silvanus Osoro, sending him to the ground. Ironically, this act seems to have gone well with the villagers despite embarrassing his senior brother. In some people's eyes, he deflated Osoro's political ego and lowered his dignity and placed him in the status of powerlessness. This behaviour seems to have made Arati to strike a chord with numerous male voters.
Arati has had a long history of confrontations and public display of masculinity and aggression. In November 2019, he roughed up Kimilili MP Didmus Barasa during the Kibera by-election campaigns. In 2014, he engaged Bahati MP Kimani Ngunjiri in a protracted fight, accusing Ngunjiri of biting his finger.
This character has made people to refer to Arati as a die-hard and frontline foot-soldier of Raila Odinga. Arati boasts of fighting big wars and going for big things only. He thus represents a kind of male archetype and extreme masculine behaviour that many people in Kisii have not grown up with or are used to. As mentioned before, Kisii people are conservative, and have immense respect for elders. However, the growing popularity of 'outside' Arati in Kisii contradicts this view.
Arati was born and grew up in Kisii, but planted and nurtured his political life in Nairobi. He defied the age, clannism, and locality norms of the Kenyan politics and became the MP of Dagoretti North. His growing popularity in Kisii politics also runs counter to expectations. Simba Arati presents an interesting case that seems to defy political norms in the Kenyan political culture. He is a successful politician riding on the crest of 'masculinity' and 'outsider' in Kisii County.