A growth model built around personalities instead of strong institutions is defective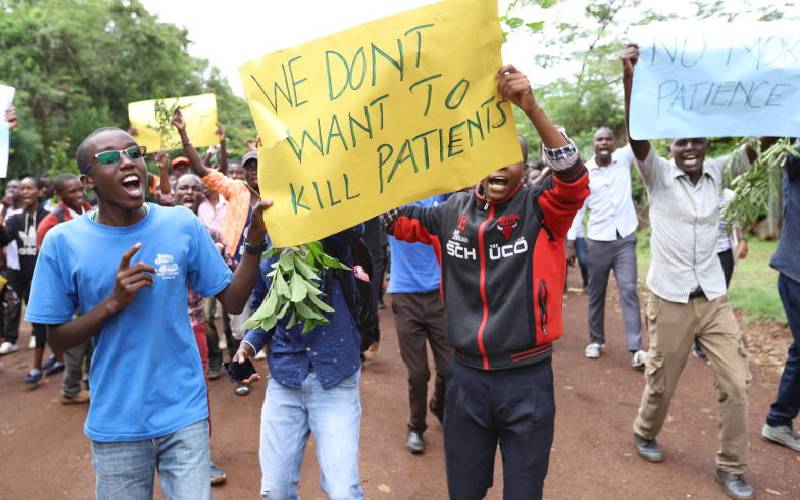 A quick glance at the country's economic history point to a defective growth model ab initio. The colonial administration thrived on economic exclusion and disenfranchisement of the local productive capacity. Right after independence, neo-colonial elites shaped political leadership and exercise of power around personality cults as opposed to abolishment of the defective colonial institutions.
In each successive regime, we have had powerful individuals who have overridden political and economic institutions for the benefit of a privileged few. This is not a unique phenomenon in Kenya alone. Evidence demonstrates that this is common across majority of poor countries, and it facilitates the appropriation of public resources for private use thus derailing growth in the medium and long term.
From the 1980s, economists have adduced overwhelming evidence that effective institutions drive economic growth and development. For instance, North (1990) argues that institutions are the rule of the game in a society that set constraints that shape human interactions, be they economic, social or political. But evidence on the impact of institutions on development dates back to the era of Adam Smith.
In his famous Wealth of Nations book, Smith notes the importance of a justice system, private property rights and the rule of law in economic development. In a landmark study on new institutional economics in 2004, Rodrik, Subramanian and Trebbi found that institutions better explain income differences between developed and poor countries compared to geography and trade (integration).
On her part, Carole Pateman argues that social norms in the realms of gender, class and caste also determine rules of political participation and representation, methods of economic exchange and inclusion of different groups in society. In a detailed review of literature on the importance of institutions on economic development, Luca Ferrini delineates four channels through which institutions explain development.
Protection of property rights
One is that institutions determine the cost of economic transactions. Reliable contract and contract enforcement systems, common commercial codes and increase in available information reduce cost of transactions, risk and uncertainty.
Two is that institutions determine the degree of appropriability of return to investment. Protection of property rights and the rule of law spur investment and thus increase incomes and enhance wealth distribution in the society.
Three is that institutions determine the scope for oppression and expropriation of resources by elites. Ineffective institutions allow dominance of powerful elites over economic exchange. This strongly limits development.
Four, institutions determine the degree to which the environment is conducive to cooperation and increased social capital. Inclusive and participatory institutions increase flow of information and pooling of resources to reduce risk and ensure sustainable levels of wealth. If this economic evidence is true, then it would appear that our shared economic prosperity was botched right from independence. The question we must ask now is this: how do our political and socio-economic institutions measure if appraised against these four parameters?
While it is not possible to examine all the institutions that underwrite the economy, a few of them quickly come to mind when it comes to our botched economic experiment. These include the Legislature (Parliament and County Assemblies), the security apparatus, the Judiciary and education systems. While not exhaustive, weaknesses in these institutions have far-reaching implications across the entire economic system.
The legislative arm of government ideally is supposed to be the last voice of reason in the country's governance system. With diverse representation by design and exercising authority directly donated by the people, this makes the august House a sacred institution. The same applies to the County Assemblies. Their primary mandate is representation, legislation and oversight of other arms of government.
Each of these functions has not only a direct and indirect impact on the economic administration of the country, but also far-reaching consequences on how economic transactions are conducted. Under representation, legislators review, consider and approve the budget policy statement, budgets and tax collection, and administration policies. This process determines the distribution of public resources in the various sectors of the economy. It directs also the consumption habits of the government, public debt levels and how much of private incomes will be diverted from individual economic units for public use.
Access to power
The laws passed by the legislature determine what is lawful or not in the country, the regulation of contractual relationships that underlie economic transactions, and mechanisms of dispute resolution. Oversight is meant to assure that appropriated public resources are utilised for the intended purposes and have not been diverted for private use by those with access to power. Unfortunately, the legislative arms of government over successive regimes have not lived up to this sacred calling.
It is widely acknowledged that 'brown envelopes' is the rule of the game in the passage of disruptive laws, proposals to approve debt ceilings, and investigations on malpractice in the use of public resources and decisions of accountability for abuse of office. In many other instances, audit reports have linked some legislators in corruption deals or highlighted fraud in claiming parliamentary allowances and benefits.
The security system dictates the business environment. It is at the heart of administration of justice, enforcement of contractual agreements and even during the exercise of the supreme will of the people at the ballot. It is a tragedy of our times that this is the institution ranked the most corrupt consistently over successive years. For instance, the transport sector that oils the wheels of the economy thrives on chaos with the full patronage of the police.
Economic crimes are deliberately bungled up at the investigative stage with the sole intention of defeating justice and protecting powerful individuals. Or is it a coincidence that almost all high-profile corruption-related cases never get tried to their logical conclusion? It would appear only the 'omenas' suffer the consequences of the brute force of the law. The sharks get to swim to safety on the watch of those who are supposed to jail them.
Long road ahead
Other economic sectors like entertainment and alcoholic drinks dealers have to bribe the police daily to keep their doors open. It doesn't matter whether they have paid for permits or not. The judicial arm dictates the rhythm of administration of justice across all economic sectors. While we must commend judicial officers for the sustained reforms and boldness in recent years, speedy access to justice and arbitration of economic disputes still has a long road ahead.
We are loosing our competitive edge in the region. Trade flows and foreign direct investments are shifting in favour of our neighbours. There have been muted accounts of how senior government bureaucrats and politicians demand huge bribes before they give the greenlight to local and foreign investors in the country. In my own small way, I have witnessed this first hand!
Finally, the education system drives research and development, and buttresses creativity and innovation. We do not have to sugarcoat things. It is a pity that six decades into our independence we cannot build our own 'big push projects'. We cannot make our own fertilisers and other agricultural inputs for an economy heavily dependent on agriculture. We still export our tea, coffee and tropical fruits raw.
Even our very own national staple food 'ugali' can only be assured on our dinner tables if and only if, the Treasury opens its stingy hand for duty-free imports of maize from our neighbours and far-away lands like Mexico and Brazil. In all fairness, decisive action must be taken if we are to redeem our sinking economic ship.