Chance meeting with Kenneth Kaunda and his many juicy African stories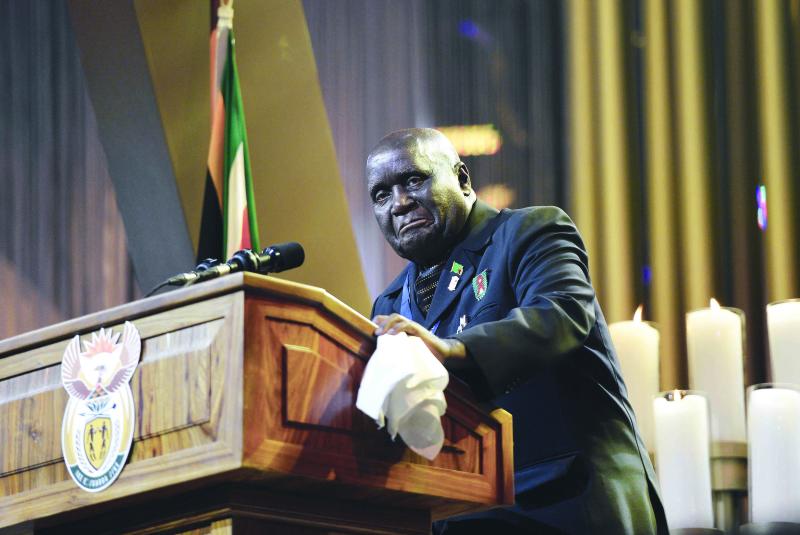 Zambian first President Kenneth Kaunda who died last month was a household name in Kenya, with a men's wear and a street named after him. We revisit a chance meeting with him when he told of goat soup sessions with Mzee Jomo Kenyatta and how he brokered peace in the Shifta war.
Mid August 2003, I attended a World Bank-sponsored workshop on governance in Abuja, Nigeria.
The Kenya Airways plane I travelled in landed at Murtala Mohamed Airport in sea port capital Lagos on a Sunday afternoon. The airport is named after a Nigerian president shot dead when stuck in the famous Nigeria traffic jams. By Kenyan standards the western African country is a strange place where you have to bribe postal workers to allow you collect mail from your rental box.
At the transit bay waiting for a domestic connecting flight to the administrative capital, Abuja, I saw a grey haired man holding a white handkerchief and chatting with an aide.
"The man over there looks like Kenneth Kaunda," I whispered to then director of the Kenya National Archives, Musila Musembi, who was travelling with me. "Indeed it is him. If not, then someone has stolen his face," Mr Musembi replied.
In typical journalist's kimbelembele, I walked to where Kaunda was and introduced myself. Our conversation went on as follows:
"How are you, Mr President?"
"I am fine my son. Travelling from Zambia?"
"Not really, sir. I am a journalist from Kenya."
"So what brings you to Nigeria?"
"I will be attending a World Bank workshop in Abuja."
"I am also headed there for a meeting on HIV/Aids."
"Mr President, will it be possible you spare some time for an interview with me in Abuja?"
"Well, you know I am now retired and no longer give interviews to the media. But we can have a cup of tea before you return to Nairobi. Where are you staying in Abuja?"
"The Hilton Hotel."
"Then you are lucky. I am booked at the same hotel. Look for me tomorrow or the day after."
On the second day, I confirmed with the receptionist that Kaunda was in his room and asked to be hooked up on phone.
"Yes my son," he said when he came on the line. "Find me at the terraces at 10 for a cup of tea."
I found him there, his famous white handkerchief neatly folded and placed on the table.
He started by telling me how difficult it was for him mediating in the Nigeria civil war when States in south-eastern seceded and declared a separate State they named Biafra Republic.
"Nigerians can get wild when they want," Kaunda told me. He recalled rival delegates coming to the negotiations room with loaded pistols. "We had to disarm them at the entrance and make sure they sit as far away from each other as possible lest they get physical."
"We had to first negotiate ceasefire in the room before we talked about the war out there," he recalled.
In the same period, President Kaunda was mediating between Kenya and Somalia then fighting the Shifta war, where sections of citizens in North Eastern sought secession from Kenya to Somalia.
"From Lagos I would fly straight to Arusha, Tanzania, where peace talks between Kenya and Somalia took place and a ceasefire agreement was signed," the former president recalled.
Goat soup and meat
"So, tell me about your friend, Mzee Jomo Kenyatta," I steered the conversation away from civil wars in Kenya and Nigeria.
"Mzee was my very good friend," he said, his face radiating with nostalgia. "Mzee Kenyatta is the one who taught me to love goat soup and meat."
He told me of a day at State House Nakuru when a chef brought to Mzee Kenyatta and his guest a tray full of meat and Mama Ngina ordered the chef to serve just a few pieces as the doctor had advised Mzee to drastically reduce his intake of red meat.
But as soon as Mama Ngina stepped out, Kaunda recalled, Mzee Kenyatta ordered all the meat to be brought back as he said, "Doctors are funny people. When did they hear of a lion admitted in hospital for eating too much meat?"
He told me Mzee Kenyatta would take a bowl of goat soup after another and encourage him to do the same. To ensure his friend did not have shortage of the stuff back home, Mzee had 20 goats from his farm flown to President Kaunda's ranch in Zambia.
The former president recalled Mzee Kenyatta as a great lover of his young family and he would never interrupt Mama Ngina when talking about their children.
"He would attentively listen and nod at every word she said," recalled Kaunda, adding that Mzee was a proud speaker of his mother tongue and rarely addressed his young children – Uhuru, Muhoho and Nyokabi – in English.
The former Zambian president also recalled drama at Mzee Kenyatta's burial in August 1978 when Tanzanian President Julius Nyerere demanded his seat be moved as far away from that of Uganda's President Idi Amin with whom they never saw eye to eye. When the Ugandan Head of State arrived and extended his hand to greet Nyerere and Kaunda, the two ignored him and looked the other way.
Kaunda also recalled President Daniel Moi's loathing for deposed Uganda President Milton Obote who was self-exiled in Zambia. "Every time I met President Moi, he would ask about Obote and tell me to keep an eye on him as he had no good intentions for Kenya."
Moi's disdain for Obote was in display when the latter was overthrown and his plane landed in Nairobi where he was not wanted. Vice President Moi went to the airport to ensure Obote left the country as soon as possible. He walked over to the cockpit and was overheard giving tough instructions to the pilot:
Moi: "You will fly them to Dar es Salaam."
Pilot: "And if Dar doesn't want them I bring them back here?"
Moi: "No, no! Take them anywhere but don't bring them back here!"
Pilot: "And if we run out of fuel?"
Moi: "That is your problem. Just don't come back here with them!"
When the wind of change to multi-party politics swept Africa like a Tsunami in early 1990s, President Kaunda was the first casualty. He made history as the first sitting African president to lose elections and concede defeat in October 1991.
But his successors were not as gracious to let him retire in peace. At one time, he was stripped of Zambian citizenship on allegations he had his roots in Malawi. Another of his successors would accuse him of plotting a coup and placed him under house arrest.
Postscript: Alas, the current Zambia President Edgar Lungu is no Kenneth Kaunda. He does not believe in relinquishing power and will pull every stop to remain at State House.
In the Zambian general election scheduled for August 12, the Amnesty International has sounded alarm about the slid to dictatorship in the southern Africa country. In a report titled: Ruling by Fear and Repression, the human rights group says of late Zambia has seen increased cases of police killings, arrests of opposition leaders and shutting down of media houses.