Freedom of speech is under attack in Kenya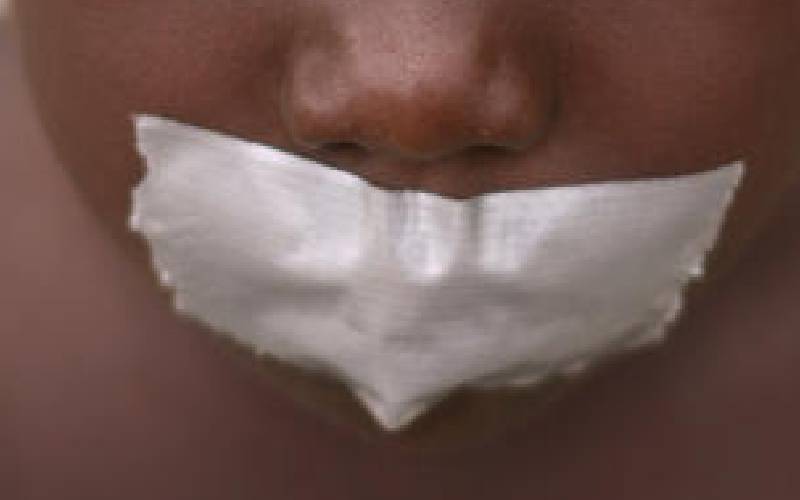 The recent relinquishment of the Majority Leader in the National Assembly, Senate Majority leader and Majority chief whips; a sitting governor's moment of shame after he was barred from sitting at the podium; the castigation, intimidation and arrest against lawyer-politician in utter disregard of a battery of court orders are a grim indicator of an assured deficiency of flexibility, and unrelenting disgust for disagreement or dissent. This is a grave attitude of immoderation in political disquisitions, imageries and metaphors. Let's embrace good-humoured calm; a valuable ingredient of all democratic gifts.
Combating dissent in a colourable manner a few months to the country's general election is hurting the democratic credentials of our nation within and beyond its borders. Consider the penalty levied by the Communications Authority of Kenya on a radio station following disparaging and gender insensitive comments. This action calls for review even when the comments were condemnable and in bad taste. Such a heavy penalty even after advertisers have paused their contracts will have a chilling effect on freedom of speech and the media.
Acknowledging criticism and dissent, however scathing, mirrors a novel and inimitable advance of a modern day government. France and Germany, for example, developed notable reactivity to the risks of hate speech during the Nazi era. More generally, Europeans are more thin-skinned to defamation due to their wholesale class divisions and feudalistic social mores.
In contrast, American founding fathers constituted and symbolised a variety of social levels and classes, craving for religious, economic, and expressive freedom. Thus, the colonists integrated and entrenched these ideals into the heart of the American Constitution.
Freedom of speech and expression runs through capillaries of the Kenyan Constitution. The freedom to seek, receive or impart information or ideas is safeguarded under Article 33. Propaganda for war, incitement to violence, hate speech, or advocacy of hatred constitutes its exceptions. The overarching rider is the interpretation of the Constitution that most favours and gives effect to enforcement of fundamental rights and freedoms.
Participatory nation building exercise will be futile without free intercourse of ideas. Through the preamble, the Constitution is committed to nurturing, protecting the well-being and aspirations of all Kenyans. Premising our government on the essential values of human rights, equality, freedom, democracy, social justice and the rule of law is our cradle.
The strange structural and behavioural model of democratic politics in Kenya must be measured against the omnipresent theory of limited government which configures, pervades, and impregnates every provision of the Constitution. The BBI's dispersal of power at the top scorns at accumulated power station and seeks to canalise and sanitise it by disintegrating, diffusing, counterbalancing and neutralising it.
Our constitution is inherently framed to make it intricate and out-of-gear for any initiated group, parliamentary majority notwithstanding, to enforce its mandate akin to a church choir. It's a political organism on a pedestal with a distinct distrust of accumulated authority. This structure pedals the manners of society more than mechanics of politics which can easily lead to free-wheeling of democratic intoxication and intemperance.
Peaceful coexistence
There's no smoke without fire. The permeation of a menacing and entrenched design on some leaders, political factions, and renegade splinter groups upsetting peaceful coexistence in the country is a concern. It's this nervous war-like election season that the importance of a debate on free speech must be tested.
We gave ourselves the 2010 Constitution cognisant of the exigencies of political warmongers. Confrontation and conflict is a fertile ground for engaging capricious measures of censorship. Thus, our framers designed both for peaceful calm and for agitated bellicose and electorally hostile situations. In both cases, the drafters entrenched an unambiguous abridgment of freedom of speech impulsively.
The state may only limit the ambit of free speech if there exists an obvious and attendant threat to the public well-being. Nonetheless, utilitarian discourse is beyond regulation, howsoever clear present the danger it presents to the nation's safety. Indeed, no one lights a lamp and hides it in a clay jar.
Kenya's political wisdom was enriched by the 2010 Constitution. All sovereign power belongs to the people of Kenya. This claim for self-government must set constitutional good practices and standards for genuine political discourse. To be petrified of opinions and counter-opinions is an unbecoming ingredient for self-government. Contradictory beliefs and ideas may be articulated or discussed for their significance not necessarily their legitimacy. It's in the clash of ideas in the market of opinions that the truth ultimately triumphs.
Freedom of speech is pertinent and momentous to the province of public good and wellbeing. It's, nevertheless, sensible that the Constitution doesn't assure the liberty to shout 'bomb, bomb' in a football stadium.
Has Kenya's democracy become the baby of ignorance or the mother of redundant lifeless arrogance? The judgment of the establishment being the new normal, anything else is abridged to the point of disgusting instinct; inert automation. Innovation is dwarfed, diversity vanishes, and no man thinks independently, if he dares, a can of gas or a smoking gun compels him to swallow his pride. This is unhealthy to be established as a regular tool of lawful democratic self government.
-Dr Nyatundo is a legal scholar in India. [email protected]