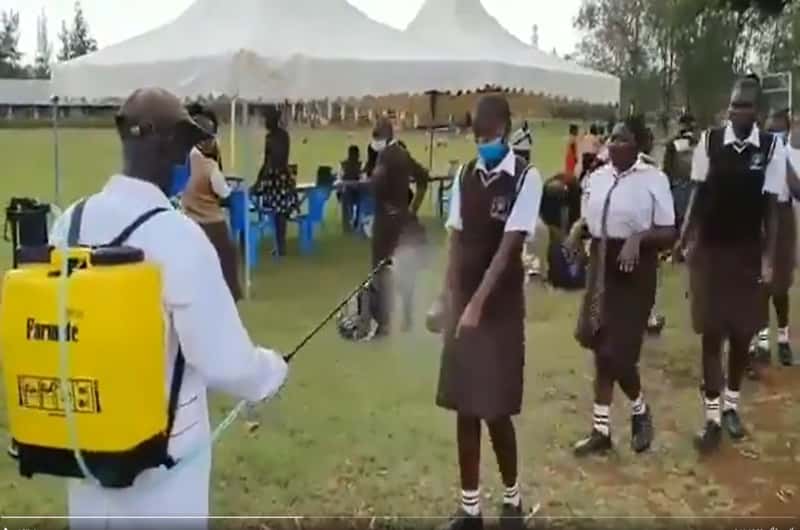 A viral video showing students being sprayed by a hand-operated spray has attracted condemnation from Kenyans online who see the move as 'uninformed", "barbaric" and "violating of the students' rights".

The incident took place on the first day schools re-opened following a 6-month hiatus due to the Coronavirus pandemic.

Interestingly, the video shows nothing new. The same was experienced by thousands of Kenyans at the Likoni crossing channel and Kencom stage in Nairobi one month after the virus made its way through our borders.

People used to make their way to spraying booths where they would get the same experience as the high school girls in the video only that a machine would administer the former.

At the time, a lot of speculation surrounded how the virus spreads and how long its stays on surfaces was rife the establishment put up such structures to try and fight the spread of the virus.

According to a statement made by the Ministry of Health (MOH) in June, spraying of people with chemicals through booths, tunnels and cabinets was not recommended and was directed to be stopped.

Similarly, the interim guidance for health and safety in the workplace formulated by MOH read that "spraying individuals with disinfectants is not recommended under any circumstances. This could be physically and psychologically harmful."

Even though the students in the video wore masks, the chemicals from the spray could have posed health risks to their eyes.

MOH continues reminding people that guidelines such as the use of masks, sanitizing of hands and keeping social distance are global and scientifically tested best practices that are aimed at mitigating the spread of the virus.

The incident on Monday shows how the education system is not fully coordinated when it comes to the modes of dealing with the pandemic crisis as students start their first days in school amid a pandemic.