Rift unlikely to give troubled Ruto a shoulder to lean on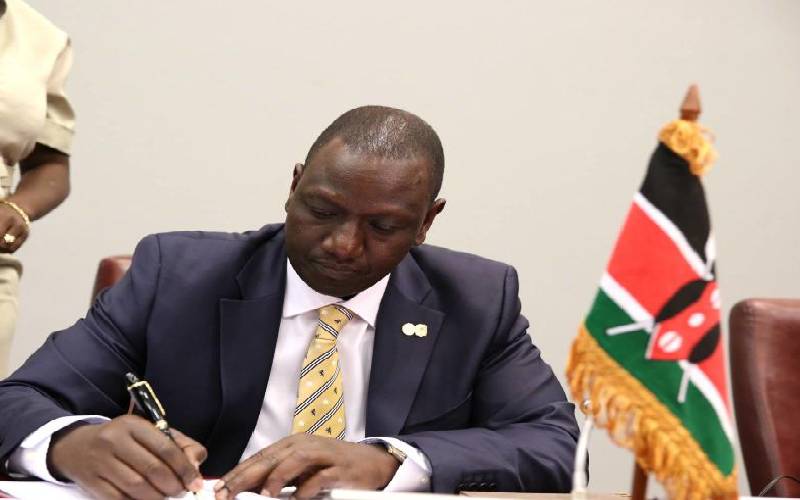 It is no longer a secret that Deputy President William Ruto is a man under siege. With his allies having been sent packing from key parliamentary positions, it is now abundantly clear that his relationship with the president is irreparably damaged.
Well, Dr Ruto may surprise us by clawing his way back to the centre-stage of political and State power once more. He can pull a rabbit out of his hat and scatter his enemies. Politics is the art of the possible. However, it will take an ingeniously designed strategy to make his chances of winning the presidency credible again. Reversing the current dire state of affairs from his corner would demand a blend of Solomonic wisdom and Jobic patience.
As Ruto ponders his next move and strategy, the questions that must be loudly ringing in his head are numerous. How did he arrive at this dead end? What brought him to such a sudden cul-de-sac when his ultimate dream of occupying State House was almost being actualised? When did the rain start beating him? What precisely hit him?
For keen observers, the reasons the DP is struggling to stay afloat and keep his presidential ambition alive and kicking in the turbulent political sea are as clear as daylight. Ruto lost it when he started questioning and working at cross-purposes with his boss on critical national issues. He missed the boat when he used proxies to challenge, and impudently so, the authority of the president on a number of key fronts.
Instances of these bold but reckless acts of defiance, affront and betrayal are plenty. But the most glaring one is when the president entered into a pact with Raila Odinga. In the aftermath of the handshake, Ruto came out with guns blazing, impertinently opposing it and virulently tongue-lashing Mr Odinga. One doesn't need to be a specialist in politics to know that in taking on the Uhuru-Raila pact, the DP was actually taking the political battle right to the door of the president.
Whenever Uhuru said the handshake was good for the country, Ruto would quickly contradict him, trashing and poking every hole imaginable in the political pact. His political allies spearheaded by the ousted Senate majority Leader Kipchumba Murkomen have been vigorously fighting the handshake.
While the ODM leader has borne the brunt of Ruto and his allies' acerbic tongues, there is no prize for guessing that the real target has been none other than the president. And with such thinly-veiled threats, it was a matter of when and not if the president would run out of patience and crack the whip.
So now the chickens have come home to roost. Murkomen and Deputy Speaker Kithure Kindiki clearly had to go, to get rid of the rising level of toxicity in the Senate among Jubilee senators, which was increasingly making it hard to successfully run government agenda.
However, Ruto's woes run deeper than his growing differences with the president. His supposed stronghold of Rift Valley is also gradually becoming shaky. And not just because Gideon Moi is burning the midnight oil scheming to make his presence felt, but largely because Ruto has abandoned his home turf as he seeks to woo other regions, especially Central and Western, into his political game plan.
As things increasingly become extremely tough for the DP, the default mode is to re-connect with Rift Valley. However, he will find a restive region that has been left to fend for themselves, and hence hungry for leadership. A region whose economic base has been considerably weakened. A region where maize farmers are grappling with all manner of challenges, from poor prices, expensive input, to lack of markets.
Kimwarer dam
When these farmers sought solutions for these problems from the DP, they were brusquely dismissed and told they did not sign a contract with the State to grow maize.
Major projects in the region have failed to take off under the weight of corruption claims. The promised new referral hospital in Eldoret and a fertiliser plant, which have remained just that — a promise. Then there are several water projects that have turned into a mirage. And not just Kimwarer, Arror and Itare dams in which billions of shillings went down the drain. There are others such as Nandi Hills and Keben water projects that the DP himself had promised to ensure were implemented. Also, construction of roads that would have helped farmers transport their produce to markets have stalled.
As Ruto seeks sanctuary from his political woes in his bedrock of Rift Valley, he will find a people who will be seeking answers on why these key development projects have stalled. Why there have never been any national projects worth talking about for the last eight years. If he doesn't have clear and convincing answers, he will find a rough ride in a region that ought to be the launch pad for his presidential race.
Mr Kimutai contested Emgwen parliamentary seat in 2017