Former commissioners of IEBC failed integrity test, cannot come back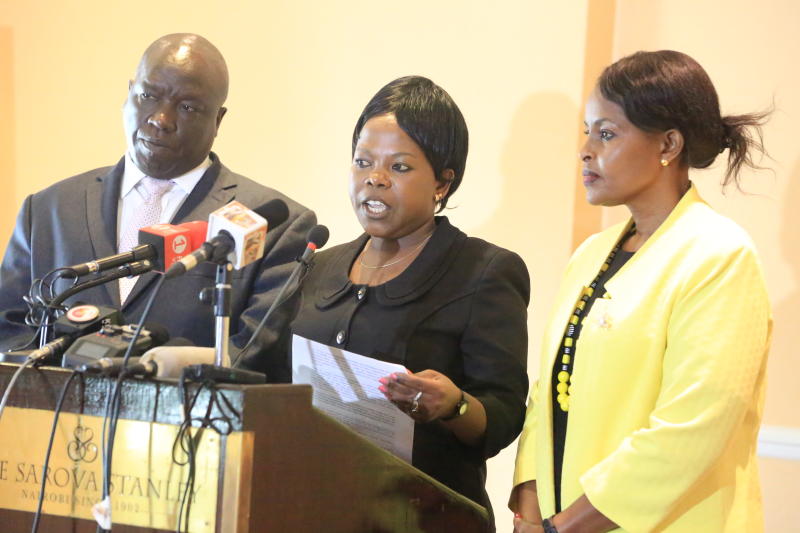 On April 16, 2018, commissioners of the Independent Electoral and Boundaries Commission (IEBC) Margaret Mwachanya, Paul Kurgat and Vice Chair Consolata Nkatha made the decision to resign.
They made it clear that they were resigning because of poor leadership skills from their chairman, Wafula Chebukati.
"For too long and way too many times, the commission chair has failed to be the steady and stable hand that steers the ship in difficult times, and gives directions when needed," they said.
The trio accused Chebukati of turning the commission's board room into a mess. "The commission's boardroom has become a venue for peddling misinformation, grounds for brewing mistrust and a space for scrambling and chasing individual glory and credit."
Before then, IEBC was in chaos after the resignation of Commissioner Roselyn Akombe on grounds that some commissioners were affiliated to political parties.
Thereafter, in October 2017, IEBC's Chief Executive Officer Ezra Chiloba was sent on compulsory leave on account that he could not be trusted to conduct the repeat October election.
Since the formation of the IEBC, and particularly before the 2017 elections, the electoral body was in a fire-fighting mode; fighting accusations left, right and centre.
The commission has had the chance to live up to the promise of independence and the gift of dignity, or the choice of scandal and obloquy. However, it chose the latter and has been on self-destruction mode like all other commissions before it. Now, more than ever before, the current IEBC seems to be living on borrowed time.
Resignation letters
Two of its former commissioners are now demanding their jobs back despite their public resignation and confirmation they had tendered their resignation letters to President Uhuru Kenyatta.
The trio wrote its responses to a suit filed by activist Okiya Omtatah to compel them to surrender all public assets that were advanced to them while in office after their resignations in April.
In their affidavits, the commissioners said they had sent their resignations to Uhuru on April 16, the same day they publicly announced their exit, claiming the IEBC had become dysfunctional. At the core of all these is the integrity standard expected of public and state officers.
Chapter Six of Kenya's Constitution seeks to ensure that those entrusted with the management of public affairs and resources are persons of good character, probity and uprightness.
Unfortunately, as soon as the Constitution was promulgated, there has always been campaign to systematically undermine it through failed enforcement and lack of compliance.
Having resigned publicly, why and on what grounds can the commissioners' purport to return to work at the IEBC? Having indicated and sworn in court papers that they had resigned from the commission, on what grounds are they now returning to the commission?
To flip the question, why did the former commissioners, having sworn in court to that effect change and now want to return to their former offices? And having been out of office for more than four months now, aren't they ashamed that they can dare try to return to their former stations from which they resigned publicly?
Public trust
Integrity means earning and sustaining public trust by serving public interest, using powers responsibly, for the purpose and in the manner for which they were intended and acting with honesty and transparency in making reasoned decisions without bias.
Of course, in this case, a competent and impartial electoral body is a necessary condition for the appropriate performance of its duties.
The so-called returning commissioners have failed the Leadership and Integrity Chapter of the Constitution. Article 73 of the Constitution is clear that authority assigned to State Officers is a public trust to be exercised in a manner that brings honour to the nation and dignity to the office.
Unfortunately in this case, the officers concerned have not helped in promoting public confidence and integrity of the electoral body, but terribly soiled its image.
What all commissioners at IEBC should understand is that theirs is a constitutional office; public property whose holders cannot do as they please. Therefore, any one of them cannot revoke their own resignation.
What is now clear than ever before is that IEBC is a tattered electoral body whose image is a morass; an institution which Kenyans have zero confidence in. The commissioners should all simply just take a walk back home.
Prof. Mogambi, a Development communication and social change specialist, teaches at the University of Nairobi: hmogambi @ yahoo.co.uk
To fight drought, involve communities
According to the latest information from the Meteorological Department, rainfall will be poorly distributed in April, May and June, and this will have a serious impact on agriculture