Kisumu surpasses its daily water requirement by 20 million litres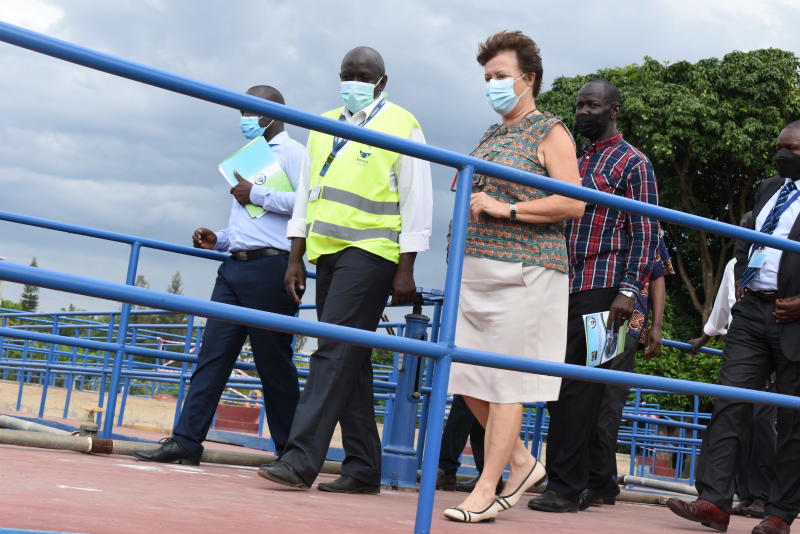 The French government will continue to support Kisumu Water and Sanitation Company's (Kiwasco) efforts to enhance access to clean drinking water and protect Lake Victoria.
French Ambassador to Kenya Aline Kuster-Menager said with the rapid expansion of Kisumu City, there was need to ensure everyone has access to clean water and sanitation services.
"We have seen the challenges you have been facing in the extraction, treatment, and distribution of water and that's why the French government and the European Union partners are coming together to support your projects," said Kuster-Menager.
The envoy was speaking on Wednesday when she toured some of the projects her government has funded in Kisumu.
Kuster-Menager said there was also need to expand wastewater treatment to curb pollution.
In the last two years alone, Kiwasco has received more than Sh9 billion (€70 million) to expand its services, with EU, through Africa Infrastructure Trust Fund, providing another Sh635 million (€5 million) in form of grants. The Kenyan government has provided Sh1.27 billion.
The grants add to the Sh4.45 billion (€35 million) loan from the European Investment Bank.
This came as it emerged that Kiwasco now produces more water from its treatment plants than the city needs thanks to expansion the company has made over the past ten years.
The company, according to the management, now produces 81 million litres of water daily against a demand of 60 million litres.