Outdated 'Nyumba Mboke' culture puts women at risk of HIV
Alice was circumcised when she was 11 years old. Two years later, she fell pregnant and dropped out of school. She was forced to get 'married' to a woman in Kehancha, in a Kuria culture known as Nyumba Mboke. She is now living with HIV.
Catherine Tingo, the Sexual and Gender-Based Violence (SGBV) coordinator for Kuria East, explains the practice was adopted by women, who wanted to have male children and ensure continuity in the family.
She says that the tradition allows women to choose men, whom they want to have children with and in the process of choosing, end up having many sexual partners.
As dictated by the culture, Alice and her partner had to look for men who would sire the children.
"My father heard that the woman was ready to offer 12 cows as my dowry. He did not hesitate and told me to go with her," Alice says.
This is how Alice ended up contracting HIV/Aids.
"I contracted the disease and I'm now on drugs every day," she says.
George Chacha, a local leader, says that the culture has led to the spread of HIV/Aids in the community and should be banned.
"Nyumba Mboke is killing people because the woman who has been married by another woman is a 'partner' for every man in the village," Chacha says.
Tingo agrees: "In most instances, they don't seek HIV testing services and for them, whoever gets into the house, is the man to give birth with. The virus ends up being spread."
Obstetrician and Gynaecologist Nelly Bosire says that having multiple sexual partners puts one at risk of contracting Sexually Transmitted Infections (STIs), including HIV (human immunodeficiency virus), which causes Aids and the HPV (human papilloma virus), which causes cervical cancer.
"The practice of 'Nyumba Mboke' basically means that the woman, by virtue of not having a husband, is more likely to have many sexual partners in an effort to have children and hence, at increased risk of catching HIV and HPV," Dr Bosire says.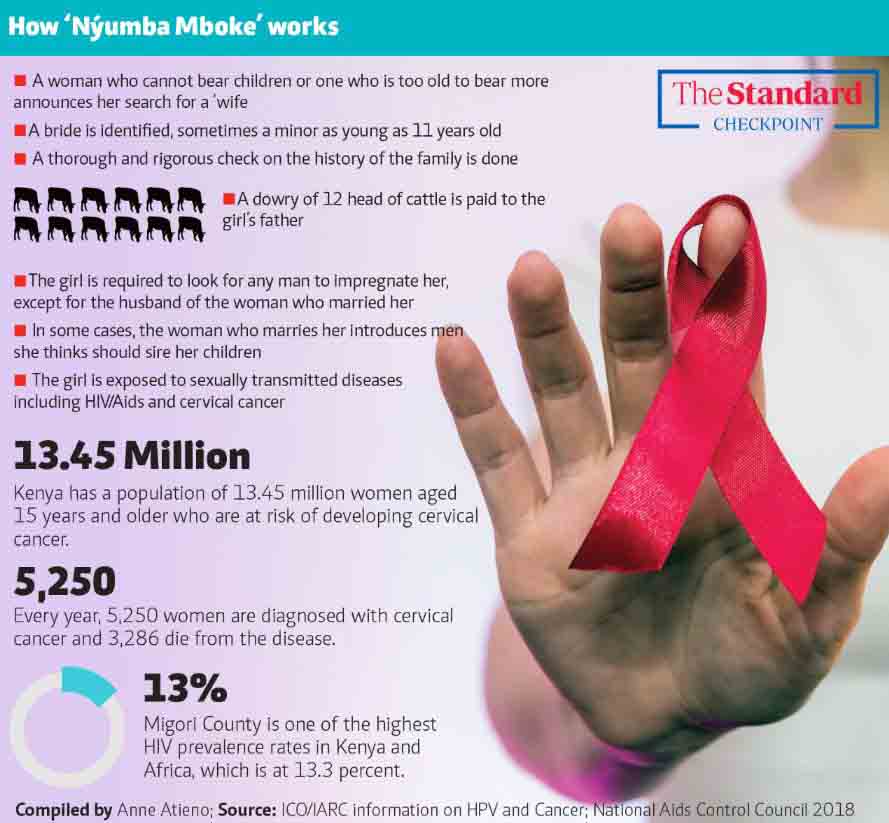 Higher risk
She notes that not all women with HPV infection will develop cervical cancer, but those with HIV would be at a higher risk of getting cervical cancer.
This could have been the case with Sophia.
She got married to an elderly woman, and was diagnosed with cervical cancer in 2013.
When she got into the arrangement, the mother of four, was forced to look for men who would help her sire children for her elderly partner, who could not get a child.
Her cervical cancer was in stage one and she immediately started treatment upon diagnosis with the help of a well-wisher, Thomas Chacha, who is the founder of Smile Woman Community Based Organisation.
Chacha helped her get an NHIF card, which would help her pay her hospital bills.
According to the National Aids Control Council 2018, Migori County has one of the highest HIV prevalence rates in Kenya and Africa, which is at 13.3 per cent.
Data from ICO/IARC Information Centre on HPV and cancer reveal that Kenya has a population of 13.45 million women aged 15 years and older who are at risk of developing cervical cancer. The Information Centre on HPV and Cancer shows current estimates to be indicating that every year, 5,250 women are diagnosed with cervical cancer and 3,286 die from the disease.
About 9.1 per cent of women in the general population are estimated to harbour cervical HPV 16 and 18 infections at a given time, and 63.1 per cent of invasive cervical cancers are attributed to HPV 16 and 18.
Mary Boke, a children's rights defender in the area, says that children born in this setup lack a father's upbringing and are left to suffer with their mothers.
"This woman will have to look for a man who can impregnate her and this won't be a single man. Apart from that, she will be looking for men to feed her children," Boke says.
According to Chacha, some men take advantage of traditions to sire children without taking responsibility.
"The men know nobody will hold them accountable. They make the women pregnant and hop to another one," he says.