Kaburini, where River Yala buries its corpses
Its banks are breathtaking, scenic and refreshing. It has several waterfalls and birds that attract local and international tourists.
Waters smashing against stones that line the banks of River Yala makes any visitor momentarily forget the rest of the world.
With its waters running deep, the river that crosses Bondo, Alego and Gem sub-counties is a source of sustenance to the community, as it offers fish and water for irrigation. But the water source seems to be on a fishing mission as well, with human beings as its target.
River Yala has claimed dozens of lives, especially in the last few years. Reports show that most of the people the river has swept away were out to commit suicide. The force of the raging waters will not give a person another chance at life even if they changed their mind after jumping in.
According to locals who spoke to The Standard, those on a suicide mission prefer the river for its fast-flowing waters.
The death of Pamela Atieno, a lecturer at Maseno University, is still fresh in the minds of locals eight years later.
Atieno, whose body was found floating on the river more than a week after she went missing, is said to have committed suicide. She left a note indicating where her body would be found.
A post-mortem report showed that Atieno had drowned.
Other than the many cases of people drowning, killed or committing suicide, there is a rising concern that several bodies are rotting down the river – a place christened 'kaburini' by the locals. Kaburini is a Swahili word for a cemetery.
Joseph Ogutu, a self-trained diver, says all the bodies and objects that drown in River Yala always end up at this particular place.
"Even at the mortuary, unclaimed bodies are always buried in a public cemetery. That is the reason behind the naming of this place kaburini," explains Ogutu.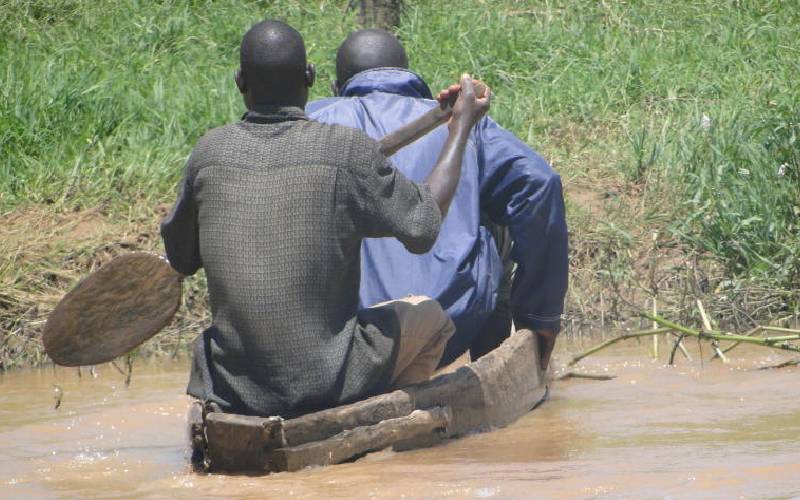 The 45-year-old resident of Ulungo village says they have retrieved more than six bodies since the beginning of this year.
Some of the youth from Ndiwo village have become divers, making money from retrieving bodies from the river.
According to Ogutu, accessing the kaburini is neither easy nor for the fainthearted.
"Whenever we go for a retrieval mission, we sometimes bump into more than five bodies, but we only retrieve those whose families make a request or of people known to the divers," he says, adding that the majority of the bodies retrieved at the spot are of people who died upstream.
Cut into pieces
Ogutu says some bodies are always chopped, wrapped in nylon paper bags or sacks and then thrown into the river.
He says local divers are paid at least Sh500 per session of search.
This, he says, is sometimes not affordable for families who have lost their loved ones. The majority have given up and left the bodies to rot in the river.
"The retrieval sometimes takes more than five days or even a month, and you also hire a boat at between Sh2,000 and Sh3,000," says Ogutu.
Mary Akoth, another local, says a week cannot pass without them seeing a body floating on the river towards kaburini. "We are very cautious here to an extent of not trying to pick a bucket being swept by the raging waters, lest you end up at kaburini," says Akoth.
The local administration has termed the trend of suicides and dumping of bodies in the river shocking.
Bondo Sub-county police boss Roseline Chebosho says at least one case of drowning in River Yala is reported every month.