Former MCA, co-accused to undergo mental test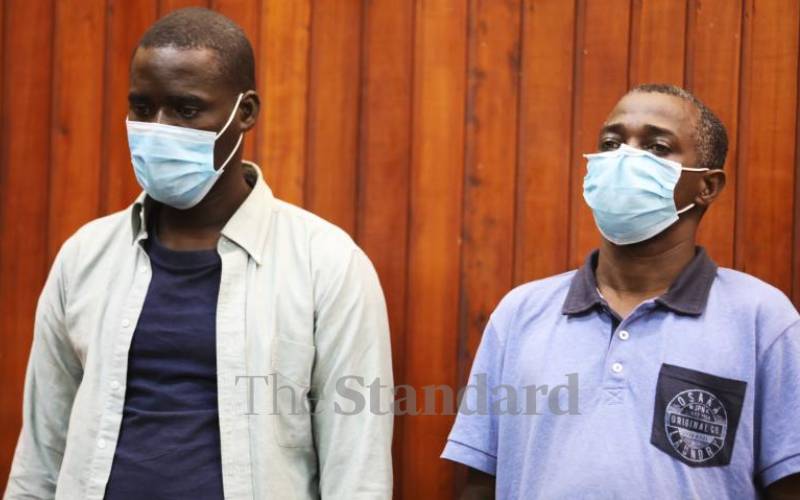 The High Court in Mombasa has ordered a psychiatrist test on a former Member of Kilifi County Assembly and his accomplice accused of killing a businessman, his son and a land agent in Junju area on July 7, 2021.
Yesterday, Justice Njoki Mwangi directed that former MCA Onesmus Gambo and Mzungu Shume Mwangemi alias Saidi Chote alias Huzu undergo mental tests to ascertain their sanity before they can plead to murder charges.
Mwangemi is also facing another murder charge at the Mombasa High Court. In an affidavit sworn by Isemek Dennis, Mwangemi had allegedly killed another man in Junju over land in 2014.
He was released in 2016 on a bond.
The prosecution informed the two of the intention to charge them and read out the charges but they did not plead until they undergo the mental test.
Justice Njoki ordered they be subjected to a mental test at Coast General Hospital (CGH) and also have a pre-bail report done on them to determine if they can be admitted to bond.
Gambo and Mwangemi are facing murder charges over the killing of businessman Sidik Anwarali Sumra, his son Rahil Zulfikar Mamdani and land agent James Kazungu at Junju village in Kilifi county.
The suspects are said to have also burnt down their victims' Toyota Fielder.
Yesterday, State prosecutor Muthomi Murithi applied that the two undergo the psychiatrist test at CGH and have the Deputy Registrar (DR) appoint a lawyer for them.
Murithi also applied to have the two detained in Shimo La Tewa prison pending the tests and plea taking scheduled on August 19, 2021.
Last month, police arrested 13 people including a village elder in connection with the murder of the businessman, the son, and the land agent.
Among those arrested are Salome Chome, Emily Mughoi, Antonina Mwembe, Tumaini Mbigu, Albert Mumbo, Lenox Govedi, Chengo Kitsao, Emerson Ngala, Caro Mwikali, Abigael Mwikali, Shila Jefwa and Philip Ziro Lewa.
However, the 12 disputed the narrative that their clothes had blood stains and insisted they were arrested at their homes during a police swoop in the area following the incident.
Chome said that she was pulled out of bed by officers and she has not changed her clothes since her arrest on Wednesday last week.
"The clothes I was wearing that night when we were removed from the bed are the ones I am wearing to date, so I object to being detained for 21 days," said Chome.
Govedi said he is a resident of Mtwapa and was arrested while dropping off a client at Junju with his bodaboda motorbike.
Mumbo told the courts he was arrested 25 kilometres from the incident while heading home.