County seeks lasting solution to Lake Victoria backflow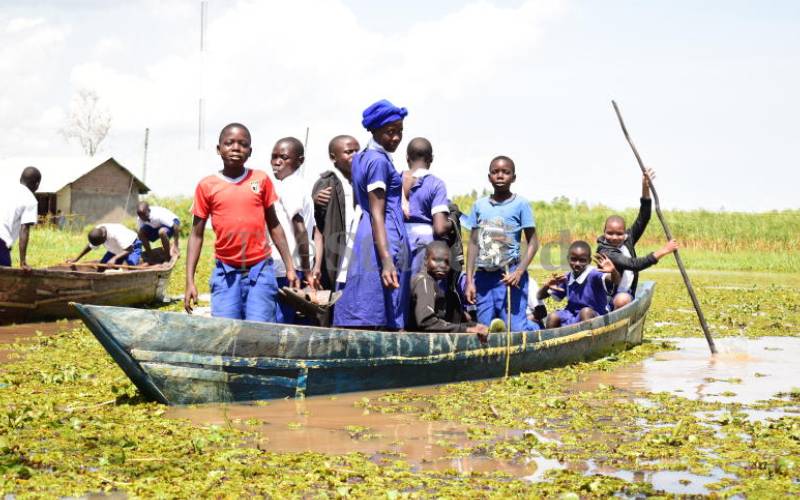 The Busia County government has petitioned the State to engage the international community in addressing Lake Victoria backflow menace.
Busia Deputy Governor Moses Mulomi said the backflow has wreaked havoc in Samia, Budalang'i and Bunyala sub-counties where hundreds of families were displaced from their homes by the raging floods.
Mulomi told journalists in Busia town that the backflow combined with floods occasioned by River Nzoia breaking its banks has affected Bunyala South, Bunyala West, Bunyala North and Bwiri wards, displacing many families from their homes and destroying crops.
He said the East African Community, through relevant agencies, ought to intervene and establish the cause of the backflow.
"We know the lake levels will take a longer time to reduce. And of concern is that even if it reduces we cannot foretell when it will rise again, given the fact we are experiencing climate change challenges which could be part of the factors likely causing the problem," Mulomi said.
He said Governor Sospeter Ojaamong's administration is working on a long-term programme to resettle people affected by the backflow and floods and allow them to use the land for agricultural and socio-economic activities as conditions allow.
Mulomi said the county government has made effort since the onset of the challenges to assist families affected by floods by providing medical services and clean water among other interventions.
He said flood victims registered major losses, with many of them losing their homesteads, animals and household goods, adding that they need support both financially and morally to be able to survive and sustain their lives.
Mulomi said the backflow has also affected infrastructural development by the national and county governments.
"Markets, schools, medical facilities, boreholes, water systems, roads and electricity lines collapsed, leading to a serious catastrophic economic effect," he said.
He also expressed concerns that the expected rains in August are likely going to create a bigger challenge to the residents who have tried to reclaim their lives. Some areas affected by the backflow have been inundated by water up to 10km inland.
Budalang'i MP Raphael Wanjala urged President Uhuru Kenyatta to address the floods menace and other challenges his constituents continue to grapple with. "We expect President Kenyatta to intervene during his planned tour of Western," said Wanjala.