Another tanker overturns in Kisumu, residents rush to siphon fuel, but police thwart attempts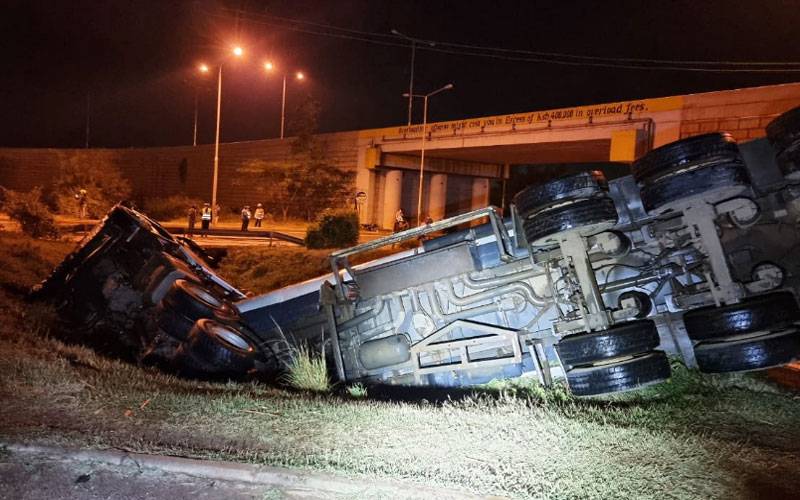 Police in Kisumu sealed off a fuel tanker accident scene on Monday night to prevent residents from siphoning fuel from the overturned vehicle.
A fuel truck, whose trailer is registered as ZG 0687, and was heading towards Ahero from Kondele, crashed at the Kasagam Flyover in Kolwa East, Kisumu East Constituency at 7:30pm.
Police say the vehicle rolled over while negotiating a corner.
"The bend was too sharp for the driver of the Scania truck to manoeuvre," authorities said.
The vehicle thereafter landed in a water stream.
The truck had one occupant on board, the driver, who is receiving treatment for minor injuries at a Kisumu hospital.
Immediately after the truck rolled down, residents of Kasagam, Nyamasaria and other parts of Kolwa East rushed to the scene with containers to siphon out fuel.
Some arrived at the scene aboard boda bodas, with plastic containers in their hands.
However, police were alert, throwing cordon around the accident scene to prevent fatalities and injuries in case the tanker exploded.
The mission was led by, among others, Kisumu County Commissioner Josephine Ouko, Kisumu County Police Commander Samuel Anampiu and senior NTSA officers.
Firefighters from Kisumu County arrived at the scene in less than 30 minutes to appropriately react to the accident.
Fuel spilled on the road, but clean-up was promptly done.
The wreckage of the truck was removed from the scene in a record hours' time.
The incident comes two days after another fuel tanker accident left at least 15 people dead at Malanga Village, Gem Sub-County in Siaya County.
The accident occurred on Saturday, July 17, with the tanker exploding, calcining tens of residents, who had rushed to siphon fuel.
At least 27 are receiving treatment in different hospitals in Siaya County. Doctors say most of the victims sustained more than 50 per cent burn injuries.