Farmers in dilemma as moles ravage food fields in Nyamira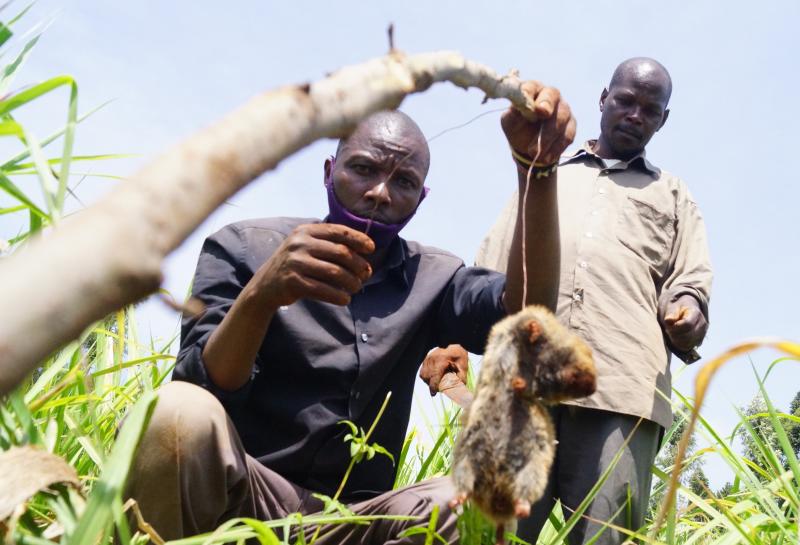 Moles are ravaging farms at Chitago village in Nyamira County, leaving farmers counting losses.
Richard Maengwe is a subsistence farmer who grows maize, nappier grass and bananas. But he is alarmed by the number of rodents in his in his two-acre farm, which have seen him suffer huge losses.
"When I was doing a check of mounds, there could be more than 20 moles in the nappier grass field alone. They have destroyed nearly a quarter of the grass over the last one year," Maengwe says.
Going by the rough figure from Maengwe's shamba, about 30 families in Chitago village have about 600 moles destroying their crops.
Maengwe says the mid-year harvest of maize from his one-acre yielded about 30 per cent less than expected because of the moles.
"Not that they eat all the produce, but because they are always on a destruction spree. They just eat up the roots, leaving the rest of the crops to dry up. They are a menace," the farmer says.
Petero Mosota, fondly referred to as Rokore, says he has been in the business of trapping moles for more than 20 years.
"About 15 years ago, I would capture up to 10 moles in a single day. That was Sh500 for me. But over time, more and more moles are avoiding my traps," Rokore laments.
Tom Nyang'au, an ecologist at the Kisii University, says agriculture stakeholders should embark on enhanced studies to establish ways the rodents can be fully controlled away from the traditional methods, which are currently not helping farmers much.
"We need studies to do mapping of infestation as well as establish the population of moles in given areas where they are a problem. This will inform the scale of interventions required to deal with the rodents," Dr Nyang'au says.
In trying to explain Rokore's dilemma, Nyang'au says the animals are probably becoming intelligent in avoiding predation. He also says moles are hiding deeper due to influences of climate change.
According to a research conducted by the Addis Ababa University in Ethiopia, moles like living in places where there is a variety of food. They also do not migrate over long distances for fear of predation.
The investigation that was published in June 2017 indicates that farmlands attract more moles than any other fields because of availability of foods they love most.
Samson Maobe, an agriculturalist teaching in Kisii University, says the rodents infest fields with cereals, grasses, tubers, bulbs and bananas. They do not like areas with hard roots or trees.
"They usually migrate from one place to another depending on season, weather and availability of food. They prefer settling in fields where there are crops of the grass family," Dr Maobe says.
According to the Ethiopian University's research, a mole can consume food of about 70 to 100 per cent its body weight in a day.
"They need a lot of energy to dig the extensive tunnels where they live in and they are ever excavating. This explains why they have such voracious appetite," Maobe says.
Moles are among the most destructive rodents besides rats, rabbits and porcupines. But it is the moles' ability to hide in the underground burrows which makes them most dreadful to farmers.