90-year old anklets that have weathered cultural transitions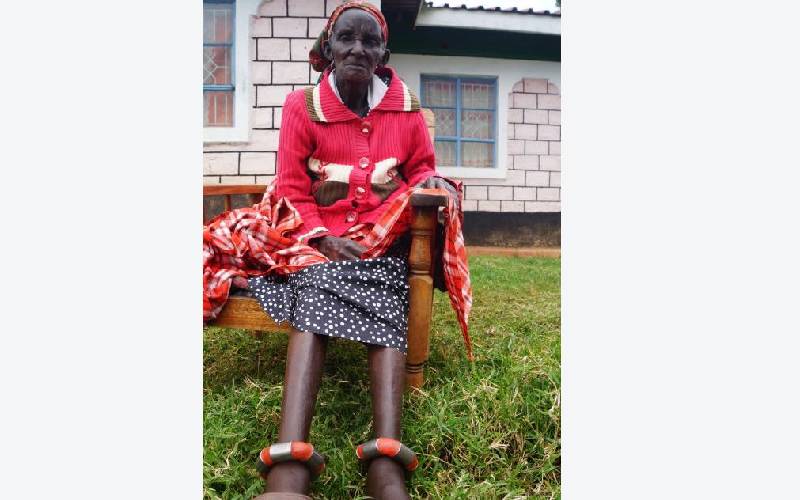 Worn as a sign of the binding union between spouses, the anklets have remained a reminder of the pledge she made to her husband.
Robina Moraa, fondly referred to as Bitinge (anklet) in her entire Tongeria village in Rigoma, Nyamira County, has worn the ornaments for close to 90 years, making her probably the oldest married woman wearing them.
The colourful anklets symbolise a marriage union, just like the modern day wedding rings.
Moraa, who is estimated to be in 109 years old, did not walk down the aisle to proclaim her vows to her husband, Nyansera Omwenga, who died between 1930 and 1940.
Hers was a traditional wedding known in Ekegusii as Enyangi yebitinge (the wedding of anklets) which was conducted by elders.
Even though Moraa's once remarkably retentive memory is slowly fading with her advanced age, there are some events she vividly remembers.
Exact years and times
She may not remember the exact years and times, but her explanations are consistent with key historic happenings.
For instance, she can't recall the year she bore her first-born son who is now deceased. But what sticks in her memory is that it happened during what she describes as omwaka o nyangweso (the year of locusts).
Locust invasion was first reported in Gusii in 1932 before they reappeared about seven years later.
Moraa's second-born, Sabinah, came about three years later. The daughter is now about 86 years old.
Going by her own chronological accounts, Moraa may have got married around 1930, the time when elders officially fitted her with the Ebitinge that were gifted to her by her husband on her traditional wedding day, as the first wife. Making of the anklets was no mean feat.
The process involved making thin strips of animal leather called chinkini which would be first dipped in water and then smeared with animal fat to preserve them. The strips, also called chinuuga in Ekegusii, then would be wound through hollow pieces of round metal pipes of desirable diameter of around one inch until they hold firmly together.
The finished anklets would then be dyed in red ochre, obtained by crushing a type of red pebbles. The dust would then be mixed with animal fat to make a paste.
Since she could no longer find the red ochre, Moraa recently decided to paint her anklets with bright red synthetic paint.
During Moraa's days, any newly-married woman had to change her name from the one her parents had given her to one picked by elders after being fitted with anklets and being declared officially married to the husband's clan.
For instance, Moraa was born Bonareri, daughter of Obuba and Kerubo, from Nyagancha. The elders who officiated her wedding christened her Moraa and she, too, nicknamed herself Sigara after fitting into the new home in Tongeria.
Dr Araka Matundura, Chairman of Abagusii Cultural and Development Welfare, says it was the norm that a married woman would be given a new name in the family where she had been married to as a sign of the changed marital status.
"The change of name was mandatory for first wives who had to be given a culturally honourable name. There were maiden names only set aside for first wives: Kwamboka, Kemunto, Moraa and Kerubo," the elder says.
And strangely enough, the Ebitinge were only worn by first wives.
Traditionally, the first wife was called Mobucha Ibu (the ash sweeper). She was given the name simply because she would be the one to clear heaps of ashes from the house of her new husband's fire place.
"Gusii young men did not sweep ashes from their hearths. This was the first assignment of the newly-married woman," says Onchweri Ongaki, 80 of Nyabiosi in Kisii County.
When her husband died and left her with two children, she had to remove the anklets for a cultural cleansing ceremony before putting them on again.
The anklets were cut off from the widow's legs by the brother of the husband and thrown on his grave. This would be followed by the breaking of the sharp piece of wood (egechuri) that jutes from the apex of the couple's matrimonial house.
"Breaking of the egechuri was part of the cleansing and it happened after burial. A relative who would inherit the widow would be allowed to take over after the rituals," Kabesa Swanya, 95, who lives not very far from Moraa's village says.
More children
According to Kabesa, because the woman was young and had a desire to bear more children, she would be allowed to wear back her anklets. And that is why Moraa has kept them ever since.
She later bore eight more children.
Pascaliah Nyansera, her fourth born daughter aged around 80 says Moraa has kept herself fit by eating well and maintaining a healthy diet.
"Our mother relishes traditional foods like dried meat, spider flower and indigenous foods which have kept her very healthy. Some people even think she's my sister," Nyansera says.
Dr Matundura argues that Kisii and Nyamira County governments have not done enough to preserve the Gusii culture which now faces extinction. "As a cultural council, we yearn to find ways of preserving our cultural heritage but we don't have the resources and muscle," the elder says.