Where girls get pregnant to prove they are fertile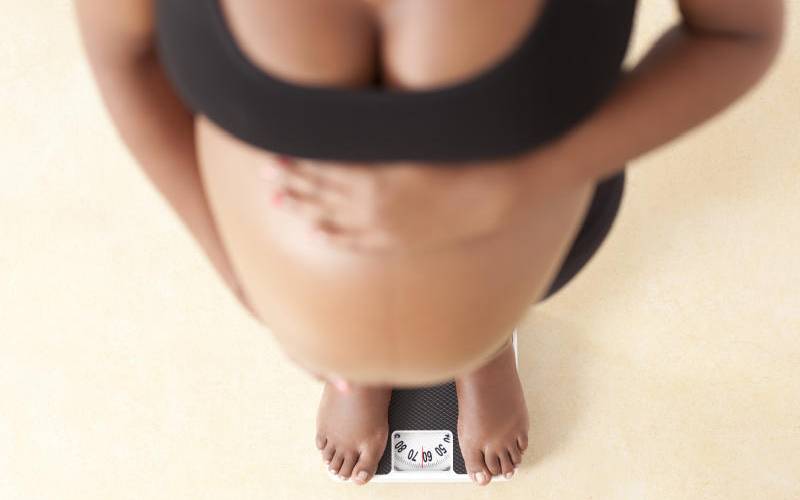 While some men fear getting involved with women who are raising children on their own, others in Homa Bay County encourage young girls to get pregnant to prove they are fertile.
Vicky Opiyo, a mentor and community health worker says this is one of the reasons cases of early pregnancy are have risen to alarming numbers.
"As we were doing our research, one of the issues that emerged is poverty; the girls are lured by men who promise them material things or marriage, before which they have to prove they are fertile," she says.
Most of these girls are pre-teens and teenagers. Sixteen-year-old Adhiambo (not her real name), from Kabuoch village Homa Bay County, is a mother of a 7-month-old boy.
The Standard team finds Adhiambo standing outside her mother's mud-thatched kitchen holding her baby on her hip while her two younger siblings are sitting at the doorstep.
Adjacent to the kitchen, Adhiambo's mother is standing outside the main house that is also a mud house with a thatched roof, ready to welcome the media crew.
As we begin the interview, Adhiambo sits on a stool as her mother stands close by for moral support.
"I went to school in Rongo, where I was living with my aunt. One day, as I was walking, I bumped into a man who wooed me and told me that he could buy me books and sanitary pads," Adhimabo says, struggling to speak in Kiswahili. When we allowed her to speak in Dholuo, she comfortably opened up.
"When he said he could buy me books, I was excited because back at home, my mother makes Sh150 on a good day, after doing casual jobs like farming," she adds.
Adhiambo says that the man delivered part of his promise -- nine packets of sanitary pads and Sh500.
He would later disappear after discovering she was pregnant. Forced to quit school to take care of her baby, she still has dreams of furthering her education.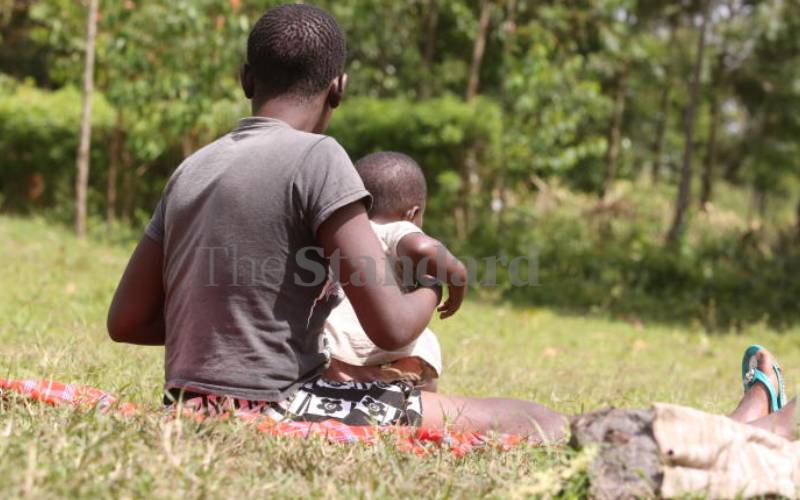 "I would like to go to Form 1 but the chances are very slim because we are not financially stable," she adds.
Adhiambo's mother describes how disappointed she was when she found out that her only daughter was expectant.
Before the interview, she asked whether she could do it in Dholuo, but she agrees to do it in Kiswahili.
"I am a widow with eight children. Now there's an extra mouth to feed. I can't even afford to take her to Form 1," she says.
Adhiambo's mother says she talked to her daughter about sex and abstinence. "We spoke about abstinence but still she got pregnant. So now I made sure she's on contraceptives," she concludes.
A few kilometres from Adhiambo's home is a place called Wayagi. Just like Kabuoch, Wayagi has had its fair share of young mothers. In one home, 13-year-old Atieno (not her real name) is a mother of a one.
Atieno got pregnant when she was 12 years old.
"I met him while I was going to school, we started talking and he said he was going to buy me shoes and a school bag," she says sitting on a plastic chair outside their mud house.
The interview is interrupted by her five-year-old twin sisters who are excited to see the cameras.
The interview continues after the girls were convinced that their photos will be taken after.
Atieno says that, for a while, she ignored the man's advances but he finally won her over.
"The man worked at one of the factories that make sugar. When we met, he told me that he wants us to be friends, then later he would marry me. I ignored him, but he was determined to get me, and he did. He disappeared after that. Nobody knows where he went," she adds.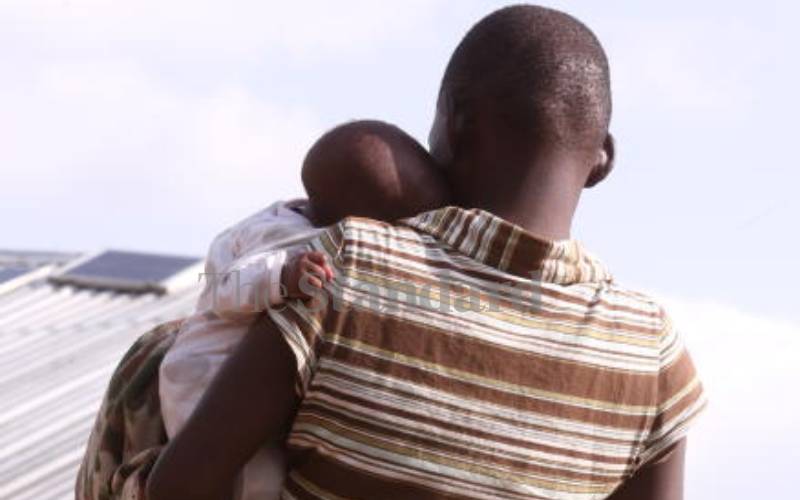 Atieno says that during her pregnancy, there's was another girl in school who was also expectant so she did not feel alone. She adds that before the man disappeared, he had promised that he would pay the school fees for her.
"I thought he was going to pay school fees for me, but he disappeared. Right now, I don't want anything to do with men. I just hope I get someone to pay my fees as I focus on my education and child," she says.
On contraceptives, Atieno says that she does not want any form of family planning since she's heard stories about them and she's not planning on getting involved with a man anytime soon.
Atieno's mother is, however, worried. She says she will try to convince her to look into family planning methods, fearing she might be lured again by the men around.
An authority who chose anonymity, says that the Covid-19 pandemic contributed a lot to the increase of teen pregnancies.
"During the sugarcane harvesting, labourers lure girls with the little cash. But we always educate girls on the dangers of early sex," they said.
They also added that poverty has made so many young girls exchange sex for money. As much as they try to educate them on abstinence and safe sex most girls still engage in unprotected sex.
Teen pregnancies in numbers
In 2014 the Kenya Data and Health Survey showed that 1 in every 5 girls between 15-19 years is either pregnant or already a mother.
In 2019 data from Global Childhood reported that Kenya has the third-highest teen pregnancy rates with 82 births per 1,000 births.
Data from the United Nations Population Fund Report indicated that Kenya has recorded 378, 397 adolescent and teenage pregnancies for girls aged 10-19 years between July 2016 and June 2017, specifically, 28, 932 girls aged 10-14 and 349,465 girls aged 15-19 became pregnant.