Wanga: Ministry to begin installation of modular bridge at River Kuja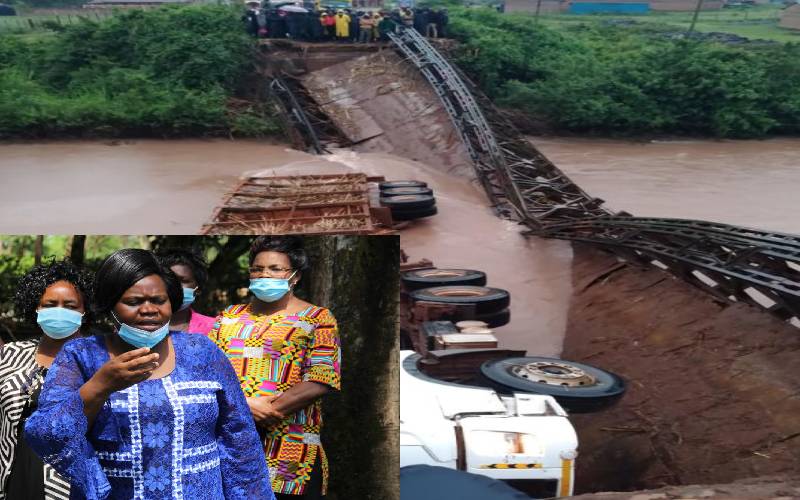 The Ministry of Transport will install a modular steel bridge across River Kuja to connect Homa Bay and Migori counties following the collapse of Riat Bridge.
Traders from both counties have lost their livelihood following the collapse of the bridge in early May due to heavy rains pounding the region.
Also affected are students and pupils who have resorted to accident-prone canoes to cross the river.
Thousands of traders have been using the bridge that was built by the British military in 1980 to access various markets in both Migori and Homa Bay counties.
Homa Bay Woman Rep Gladys Wanga said the ministry has agreed to establish the modular bridge.
Speaking at a funeral ceremony in North Kabuoch ward, Ndhiwa constituency on Friday, Wanga said the installation of the bridge will begin immediately.
She said the bridge will be taken to the site and installed by the Kenya Rural Roads Authority (KeRRA).
"We have agreed with the Transport Ministry that KeRRA will bring the bridge to the site this weekend," Wanga said.
The modular bridge is portable and does not require a lot of work in construction.
She said the modular bridge is a temporary measure aimed at cushioning residents from tribulations they are undergoing before we construct a permanent bridge.
The ministry has advertised tender for construction of the permanent bridge in newspapers for bidding.
Wanga who is the chairperson of the National Assembly Finance Committee said the permanent bridge will cost Sh180m.
"Tender for constructing a modern and permanent bridge has been advertised and I am optimistic they [ministry] will construct it. But let us have the modular bridge first as a temporary measure," said Wanga.
She said Marindi- Magina- Otochogo- Riat- Amoyo – Konyango Rabuor road will be tarmacked in the next financial year.
"In my Committee, we are trying all it takes to ensure money for tarmacking the road is factored in the next financial year budget for constructing the road," said Wanga.