I will give away my salary for the first three months, says Bonchari MP-elect Pavel Oimeke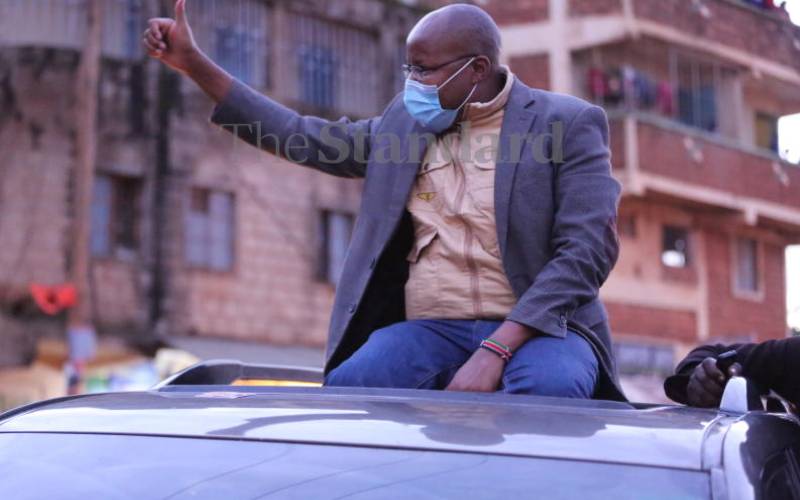 Bonchari MP-elect Pavel Oimeke's in-tray is already full even as he waits to be sworn in.
Oimeke, who joined politics three months ago after resigning from a job in the energy sector, got 8,049 votes in the Tuesday by-election.
During campaigns, he made many promises which residents are waiting to see their fulfilment.
"My salary for the first three months will be spent on helping orphans in the constituency. I will put up a team to identify those needy students.
"The money will be paid directly to their school accounts. I already have 100 needy students I have been supporting," he said.
For him, growing up as he struggled to change his status and that of the polygamous family he was raised in was as an eye-opener.
"I know what it means to be in lack. I want to bring fresh energy to my people. I want to unite my people and break the barriers.
"I grew up struggling; I lost an academic year in university because I lacked fees," said Oimeke, who comes from a polygamous family.
His mother sold illicit brew (chang'aa) to provide him and his siblings with basic needs. One of his siblings had to repeat Standard Eight to allow his father time to raise money for his university fees.
"I have paid fees for all my siblings and built a house for my mother; she had been living in a mud structure," he said.
On the issue of a pending case against him at the Anti-Corruption Court, he said he trusts the Kenyan Judiciary system.
"I will be vindicated soon. I lost my job and later got the urge to go for the parliamentary seat. I will be free soon," he said.
In the case, he is accused of demanding a bribe of Sh200,000 to authorise the unsealing and opening of a filling station in Homa Bay County that was accused of tax violations.
Oimeke, who completed his high school education in 1993, said his priority is to complete projects that were commissioned by the previous MPs, particularly during the tenure of Charles Onyancha and the late John Oroo.
"There are several projects that were commissioned in a number of schools but they are yet to be completed. Education is a critical component in our lives.
"I could not have been an engineer were it not for the successful journey I undertook in my life to get the best education," he said.
The introduction of initiatives in schools to award best performing students and teachers is also lined up for introduction under his leadership.
He plans to carry out research on all needy families in the constituency.
"We need equity in giving out bursaries. Equity and accountability will be the hallmark of my leadership."
Oimeke said the connection of water and electricity to homesteads will also top his priority list.
Despite having a number of boreholes drilled in the constituency, he said, most families don't have access to clean water.
In his plan, boreholes will be built in schools but locals are allowed to access water at subsidised rates.
Having worked in the energy sector for close to three years, the MP-elect said he would ensure homes are connected to electricity.
"I know there is a design that was done by the Ministry of Energy; all I will do is actualise that plan," he said.
The Moi University graduate said he would consider Public Private Partnerships.