How self-taught artist painted his way out of drug and alcohol abuse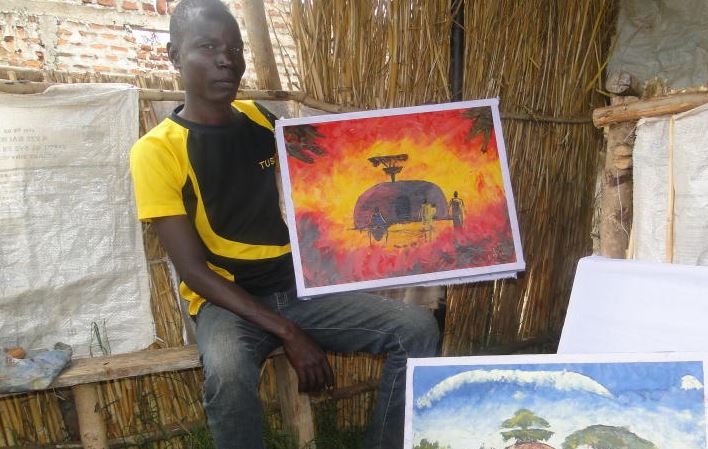 In a makeshift shop on Usenge-Osieko road in Siaya County, Benjamin Obiero calmly moves his paintbrush across a canvas, slowly producing a captivating painting of a lion.
It is here that the 30-year-old is now nurturing his ability to draw and paint after alcoholism almost ruined his life. Today, the self-taught painter ekes out a living from brush and paint.
Growing up, Obiero knew he loved to draw and got inspired by pieces of art around him; from wall paintings outside butcheries, bars and beauty salons to caricatures.
However, his father, who was a jua kali artisan, would beat him up whenever he caught him drawing instead of doing his homework.
"My father used to pull my ears and even cane me every time he found me drawing," recalls Obiero.
But the beatings did not deter him. Instead, he found inspiration and determination in the pain.
He said that his mother appreciated his talent and nurtured his potential by giving him coloured pencils, paper and occasionally, paints.
Sometime in 2015, Obiero started thinking seriously about his talent after unsuccessfully trying his hands on menial jobs to earn a living.
"Whenever I went to Changamwe market, I admired paintings and I decided to follow my dream," he says.
Obiero says he did not complete his course in Business Management at Technical University of Mombasa (TUM) because his passion was in arts.
He says his turning point came in 2015 when he met a Tanzanian artist, Adam Omari, popular known as Edo Matata. Obiero sold his first work to Omari at 25 Euros Sh 3200).
"There was a tourist in Malindi who admired my work and decided to buy it before I completed it," he recalls. But he spent all the money on alcohol.
For four years, he struggled with addiction and in April 2019, he was admitted to a rehabilitation centre in Homa Bay County for six months.
"I stayed at the rehab for four months then asked for a discharge. I already lost hope in life and didn't want to waste more time at the facility," he says.
When we visited him, Obiero was putting final touches on two paintings. He says villagers have already started appreciating his artwork.
"I write for them sign posts and decorate bottles," he says, adding that prices depend on an agreement between him and the client.
The artist, whose target market includes high, middle and low-income earners, says his prices vary depending on the size, with the smallest least selling at Sh1,000.
The self-taught artist says his dream is to enroll for a course in arts to hone his skills. He also plans to sell his art online.
"I also need a sponsor to help me establish my own gallery and will in turn create an opportunity for young people who are interested in the arts," he says.
Obiero, who is now mentoring local youth, says he has been equipping any person who is passionate about art.
"I know what drugs can do to the lives of our youth and by engaging them in art, they are not only escaping poverty, but also reducing cases of theft and drug abuse here in the village," he says.
So what is the force that drives Obiero?
"I get my strength from the passion that I have for drawing. Even after wasting a lot of time, I believe it is not late to realise my potential," he says.
Raila's headache in Nyanza
Lieutenants of ODM leader in Nyanza competing for his endorsement to clinch Orange party ticket as a sure way of winning election in the region.