Rasanga hails Siaya's unprecedented achievements in assembly address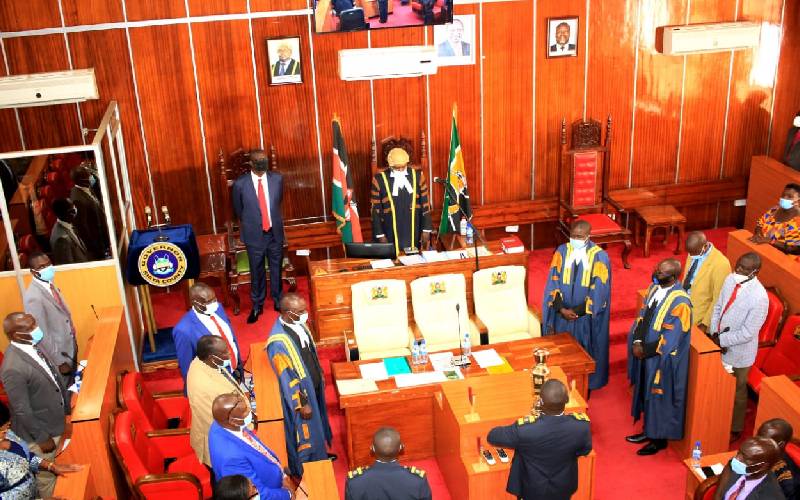 Siaya Governor Cornel Rasanga has commended his administration's achievements despite inadequate funds and Covid-19 pandemic.
Speaking at the County Assembly, during his first state of the county address on Thursday, Rasanga said his government has built modern maternity theatre complexes in Ambira, Ukwala and Madiany sub-county hospitals.
He said the county government has also built and equipped a modern radiology unit with a Computerised Tomography (CT) scan at the county referral hospital.
He also cited 15 water pans and 46 boreholes which have been drilled and equipped with solar pumps.
Some 11 tree nurseries were further developed in the county with 25,000 seedlings distributed to locals.
Challenges
The governor said his administration experienced challenges in implementing its programmes due to limited funds that led to budgetary variances between the MCAs and the executive.
Rasanga also said Covid-19 pandemic, inadequate specialised skills to perform specialised tasks and incomplete projects leading to project and fund rollovers also affected his government.
The county boss said poor project cycle management, weak institutional framework occasioned by delay in the approval of policies and related laws also affected his government.
"To improve our performance as the government in the subsequent reporting period, we have recommended the strengthening of planning, budgeting and budgetary implementation to ensure harmony in budgeting between the executive and assembly," he said.
Rasanga said his administration will also enhance compliance with Public Finance Management (PFM) Act to ensure effective funds flow to expenditure line items and further strengthen monitoring and evaluation frameworks.
He said in the financial year 2020/2021, his government will develop and implement a human framework that will provide for adequate staffing levels, skills development, career advancement and staff productivity.
"I am committed to strengthening supply chain management to ensure projects are procured in time and that there is effective contract and contractor management systems in place. I have also directed that the subsequent budget cycles be prioritised for the completion of ongoing projects," he added.
Rasanga said all the complete projects including health facilities will also be made operational before embarking on any further infrastructural investments.
Speaker George Okode praised the cordial relationship between the assembly and executive which has led to progress.
Despite wrangles over vetting of the county executives, the County Assembly and executive worked well.
Okode cited the rejection of executive nominees list and the supplementary budget among issues that brought stalemate between the assembly and the Executive.
"Despite all these wrangles, we were able to come to an understanding for the sake of Siaya. The governor opted to work with us to fulfil his legacy," he added.