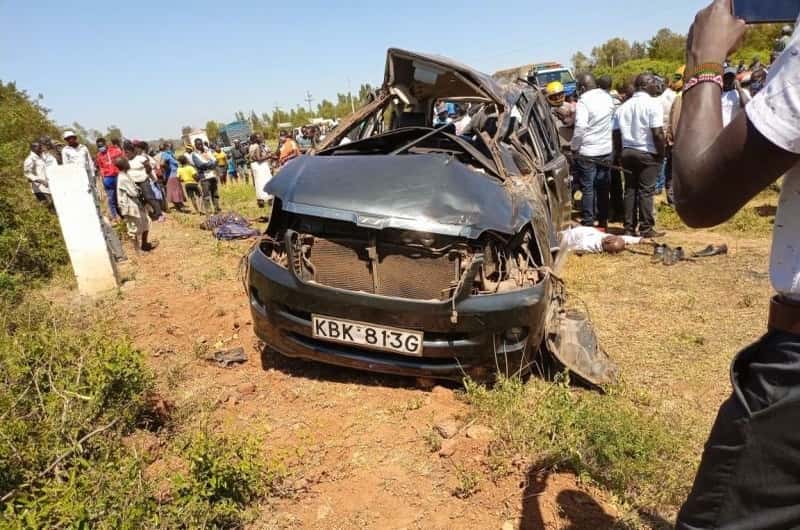 When Victor Ochuodho and seven of his family members left his home in Rarieda Sub-county to attend a funeral in Bondo on Monday morning, they had no idea a bigger tragedy lurked.
Hours later, Ochuodho was mourning four of his family members – two step-mothers and two uncles.
The other three were taken to different hospitals in Kisumu. The four bodies were moved to Lwak Mission Hospital mortuary.
Read More
Ochuodho, who had lost his father-in-law, had hired an eight-seater van for the journey. It had eight occupants, including the driver.
His mother Monicah Adhiambo, who had spent the previous night at the funeral, said the first group arrived at the funeral minutes after 10am.
One hour later, four members of the second group that was expected at the burial had perished in the accident at Karemo on the Bondo-Usenge road. Four others, including the driver, ended up in hospital.
"The accident happened when the second group was just about three kilometres from the home," said Adhiambo.
"Everything had been set for the in-laws and we were just waiting for their arrival. They hired the vehicle as the one they had could not accommodate everyone."
She said when they arrived in Bondo town, where Ochuodho had stopped to withdraw some money from the bank, the driver said it was getting late and told them to hurry up.
The burial had to be halted for some minutes, as people rushed to the accident scene.
Witnesses, who accused the driver of speeding, said he lost control of the vehicle before it rolled several times.
According to Bondo Sub-county Police Commander Roseline Chebosho, the driver was trying to overtake another car and, in the process, hit rail guards and the car rolled.
Yesterday, the homes of the victims were awash with visitors and villagers trying to come to terms with the tragedy.
Philister Wasonga, 80, who lost her son Evans Ojali, cried uncontrollably.
The survivors were still receiving treatment yesterday, as the family began burial arrangements for the four.
Boniface Ochieng', a family member, said one survivor was at Aga Khan Hospital and another at Avenue Hospital in Kisumu.
"It's really painful to lose four people, but it happened according to God's plan," said Ochieng'.