Names to look out for as race to succeed Governor Obado starts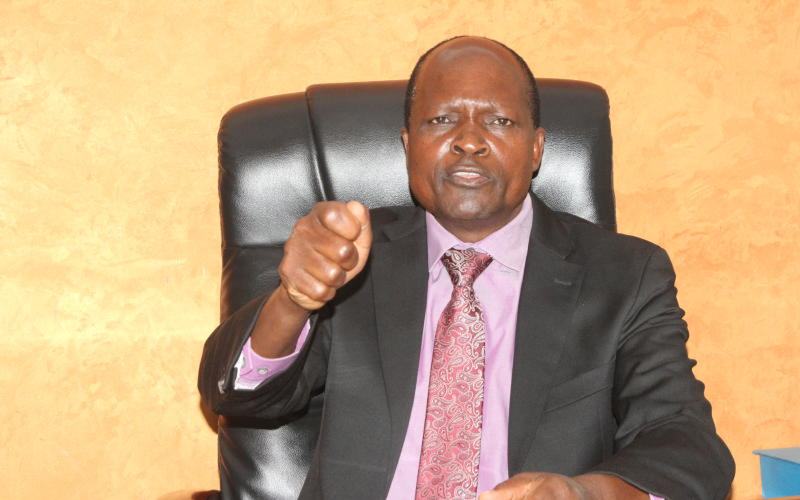 Migori's political heavyweights are lining up to succeed Okoth Obado in the 2022 vote for governor, with some exploring forming formidable alliances to win the county's top job.
Although elections are still more than one year away, some aspirants have already hit the ground running and are enlisting grassroots support.
Others are discreetly plotting to launch their bid in 2021.
Among those who have come out to woo voters are Migori Senator Ochillo Ayacko, former Suna East MP John Pesa and businessman Philip Mwabe.
Former Cabinet Minister Dalmas Otieno, former Nyatike MP Edick Anyanga and Uriri MP Mark Nyamita are still weighing their options.
In the male-dominated race, it is only Migori County Woman Rep Pamela Odhiambo who has come out to declare her interest in succeeding Obado.
Odhiambo has been campaigning for the gubernatorial seat on social media.
"I have told men in this county to brace for a woman's leadership .... But let me re-state that we will go for this seat and win it in 2022," she said.
Obado's challengers argue that Migori County has not achieved much in terms of development in the almost 10 years of his reign.
They have claimed that "wanton corruption" is stifling development in the county.
Among those expected to throw their hats in the ring for the seat, Otieno is likely to be a formidable force.
The former Rongo MP is arguably one of the most recognisable political personalities in the county.
He is popular with the youth, who say during his last tenure in office, he ensured the young people who supported got jobs in either the defunct county councils or at Rongo University, working as, for instance, ticketing officers and office messengers.
Rose to prominence
Also expected to run for the gubernatorial seat is Eddy Gicheru Oketch, who rose to prominence during the 2018 senatorial by-election.
Popularly known as Muok Ratego, Oketch got the attention of the country after a campaign that gave Ayacko, who eventually won the race, a run for his money.
The young Yale graduate, who is an established entrepreneur, single-handedly faced off with ODM and its machinery.
He ran a well-oiled campaign, garnering 60,555 votes (40.99 per cent) against Ayacko's 85,234 (57.7 per cent).
During the burial of Obado's mother recently, Oketch's presence caused excitement, with a huge crowd of mourners shouting "governor!".
Although Oketch steered clear of politics, he called for unity among Migori residents and campaigned for the Building Bridges Initiative.
Migori County has eight constituencies: Kuria West, Kuria East, Rongo, Awendo, Uriri, Suna East, Suna West and Nyatike.
Nyatike has 61,477 registered voters, while Uriri has 51,676, Kuria West 51,057, Rongo 48,412, Awendo 48,293, Suna East 46,534, Suna West 46,030 and Kuria East 35,154.
Nyamita and Obado come from Uriri constituency.
It is said that some of the aspirants are hoping to ride on Obado's influence in their bid.
But political observers such as Philip Makabong'o say Obado's ongoing graft case may deny him such influence.
"Migori people will go for change and not perpetuation of the status quo," Makabong'o opined.
Kuria West MP Marwa Maisori said whoever wins the governor seat must nominate a candidate from Kuria, which is seen as the swing vote region.
In the last two elections, Obado picked a running mate from Kuria and went ahead to win.
"Kuria West and Kuria East votes combined give the candidates a head start," said Maisori.
The question of where the next governor will come from will also determine the results.
In 2013, Obado won the seat against the region's most popular party, ODM.
The governor, who was the chairman of the Kenya Sugar Board, surprised many when he chose to run on the little-known Federal Party of Kenya. In 2017, Obado opted to defend his seat on an ODM ticket.