Standoff as bodies of Lake Victoria boat accident victims recovered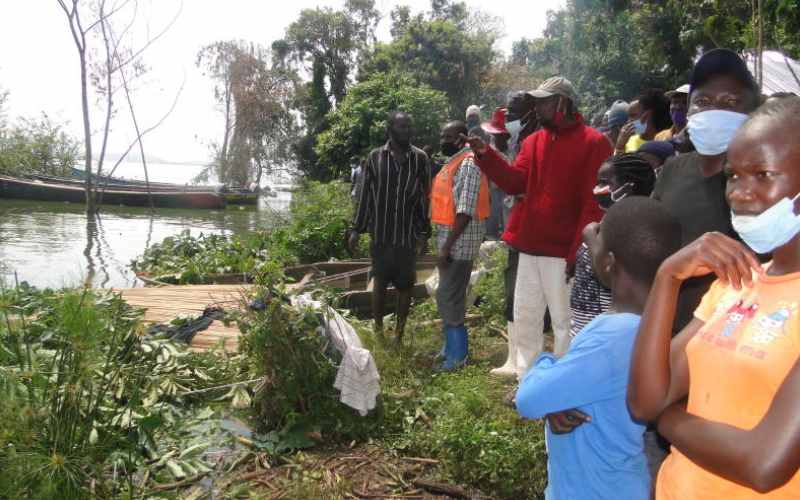 The bodies of two women and eight men who died in Lake Victoria were retrieved yesterday following a search that started on Wednesday.
A rescue team from the Kenya Maritime Authority, Kenya Coast Guard Services (KCGS) and local fishermen recovered the bodies.
Preliminary security reports blamed the Tuesday night accident on overloading and strong winds.
The wreckage of the boat and its engine are yet to be found.
The joy of recovering the bodies was, however, short-lived after officials from the KCGS announced that they would not release them to the families. The act was meant to protest an arrest of Kenyan fishermen by Ugandan authorities on claims that they trespass water boundaries. A Kenyan boat, they said, was impounded by Ugandan authorities on Wednesday.
Bondo Deputy County Commissioner Paul Wanyonyi intervened to have the bodies released to the grieving families.
The process took more than four hours before the bodies, wrapped in polythene bags and mats, were released at around 4pm under the watch of KCGS officials.
A KCGS official, who asked not to be named, said they were waiting for communication from their regional office before releasing the bodies to the families who had traveled from Uganda.
Arrest of Kenyans
"We use our resources to help our Ugandan neighbours whenever they have problems on high seas but they always arrest our people," said the officer.
The officer also wanted an explanation from the Uganda Revenue Authority (URA) on why they keep arresting Kenyan fishermen.
Local fishermen, who had gathered by the beach, asked Ugandan authorities to embrace the spirit of brotherhood.
Take a quick survey and help us improve our website
Take a survey
According to Honge Beach Management Unit chairman Elly Masinde, the impounded boat was from his beach. Three fishermen were on board.
"The fishermen were released upon paying Sh15,000 fine," said Masinde.
Masinde, who led elders in negotiating for the fine, said rituals would be done along the beach to cleanse it of bad omen.
Yesterday, Alfred Atito, an official from KMA, urged the lake users to always ensure they put on life jackets whenever they go into the lake.